Minimally Invasive Spine Surgery Package by ADATIP Hospital in Istanbul, Turkey
Package price starting from:
$10000
Treatment:
Spine Care/Surgery, Minimally Invasive Spine Surgery
Location:
Istiklal Mah. Sehit Mehmet Karabasoglu Cad. No:67/A Serdivan – Sakarya, Turkey, Turkey
Focus Area:
ADATIP Hospital | Istanbul | Turkey | Minimally Invasive Spine Surgery
---
Unveiling Minimally Invasive Spine Solutions in Istanbul, Turkey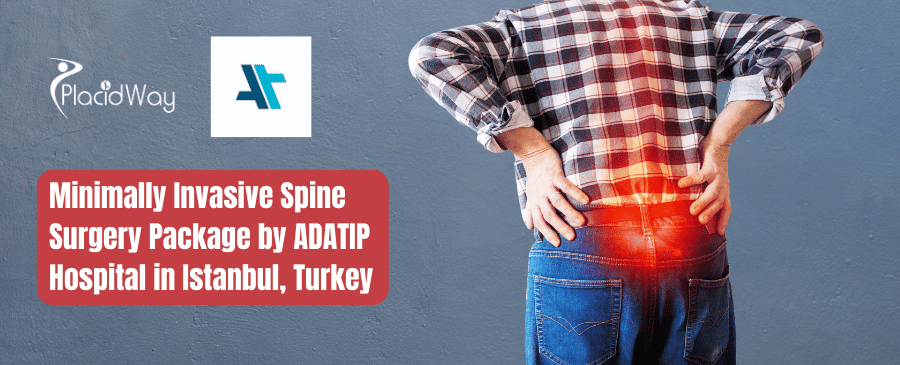 In recent years, medical advancements have revolutionized the field of spine surgery, offering patients more efficient and less invasive treatment options. ADATIP Hospital, situated in the vibrant city of Istanbul, Turkey, has emerged as a leading destination for those seeking top-tier minimally invasive spine surgery. With its state-of-the-art facilities, experienced medical professionals, and dedication to patient care, ADATIP Hospital offers a comprehensive package that provides not only exceptional medical treatment but also a comfortable and rejuvenating experience for patients.
The decision to undergo spine surgery is a significant one, and choosing the right destination for the procedure is equally crucial. Istanbul, with its blend of historical charm and modern infrastructure, provides an ideal setting for patients to embark on their medical journey. ADATIP Hospital's specialized approach to minimally invasive spine surgery ensures that patients receive cutting-edge treatments while benefiting from the city's rich culture and hospitality.
You can get minimally invasive spine surgery package by ADATIP Hospital in Istanbul, Turkey with the price starts at $10,000 - $15,000. Please refer to our price list table below:
| | | |
| --- | --- | --- |
| Location | Cost in USD | Provider |
| Istanbul, Turkey | $10,000 - $15,000 | |
Note: Final prices are determined after physical evaluation and laboratory reports analysis. Click free quote button below to learn more:

Expert Medical Professionals: ADATIP Hospital boasts a team of highly skilled spine surgeons and medical staff who are well-versed in the latest techniques in minimally invasive spine surgery.
State-of-the-Art Facilities: The hospital is equipped with advanced technology and modern infrastructure, ensuring that patients receive world-class medical care in a comfortable environment.
Affordable Treatment: Istanbul offers a cost-effective alternative to many Western countries, allowing patients to receive top-notch medical care without breaking the bank.
Cultural Experience: Patients can explore Istanbul's historical landmarks, vibrant markets, and delectable cuisine during their recovery, adding an enriching cultural experience to their medical journey.
Easy Accessibility: Istanbul's well-connected transportation system and international airport make it convenient for patients traveling from around the world to access exceptional medical care.
ADATIP Hospital specializes in a range of minimally invasive spine surgery procedures designed to address various spinal conditions. These procedures aim to minimize tissue disruption, reduce post-operative pain, and accelerate recovery times. Common procedures include herniated disc surgery, spinal fusion, and spinal decompression.
Consultation and Evaluation: A thorough assessment of the patient's condition by the medical team to determine the most suitable treatment plan.
Surgery and Anesthesia: The surgical procedure performed by experienced spine surgeons under the effects of advanced anesthesia.
Hospital Stay: Post-operative care in comfortable hospital accommodations, including nursing care and necessary medical supplies.
Follow-Up Care: Regular follow-up appointments to monitor recovery progress and ensure optimal healing.
Rehabilitation Support: Access to rehabilitation services and guidance to aid in the patient's recovery process.
Travel Expenses: Costs related to travel, including flights, accommodation outside the hospital stay, and transportation.
Additional Medical Procedures: Any medical treatments or tests beyond the scope of the spine surgery package.
Personal Expenses: Expenses for personal items, phone calls, and additional services.
Visa and Documentation: Costs associated with obtaining the necessary travel documents and visas.
Complications and Extended Stay: Any additional costs arising from unexpected complications or an extended hospital stay.
Minimally Invasive Spine Surgery Pre-Op Tests:
X-rays and Imaging: To provide detailed insights into the spinal condition.
Blood Tests: To evaluate the patient's overall health and identify any potential risks.
Cardiac Evaluation: To assess the patient's cardiovascular fitness for surgery and anesthesia.
Medical History Review: A comprehensive review of the patient's medical history to ensure personalized care.
Physical Examination: A thorough physical assessment to determine the patient's suitability for the chosen procedure.
Meet Ozgur Cicekli, the foremost Minimally Invasive Spine Surgeon in Istanbul, Turkey, with an impressive career spanning over 18 years. His extensive expertise lies in sports injuries and surgery, sparing joint operations, arthroplasty, and orthopedic traumatology. As a distinguished member of prestigious associations including TUSYAD, TOTEK, and TOTBID, Ozgur Cicekli remains at the forefront of orthopedic advancements. His commitment to excellence is reflected in his active contributions to national and international publications, solidifying his reputation as the go-to specialist for exceptional spine care.
Minimally Invasive Spine Surgeon in Istanbul, Turkey

 

Ozgur Cicekli

Orthopedist-Traumatologist

Work experience: over 18 years

Areas of expertise: Sports injuries and surgery, Sparing operation on the joint, Arthroplasty, and Orthopedic traumatology

TUSYAD (Turkish Arthroscopy and Knee Surgery Sports Injury Association), Member, 2018.

TOTEK (Turkish Educational Council for Orthopedics and Traumatology), Member, 2014.

TOTBID (Turkish Association of Orthopedics and Traumatology), Member, 2012.

He actively publishes in national and international publications.
Is Minimally Invasive Spine Surgery Right for You?
Suitable Conditions: Minimally invasive spine surgery is suitable for various conditions, including herniated discs, spinal stenosis, and degenerative disc disease.
Patient Evaluation: A thorough assessment by the medical team determines if the patient is a suitable candidate for the procedure.
Benefits and Risks: The medical team discusses potential benefits and risks of the procedure, allowing patients to make an informed decision.
Realistic Expectations: Patients should have realistic expectations about the outcomes and recovery process.
Alternative Options: The medical team may discuss alternative treatment options if minimally invasive spine surgery is not the best fit.
What to Expect During Minimally Invasive Spine Surgery in Istanbul, Turkey?
Consultation: A comprehensive discussion with the medical team to understand the procedure and address any concerns.
Surgery: The minimally invasive surgery is performed under advanced anesthesia, ensuring patient comfort.
Recovery: Patients receive attentive care during the hospital stay and are guided through the initial stages of recovery.
Follow-Up: Regular follow-up appointments ensure proper healing and allow for any necessary adjustments to the recovery plan.
Exploring Istanbul: Patients can explore Istanbul's cultural and historical treasures during their recovery period.
1. Q: What is minimally invasive spine surgery?
A: Minimally invasive spine surgery is a modern surgical technique that uses small incisions and specialized tools to treat various spinal conditions with less tissue damage, reduced pain, and faster recovery.
2. Q: Why choose Istanbul for spine surgery?
A: Istanbul offers top-notch medical facilities, experienced surgeons, affordable packages, and a blend of culture and history for a unique healing experience.
3. Q: How long does recovery typically take?
A: Recovery varies based on the procedure and individual factors, but patients often experience shorter hospital stays and quicker return to normal activities compared to traditional surgery.
4. Q: Are all spine conditions treatable with minimally invasive surgery?
A: While many conditions like herniated discs, stenosis, and deformities can be treated, the suitability depends on factors assessed by medical professionals during consultation.
5. Q: What's the advantage of ADATIP Hospital's package?
A: ADATIP Hospital's package includes expert consultation, advanced surgery, comfortable hospital stay, follow-up care, and rehabilitation support, ensuring a comprehensive and personalized experience.
Embark on your journey to a pain-free life with ADATIP Hospital's world-class minimally invasive spine surgery package in Istanbul, Turkey. Book your consultation now and experience top-tier medical care in a captivating cultural setting through PlacidWay Medical Tourism. Your path to better spinal health starts here. Click contact us button below to get started!

Related Experiences:
Spine Surgery in Turkey
Spine Surgery in Mexico - Your Relief from Back Pain!
Spine Surgery in India - Get Safe and Effective Care
---