Stem Cell Treatment for Autism Package in Juarez Mexico by CMCells
Package price starting from:
$3900
Treatment:
Stem Cell Therapy, Stem Cell Treatment for Autism
Location:
Ave. Ortiz Mena 2807-2, Colonia Quintas del Sol, Chihuahua, Chihuahua, Mexico
Focus Area:
Stem Cell Treatment for Autism | CMCells
---
Get Regenerative Therapy for Autism in Mexico Starts at $3,900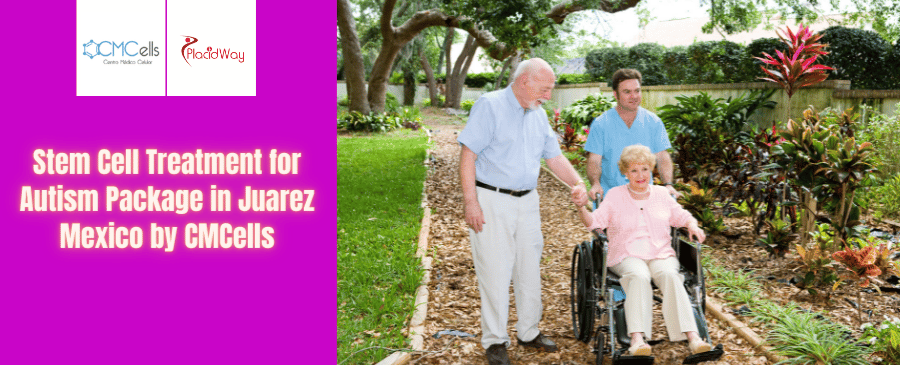 Stem Cell Treatment for Autism Package in Juarez Mexico by CMCells
Stem Cell Treatment for Autism Package in Juarez Mexico by CMCells is now available for patients, with affordable cost and high quality of medical service. Autism belongs to a spectrum of heterogeneous neuro-developmental disorders. It is characterized by abnormalities in social interaction, impaired verbal and nonverbal communication, and repetitive, obsessive behavior.
According to the Centers for Disease Control, the prevalence of autism hovers around 60 in every 10000 children.  Even though there is no defined gold standard approach, current interventions for autism can be divided into behavioral, nutritional and pharmacological.
The pathogenic mechanism of autism is not clearly understood and remains elusive. Nevertheless, two pathologies are commonly found within the autism patients: the first observation is an impaired central nervous system circulation and hypoperfusion to the brain, whereas the second observation is systemic T cell and B cell abnormalities as well as active neuroinflammatory processes in the brain.
Based on the immunomodulatory properties of MSCs, therapies employing MSCs have been proposed to target the immune deregulation observed in autism. Basically, it is believed that MSCs are able to inhibit the release of pro-inflammatory cytokines and have strong immunosuppressive activity.
Autism spectrum disorders (ASDs) are characterized by core domains: persistent deficits in social communication and interaction; restricted, repetitive patterns of behavior, interests, or activities. ASDs comprise heterogeneous and complex neurodevelopmental pathologies with well defined inflammatory conditions and immune system dysfunction.
Due to neurobiologic changes underlying ASD development, cell-based therapies have been proposed and applied to ASDs. Indeed, stem cells show specific immunologic properties, which make them promising candidates in ASD treatment. This comprehensive up-to-date review focuses on ASD cellular/molecular abnormalities, potentially useful stem cell types, animal models, and current clinical trials on the use of stem cells in treating autism. Limitations are also discussed.
You can get Stem Cell Treatment for Autism Package in Juarez Mexico by CMCells with the price of $3,900.
| | |
| --- | --- |
| Location | Cost in USD |
| Juarez, Mexico | $3,900 |
| United States | $12,000 - $15,000 |
Note: Price can vary depends on complexity of procedure and patient condition. Please make consultation first before you choose stem cell treatment you need.

How Stem Cell Works for Autism Patients
Stem cells are undifferentiated cells defined by their ability to self-renew and differentiate into mature cells. Stem cells are attractive because they are highly proliferative, implying that an inexhaustible number of mature cells can be generated from a given stem cell source. On this basis, cell replacement therapy has been proposed in recent years as a viable alternative for various pathologies.
Cell replacement therapy hypothesizes that new retinal cells could be generated from stem cells so as to substitute the damaged cells in the diseased retina. This theory is mainly established from embryonic stem cells (ESCs) and induced pluripotent stem cells (iPSCs).
In addition to cell replacement function, stem cells could have another protective effect, the paracrine effect. The paracrine effects of stem cells are believed to modulate the microenvironment of the diseased tissues so as to protect the injured cells, promote survival and activate any available endogenous repair mechanisms. This latter observation applies mainly to the transplantation of adult stem cells.
Adult stem cells are defined as the stem cells found in fully developed tissues. The function of adult stem cells is the maintenance of adult tissue specificity by homeostatic cell replacement and tissue regeneration. Adult stem cells are presumed quiescent within adult tissues, but divide infrequently to maintain their own niche by generating a stem cell clone and a transiently-amplifying cell.
The transiently amplifying cells will undergo a limited number of cell divisions before terminal differentia- tion into mature functional tissue cells. The existence of adult stem cells has been reported in multiple organs; these include: brain, heart, skin, intestine, testis, muscle and blood, among others.
Stem cells are the body's component of fix, having a regenerative capacity and the capacity to create (boundless) into various kinds of cells, for example, synapses, red platelets, or muscle cells.
The stem cell treatment for autism works on the blood and oxygen stream to the patient's cerebrum. These cells likewise supplant the harmed neurons and animate the new veins' formation. Stem cells can accomplish the influenced cells' properties and qualities, reestablishing and duplicating both white matter and dark matter. Therefore, the mental ability and neurological indications are improved.
Stem cell treatment for treating autism emerged following the different examinations made to invert existing irregularities in autism range issues. Mesenchymal stem cells from allogeneic transplantation can direct the invulnerable system and is accepted to play a part in treating autism. The stem cell treatment for autism works with: resistance, memory, thinking, learning limit, correspondence limit and digestion.
As this is popular procedures in worldwide, here you can find information about several benefits for using Stem Cell Therapy for Autism Package in CMCells:
Replace and regenerate damaged neural cells.

Low risk of complications.

New researched treatments and applied in many clinics in the world.

Boosts immune system

Increase memory function

Affordable Cost

Less likely to cause infections

Increase brain function
Factors that Affect Package Price
Several factors below can affect the price of Stem Cell Treatment for Autism Package in Juarez Mexico by CMCells, so make sure you understand about it:
Doctor's experience

Clinic's location

Stem cell extraction procedure

Patient's age

Patient's heart condition

Medical center's facilities
Check below information about some inclusions you can find when using Stem Cell Treatment for Autism Package in Juarez Mexico by CMCells:
Stem cell injections

All hospital fees with night stay

All medical fees for doctor and nursing staff
Here are several lists of exclusions when you undergoing Stem Cell Treatment for Autism Package in Juarez Mexico by CMCells:
Hotel or recovery house

Airfare

Preoperative lab work

Things that are not listed in inclusions
List of Required Pre-Op Tests for Stem Cell Treatment for Autism Procedure
Check below lists for pre op tests that you can consult with specialist, when having Stem Cell Treatment for Autism Package in Juarez Mexico by CMCells:
Urine test

Lipid Profile Test

Pathology test

SGPT

Blood glucose

ECG

Thyroid hormone test

Body composition analyzer

Etc.
Things to Know about Stem Cell Treatment for Autism Package in Juarez Mexico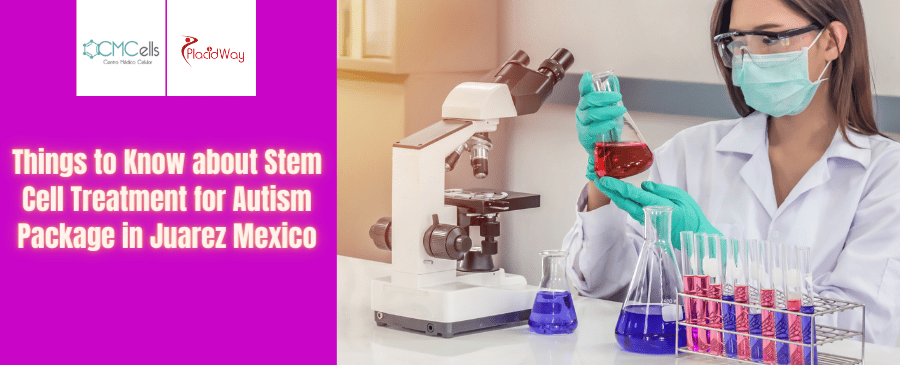 Here are several things that you need to know when you book for Stem Cell Treatment for Autism Package in Juarez Mexico by CMCells:
The cost is a normal expense and the particular cost of the treatment will be picked after the real assessment.

The clinic may require a deposit once a patient decides to agree with the procedure.

Patients can pick a couple of sorts of payment choices, like Cash, Visa, and Wire Transfer.

The research laboratory tests are done somewhere near 7-10 days before the procedure. The particular tests are suggested after a complete real appraisal of the patient.
You will get Stem Cell Treatment for Autism directly from an experienced specialist who has treated thousands of patients from all over the world, Dr. Nayeli Vega, Dr. Cinthia Leon. Make sure to do a consultation first before you start to undergo the Stem Cell Procedures.
Autism Stem Cell Specialists in Juarez, Mexico

 

 
How to Reach Juarez Mexico
Juarez is the most well known and notable boundary city in Mexico. You can remain in El Paso and cross the line in the first part of the day finish your procedures and afterward partake in the remainder of the day simply investigating the midtown space of Juarez.
On the off chance that you choose to head to Ciudad Juarez utilizing your vehicle or a rental vehicle, it is recommended that first, you check with your protection supplier to learn in the event that they will cover you in the city. Recollect that your vehicle needs to have protection to drive in Ciudad Juarez, and the driver should convey their drivers' permit.
It's exceptionally easy to show up to the city via vehicle, yet in the event that you favor it you can call a taxi, transport or request private transportation to effortlessly move around the city.
You likewise have the choice of traveling to El Paso or showing up straightforwardly to Ciudad Juarez. Ciudad Juarez International air terminal offers transport administrations and cabs for voyagers.
Below are several questions often asked by patients about Stem Cell Treatment for Autism Package in Juarez Mexico by CMCells. You can use those questions for your additional reference for Stem Cell Therapy in Juarez Mexico:
Why are stem cells so popular?
Stem cells address an astonishing region in medication in view of their capability to recover and fix harmed tissue. Some current treatments, for example, bone marrow transplantation, as of now utilize stem cells and their potential for recovery of harmed tissues.
What is the real advantage of stem cells?
Investigations have discovered that stem cell treatment can help with working on the improvement of new strong skin tissue, redesign collagen creation, fortify hair progression after trims or misfortune, and help substitute with scarring tissue with as of late made sound tissue.
How much success rate of stem cell treatment?
The prominence of stem cell treatments has fundamentally expanded, because of its high adequacy and recorded achievement paces of up to 80%. It is an advanced kind of regenerative clinical treatment that utilizes a remarkable organic part called stem cells.  
Is stem cell safe to use?
Indeed without a doubt, stem cell treatment is an ensured procedure. The specialist ought to follow fitting cell association procedures. Patients ought to moreover be assessed for treatment application as all people may not be a competitor for stem cells.
Stem Cell Treatment for Autism Package in Juarez Mexico by CMCells will help you get maximum results and exceed your expectations. Get special prices for regenerative therapy that will make your life perfect. Click the button below if you want to place your reservation:

Related Experiences:
Stem Cell Therapy for Autism in Guadalajara, Mexico
Stem Cell Therapy for Autism in Tijuana, Mexico
Stem Cell Therapy for Autism in Mexico City
Stem Cell Therapy for Autism in Mexico
Stem Cell Therapy for Autism in Thailand
Stem Cell Therapy for Autism in China
---