Breast Reduction in Istanbul Turkey at Optimed Hospital
Package price starting from:
$2500
Treatment:
Cosmetic/Plastic Surgery, Breast Reduction
Location:
Alipasa, Kilic Ali Pasa Venue No:36, 59850 Corlu/Tekirdag, Turkey
Focus Area:
Breast Reduction in Istanbul Turkey | Reduction Mammaplasty | Optimed International Hospital
---
Affordable Reduction Mammaplasty in Istanbul, Turkey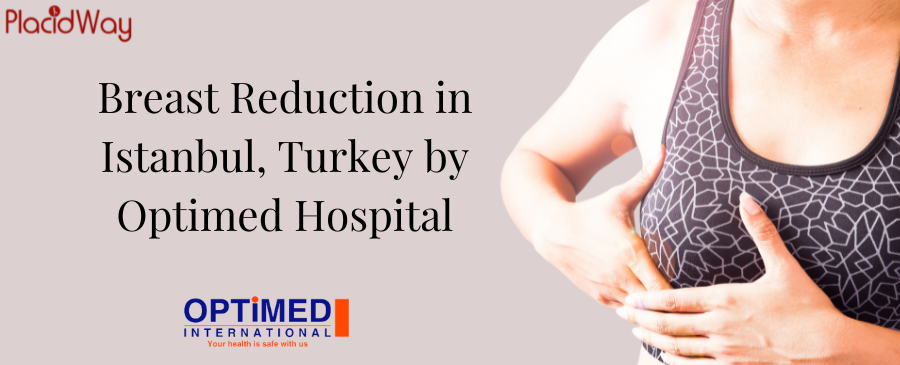 Breast reduction in Istanbul, Turkey will help you improve your self-image and achieve a breast size proportional to your body. Explore Istanbul and save up to 60% compared to US and UK prices.
Optimed International Hospital was established in 2007 and since then provides patients with safe, high-quality medical care. Optimed uses top-notch equipment and the latest technology in performing various surgeries such as plastic surgery.
Table of Content
• Cost  • Procedure  • Advantages  
• Inclusions • Exclusions  • Doctors
• Why Istanbul  • FAQs  • How to Book
What is Breast Reduction Procedure?
Breast reduction, or reduction mammaplasty, is a cosmetic procedure that removes excess fat, tissue, and skin from the breasts. This procedure is done on male and female patients with large breasts.
Breast reduction surgery can ease discomfort and help you achieve a breast size adequate for your body.
Cost of Breast Reduction Surgery in Istanbul, Turkey at Optimed Hospital
Breast reduction cost in Istanbul is only $2,560. The same quality of procedure costs over $6,000 in the USA and the UK.
| | |
| --- | --- |
| Location | Cost in USD |
| Istanbul, Turkey | $2,560 |
| United States | $6,000 |
| United Kingdom | $7,000 |
Note: For more information about the final price, contact the clinic directly. The price may vary depending on your condition and the complexity of the surgery. 
Advantages of Breast Reduction in Istanbul
Reduces boob size

Boost confidence

More aesthetically appealing bosom

Enhance the overall proportions of the body

Relieves pain in your upper back

Affordable surgery

Vacation in Istanbul before the surgery
Reduction Mammaplasty Package Inclusions
Scheduling medical appointments

Arranging hotel accommodation

Transfers from the airport to the hospital or your hotel

Transfer from the hospital or your hotel to the airport

Assisting with hospital admissions and physicians

Providing translator

Ensuring that you understand the instructions from physicians

Preoperative preparation examinations and tests

Obtaining and delivering copies of medical reports after consultations

Hospitalising of our patient and one accompanying person

Room service for our patient and the accompanying person as breakfast, lunch, and dinner

Covid-19 PCR test for traveling
Reduction Mammaplasty Package Exclusions
Payment Options: Cash, credit card, wire transfer.
Note: The center may require a money deposit once a patient decides to receive the treatment from the clinic.
Best Plastic 
Surgeon
 in Istanbul, Turkey at Optimed Hospital
Optimed International Hospital in Istanbul has one of the best plastic surgeons in Turkey. Here are the credentials of Aesthetic, Plastic and Reconstructive Specialists:
Doctor Name: Op. Dr. Ali Nurhan OZBABA
Languages: English and Spanish
Education:
1980 – Ankara University Medicine Faculty

 1989 –Gata University Medicine Faculty
Associations and Fellowships:
Turkish Aesthetic Plastic Surgery Association
Experience: 20+ years
Istanbul is a beautiful city and the largest in Turkey. It attracts millions of tourists annually. Istanbul has architectural wonders, diverse culture, and numerous restaurants with traditional Turkish food.
Istanbul spreads on two continents, making it a modern and historic center of Turkey. The following tourist places are worth visiting in Istanbul:
Aya Sofia Mosque
Grand Bazaar 
Topkapi Palace 
Bosphorus Cruise
Blue Mosque
FAQs about Reduction Mammaplasty in Istanbul, Turkey
Who is eligible for breast reduction surgery?
The breast reduction procedure is usually done on women who have large breasts. Also, if the following problems accompany large breasts, then this surgery is for you:
Chronic back, neck, and shoulder pain

Chronic skin irritation under the breasts

Difficulty fitting into bras and clothes

Restricted activity

Poor self-image 
When a breast reduction isn't recommended?
A surgeon will not recommend a breast reduction procedure if you 
Have health conditions such as diabetes or heart problems

Are very obese

Want to avoid scars on your breasts

Smoke
What can I expect after the reduction mammaplasty procedure?
You can consult your doctor to know what to expect from breast reduction and prepare for the surgery. Typically, post-procedure expectations include
Breasts will be covered with a gauze dressing or bandages

You should take pain medication and antibiotics

Breasts will probably feel sensitive

Limiting physical activity for up to four weeks while the breasts heal

Avoiding underwire bras for a few months after surgery
Although breast shape and size can change due to aging and weight gain or loss, the final result is generally permanent.
Get an all-inclusive package for Breast Reduction in Istanbul, Turkey at Optimed International Hospital. Experience long-term positive results and boost your confidence after effective boob surgery in Istanbul. Click the button below to get more information:

Related Experiences:
Breast Reduction in Antalya Turkey
Breast Reduction in Turkey
Breast Reduction in Thailand
Breast Reduction in Dominican Republic
Breast Reduction in Tijuana, Mexico - Reduce Your Breast Size
Breast Reduction in India - Remove Excess Breast Fat
---
Cosmetic/Plastic-Surgery Related Packages
Cosmetic/Plastic-Surgery Related Experiences