Calf Implants in Izmir, Turkey at Ento Medical Center
Treatment:
Cosmetic/Plastic Surgery, Calf Implants
Location:
Kazm Dirik Mah.No:36 A 364/1sokak Izmir Bornova, Turkey
Focus Area:
Calf Enhancement | Calf Implants | Calf Augmentation | Plastic Surgery | Izmir, Turkey | Ento Medical Center
---
All-Inclusive Package for Calf Enhancement in Izmir, Turkey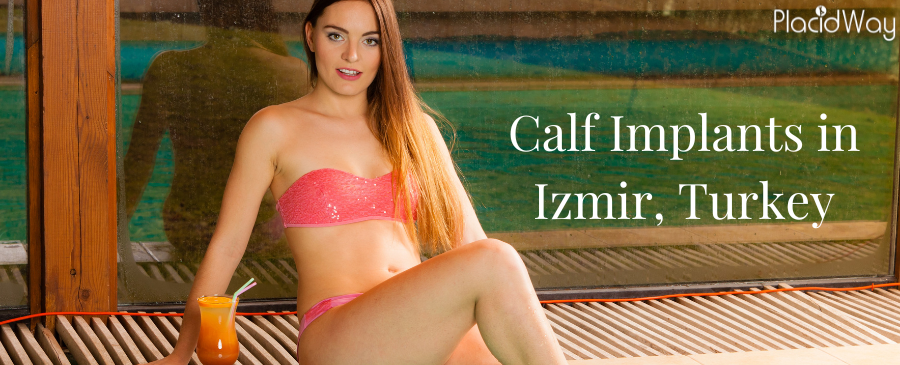 Calf Enhancement Package in Izmir Turkey
Looking for the best way to improve the look of your lower legs? Calf Implants in Izmir, Turkey are an excellent solution to help you correct any asymmetries between your legs, improve the proportions of your lower body, enhance the shape of your calves, and get a more muscular calve muscles.
Package Price at $6,145!
ENTO Medical Center is located in beautiful Izmir. The clinic aims to provide economical and quality health services according to the patient's needs and expectations.
What is Calf Enhancement Procedure?
Calf implants, or calf augmentation, are silicone-based products surgically inserted into your calves. They are designed to enhance the calf area. Both men and women can undergo this procedure if they wish to have better-looking lower legs.
Certified plastic surgeons perform calf enhancement on patients with asymmetrical lower legs, bodybuilders, and people with injuries or physical disabilities.
Calf Enhancement cost in Izmir is around $6,145 and includes most of the amenities for international patients. In America or Britain, only the procedure cost over $5,100, but other fees are not included in the price.
| | |
| --- | --- |
| Countries | Cost in USD |
| Izmir, Turkey | $6,145 |
| United Kingdom | $5,100 |
| United States | $7,500 |
Note: Contact the clinic directly for more information about the final price. The price may vary depending on your condition and the complexity of the surgery.

Enhances the calf area

Improves the appearance of your lower legs

Low rates of side effects

High rates of efficacy

Provides more fullness in the calves

C

orrect any asymmetries between legs

Improves self-image
Calf Augmentation Surgery Package Inclusions
All inclusive surgery

7 nights comfortable accommodation

Private transfers for all ways for the patients

Comprehensive doctor controls before and after surgery 
Flight tickets

Hotel stay
Apart from having quality calf implant procedure in Izmir, you can also enjoy exploring the city before the surgery. The town mixes old and new cultures influenced by Europe and Asia.
It has numerous attractions for every tourist's taste. Here are just a few of many places in Izmir worth visiting:
Ruins of the temple in Agora
The administrative center of Konak

Kemeralti Market

Alsancak district

Pamukkale Tour from Izmir (3h distance)
FAQs about Calf Augmentation Surgery in Izmir Turkey
Is calf augmentation procedure in Izmir 

safe

?
Calf augmentation is safe to undergo in Izmir's state-of-the-art clinics. Only credible plastic surgeons perform the procedure with the newest technology and sterilized equipment.
You will have safe and effective surgery and feel safe as a tourist in Izmir.
How do calf implants work?
Calf implants contain silicone, a durable rubber-like material. A surgeon will insert it under your skin to give the area a look of fullness. This can help provide more fullness in the calves without defined muscles.
Calf implants produce a more muscular look, and your calves will be more prominent in size.
Are there any risks or side effects from calf implants?
Any cosmetic surgery can pose both severe and minor risks. Calf implant surgery has few side effects, including bruising from the incision areas and swelling. Some people experience side effects from anesthesia, such as nausea and vomiting.
Talk with an experienced and trained surgeon who will help you reduce the risks and other complications.
Who is eligible for calf implant surgery?
You can be eligible for calf implants if you wish to enhance your calves. Here are the most common reasons to undergo surgery:
You're looking to improve your calves size to look fuller. 

You are a bodybuilder who wants to get more muscular calve muscles.

You have injuries or physical disabilities and wish to correct any asymmetries between your legs.
However, discussing this with your surgeon is the best way to determine if calf implants are your option.
Order Your Package for Calf Implants in Izmir, Turkey Today!
Don't hesitate to order your Calf Enhancement package in Izmir, Turkey at Ento Medical Center today. Save over 50% of your money and enjoy luxury amenities in Izmir's top clinic. Contact us for more detail on the package.

Related Experiences:
Calf Implants in Turkey
Calf Implants in Thailand
Your Guide to Breast Implants in Izmir - Turkey
Breast Augmentation in Izmir, Turkey
Facelift in Izmir, Turkey
Rhinoplasty in Izmir, Turkey
---
Cosmetic/Plastic-Surgery Related Packages
Cosmetic/Plastic-Surgery Related Experiences