Stem Cell Therapy for Psoriasis Package in Vienna, Austria by Kobinia Med
Package price starting from:
$15830
Treatment:
Chronic Diseases,Stem Cell Therapy, Psoriasis, Adult Stem Cell Therapy
Focus Area:
Stem Cell for Psoriasis | Skin Disease Regenerative Cell Therapy | Epidermal Treatment | Skin Regeneration | SCT Vienna, Austria | Kobinia Med
---
Psoriasis Procedure with Stem Cell in Affordable Cost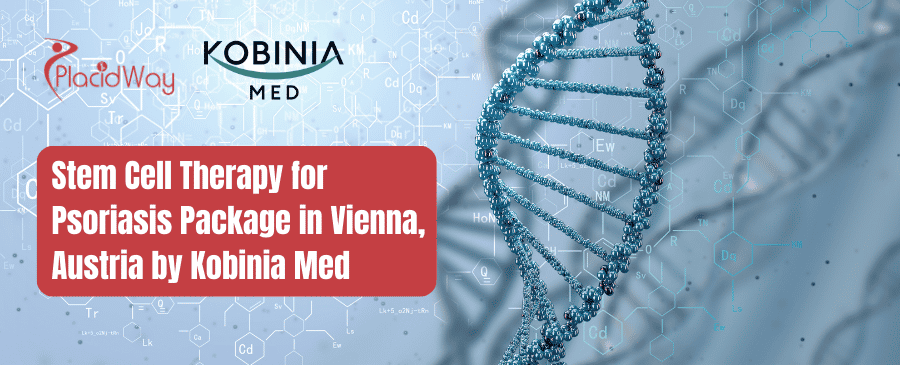 Psoriasis is a chronic skin condition that affects millions of people worldwide, causing red, itchy, and scaly patches on the skin. While there is no definitive cure for psoriasis, stem cell therapy has emerged as a promising treatment option to manage the symptoms and improve the quality of life for patients. Vienna, Austria, renowned for its advanced medical facilities and expertise, offers a comprehensive Stem Cell Therapy for Psoriasis Package patients, provided by the renowned Kobinia Med. Check our package details below to learn more.
You can get Stem Cell Therapy for Psoriasis Package in Vienna, Austria by KOBINIA MED with the price starts at $15,830. Check our price list table below to learn more:
| | |
| --- | --- |
| City, Country | Cost in USD |
| | |
| | |
| | |
Note: price may change and vary depends on complexity of procedures and patient conditions. Click free quote button below to learn more:

Cutting-edge Medical Facilities: Vienna is home to state-of-the-art medical facilities equipped with advanced technologies, enabling the delivery of top-notch healthcare services. The treatment centers in Vienna offer a conducive environment for psoriasis patients, ensuring a comfortable and effective treatment journey.
Skilled and Experienced Medical Professionals: The medical professionals at KOBINIA MED in Vienna are highly trained and experienced in stem cell therapy for psoriasis. They possess a deep understanding of the condition and employ the latest techniques to provide personalized treatment plans, ensuring optimal results for patients.
Access to Innovative Stem Cell Therapy: Vienna, Austria, is at the forefront of medical advancements, including stem cell research and therapy. By choosing treatment in this city, psoriasis patients have access to the latest and most innovative stem cell therapy techniques, which can potentially enhance the effectiveness of the treatment.
Comprehensive Care and Support: KOBINIA MED in Vienna is dedicated to providing comprehensive care and support to psoriasis patients throughout their treatment journey. The medical staff and support team work collaboratively to address the individual needs of each patient, offering guidance, education, and emotional support.
Beautiful and Relaxing Environment: Vienna, known for its stunning architecture, rich culture, and picturesque landscapes, provides a serene and relaxing environment for patients undergoing treatment. The city offers a perfect blend of excellent medical care and a peaceful ambiance, contributing to the overall well-being and recovery of patients.
What is Psoriasisis?
Psoriasisis an immune mediated, chronic, non contagious skin disorder characterized by scaling and inflammation due to increased cell growing, that can develop on virtually any part of the body, even the nails and scalp.Psoriasis Disease Regenerative Cell Therapy Vienna Austria Europe
Normally, skin cells grow gradually and flake off about every 4 weeks, replacing with new cells.  In psoriasis, new skin cells move rapidly to the surface of the skin, within a week. Psoriasis affects approximately 3% of people globally and usually develops in patients between age 11 and age 45.
Stem Cell Therapy for Psoriasis in Europe's Vienna, Austria
At Stem Cell Clinic from Vienna, the administration of Autologous Stem Cells in a patient with psoriasis will correct the aberrant immune system of his/her body and reduce progression of disease. After 40 years of successful medical practice, Dr. Kobinia?s treatment offers you a high standard of medical care and the latest methods to process autologous bone marrow derived stem cells.
The used method of processing is not only designed to obtain the highest number of viable stem cells, but also enables the clinic to use a revolutionary Point of Care technique. Stem cells are processed in a specialized laboratory and this takes several days, which are not needed in case of our point of care principle.
With this State of the Art technique, the clinic is not only able to minimize the time between collection of bone marrow and the moment of administering the cells for psoriasis treatment to a few hours, but also fulfills all the regulatory requirements for safe and transparent stem cell processing under the principles of Point of Care.
Medical evaluation of the reports

First consultation

Additional examinations if required

Pre-operation examinations at the internal specialist if necessary

Stem cell therapy

Anesthesiologist

Medical assistance and nurse

Check-up after the operation

Lab analysis

Evaluation of the lab analysis

Transfer to and from the clinic on the operation day (incl. special transfer for patients in a wheelchair)

Medication and pain reliever after the operation if required

Follow-up documentation

Administrative effort: hotel reservation, visa application procedure and mailing, organization of the transfers, coordination of the treatment dates, clinic: booking and coordination

Visa invitation letter and mail-order

Children: consultation at the paediatrist

Adults: Neupogen, a medicine which is given prior the operation to all adult patients to enrich the natural amount of stem cells and which activates the peripheral blood cells and increases the bone marrow activity.
The Stem Cell Therapy for Psoriasis Package in Vienna, Austria, by KOBINIA MED does not include the following:
Travel Expenses: Costs associated with flights, visas, and travel insurance are not covered in the package and should be arranged separately by the patient.
Additional Medications: While the package includes the necessary stem cell therapy sessions, any additional medications or supplements required during the treatment period are not included and will be an additional expense.
Personal Expenses: Personal expenses, such as meals, sightseeing, or entertainment, are not part of the package and should be managed by the patients themselves.
Extended Stay Costs: If the patient wishes to extend their stay in Vienna beyond the treatment period, the accommodation and related expenses for the extended duration will not be covered by the package.
Specialized Treatments: In the case of any additional specialized treatments or procedures not directly related to the stem cell therapy for psoriasis, the costs will not be included in the package and will be charged separately.
Stem Cell Therapy for Psoriasis Pre-Op Tests
Before undergoing the stem cell therapy for psoriasis, patients are required to undergo the following pre-op tests:
Complete Blood Count: A blood test to evaluate the patient's overall health, including red and white blood cell counts, platelet count, and hemoglobin levels.
Liver and Kidney Function Tests: Tests to assess the functioning of the liver and kidneys, ensuring the patient's organs can tolerate the treatment and medications.
Dermatological Examination: A thorough examination of the skin by a dermatologist to assess the severity and extent of psoriasis.
Medical History Review: A detailed review of the patient's medical history to identify any underlying conditions or medications that could impact the treatment process.
Imaging Tests: Depending on the individual case, imaging tests such as X-rays, ultrasounds, or MRI scans may be conducted to assess the condition of the affected areas and surrounding tissues.
Dr. Georg Kobinia MD is renowned as one of the best regenerative medicine specialists in Vienna, Austria. With extensive experience and expertise in the field, Dr. Kobinia has earned a reputation for delivering exceptional patient care and achieving remarkable results. As a highly skilled and knowledgeable practitioner, Dr. Kobinia utilizes the latest advancements in regenerative medicine to provide innovative and personalized treatment plans for his patients. With a strong commitment to excellence, Dr. Georg Kobinia MD is dedicated to helping individuals achieve optimal health and well-being through regenerative medicine therapies.
Best Regenerative Medicine Specialist in Vienna, Austria

 

Medical University of Vienna

Harvard University, Massachussetts General Hospital, Boston, postdoctoral lecture qualification, 1983

International Surgery Experience: Bulgaria, Romania, Iran, Kazakhstan, Serbia, Croatia, England
Choosing psoriasis treatment in Vienna, Austria, offers several advantages. The city's advanced medical facilities, skilled professionals, access to innovative therapies, comprehensive care, and serene environment combine to provide an optimal treatment experience. Patients can benefit from the expertise of KOBINIA MED in Vienna, receiving personalized care and support throughout their journey. Additionally, Vienna's cultural and natural attractions make it an ideal destination for patients seeking a holistic healing experience.
Q1: How does stem cell therapy help in treating psoriasis?
A1: Stem cell therapy for psoriasis involves the administration of specialized cells that have the potential to regenerate damaged tissues and modulate the immune response, reducing inflammation and improving the symptoms of psoriasis.
Q2: Is stem cell therapy safe for psoriasis treatment?
A2: Stem cell therapy for psoriasis has shown a favorable safety profile in clinical studies. The use of autologous stem cells, derived from the patient's own body, minimizes the risk of rejection or adverse reactions. However, it's essential to consult with a qualified medical professional to assess individual suitability and discuss potential risks.
Q3: How long does the stem cell therapy for psoriasis treatment usually take?
A3: The duration of stem cell therapy for psoriasis varies depending on the individual patient's condition and response to treatment. Typically, a treatment plan consists of multiple sessions conducted over several weeks or months. Your medical team will provide a personalized treatment timeline during the consultation.
Q4: Can stem cell therapy completely cure psoriasis?
A4: While stem cell therapy shows promise in managing psoriasis symptoms, it's important to note that there is currently no definitive cure for psoriasis. Stem cell therapy aims to alleviate symptoms, improve quality of life, and potentially achieve long-term remission. The results vary from patient to patient.
Q5: Is stem cell therapy for psoriasis covered by insurance?
A5: Insurance coverage for stem cell therapy varies depending on the insurance provider, policy terms, and geographical location. It's advisable to check with your insurance company regarding coverage for stem cell therapy for psoriasis. Additionally, international medical tourism packages may offer cost-effective options for patients seeking treatment abroad.
Ready to embark on your journey towards managing psoriasis through stem cell therapy in Vienna, Austria? Contact PlacidWay Medical Tourism today to book your consultation at KOBINIA MED and take the first step towards a better quality of life. Our experienced team will guide you through the process, ensuring a seamless and rewarding medical tourism experience. Don't let psoriasis hold you back; explore the innovative treatments in Vienna and regain control over your skin health.



Related Experiences:
Stem Cell Therapy for Parkinson's disease in Austria
Stem Cell Therapy for Anti-Aging in Austria
Stem Cell Therapy in Austria
Cerebral Palsy Stem Cell Therapy in Austria
Explore Effective Stem Cell Therapy for Autism in Austria
Stem Cell Treatment for COPD in Europe
---