Saudi German Hospital Dubai
Dubai, UAE
Al Barsha 3, Hessa Street 331 West Off Exit 36 Sheikh Zayed Road Opposite of American School of Dubai P.O.Box No. - 391093

Focus Area: Healthcare Dubai | Heart Surgery | Orthopedics | Eye Surgery | Dentistry | Radiology | Urology | Dubai, UAE
Saudi German Hospital - Dubai, Coronary Artery Bypass Surgery in Dubai, Heart Valve Replacement Surgery in Dubai, Hip Replacement Surgery, Knee Replacement Surgery, Heart Surgery in Izmir, Dentistry, Radiology, Healthcare in Dubai, UAE
Profile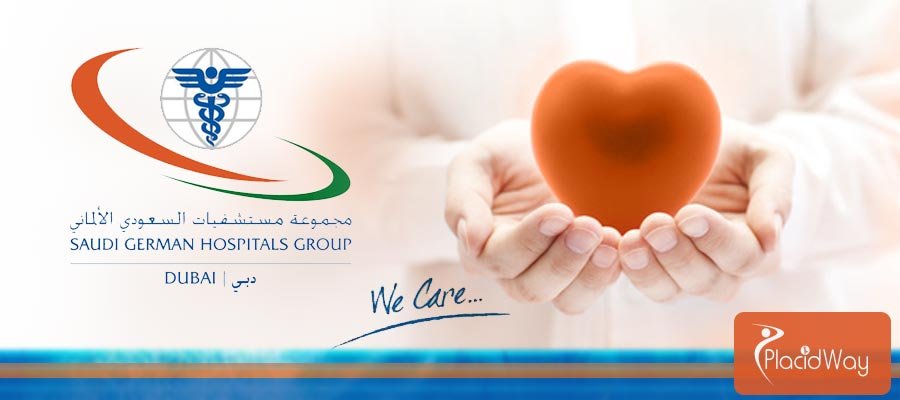 Welcome to Saudi German Hospital - Dubai
Saudi German Hospitals Group was founded in 1988 by the Batterjee family and it is the largest medical provider in North Africa and the Middle East region. The group is also a healthcare developer, constructing its own hospitals, financing their development with the help of local government and development banks. The SGH Group has partnerships with many German Medical Schools & Faculties.
Every year the SGH Group commissions one new hospital, adding around 500 employees. Currently the group has 3,000 employees and it is growing at a rate of 16% annually. SGH Group aims at designing, financing, constructing and operating 30 modern hospitals by 2020 and create 50,000 jobs in the medical industry.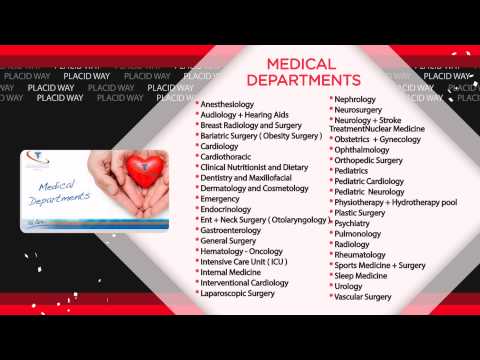 Saudi German Hospital-Dubai is accredited by JCIA (Joint Commission International Accreditation), CAP (College of American Pathologists) and MTQUA (Medical Travel Quality Alliance Certification).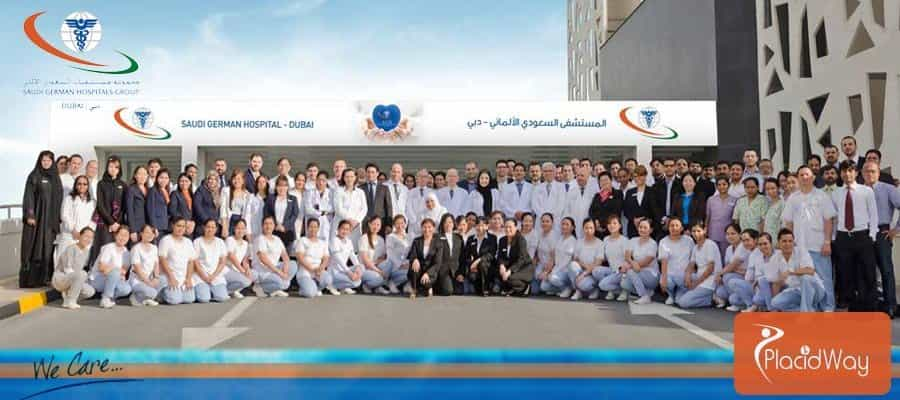 Saudi German Hospital has become a center of excellence for several key specialties and super-specialties such as: Cardiology, Surgery, ENT, Ophthalmology, Emergency, Gynecology, Urology and Pediatrics.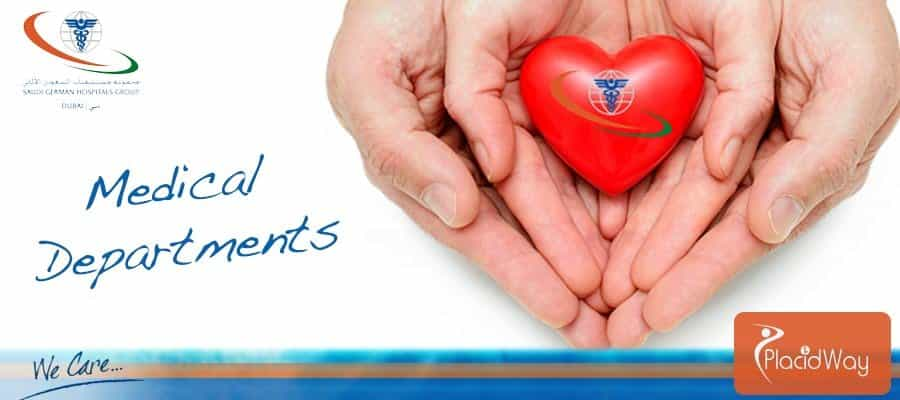 Medical Departments
Anesthesiology

Audiology + Hearing Aids

Breast Radiology and Surgery

Bariatric Surgery ( Obesity Surgery )

Cardiology

Cardiothoracic

Clinical Nutritionist and Dietary

Dentistry and Maxillofacial

Dermatology and Cosmetology

Emergency

Endocrinology

Ent + Neck Surgery ( Otolaryngology )

Gastroenterology

General Surgery

Hematology - Oncology

Intensive Care Unit ( ICU )

Internal Medicine

Interventional Cardiology

Laparoscopic Surgery

Nephrology

Neurosurgery

Neurology + Stroke TreatmentNuclear Medicine

Obstetrics + Gynecology

Ophthalmology

Orthopedic Surgery

Pediatrics

Pediatric Cardiology

Pediatric Neurology

Physiotherapy + Hydrotherapy pool

Plastic Surgery

Psychiatry

Pulmonology

Radiology

Rheumatology

Sports Medicine + Surgery

Sleep Medicine

Urology

Vascular Surgery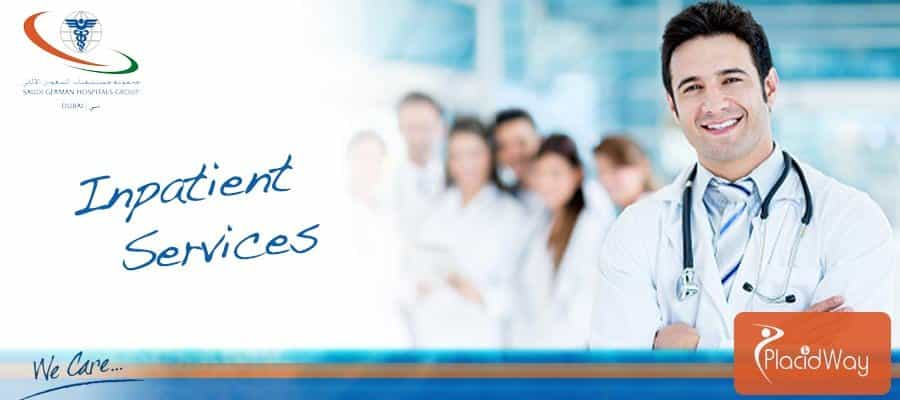 Inpatient Services
SGH Dubai offers Standard rooms (Private / Sharing), VIP rooms (Deluxe and Super Deluxe), as well as Royal Presidential Suites, with a total of 315 beds.
Intensive Care Unit (ICU) for Adults
NICU (Neonatal Intensive Care Unit )
PICU (Pediatric Intensive Care Unit )
GENERAL WARD
OPERATING THEATRES
DELIVERY ROOMS
SLEEP LAB
CATH LAB
DIALYSIS CENTER
Critical Care Unit (CCU)
Special Care Unit (SCU)
Stroke Unit 24/7
Our Medical Team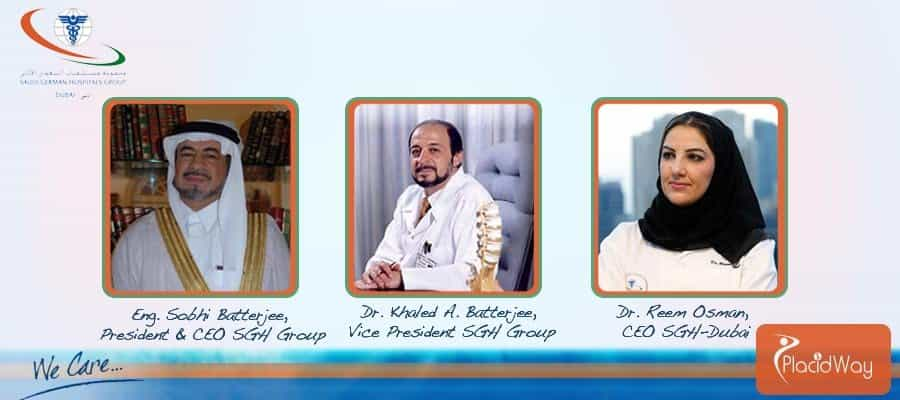 MISSION
SGH-Dubai team is committed to providing superior clinical services that add value to our patients, their families, our stakeholders and our community as a whole.


VISION
As a member of the Saudi German Hospitals Group, SGH-Dubai aims to become the premier healthcare provider and the employer of choice drawing the best talent, in the MENA region.


VALUES
Compassion -We care with the highest degree of dignity, equality, honesty, empathy and trust.
Creation of Value - We seek channels for productive growth of our people and organization.
Collaboration - We work with our customers, partners and colleagues in a spirit of cooperation and teamwork.
Eng. Sobhi Batterjee, President & CEO SGH Group
With the blessing of Allah and the trust of our customers, we have been able to establish ourselves as the most reputed private hospital in the region within a short period of time. Our strategy was to focus on sub-specialties. Our vision and activities go beyond providing reliable quality medical care to patients who come to us. As corporate citizens, we believe that we have social responsibility towards the community welfare programs. In SGH, we believe that continuous education is everybody's responsibility. We are continuously improving our services to exceed the needs and expectations of our patients.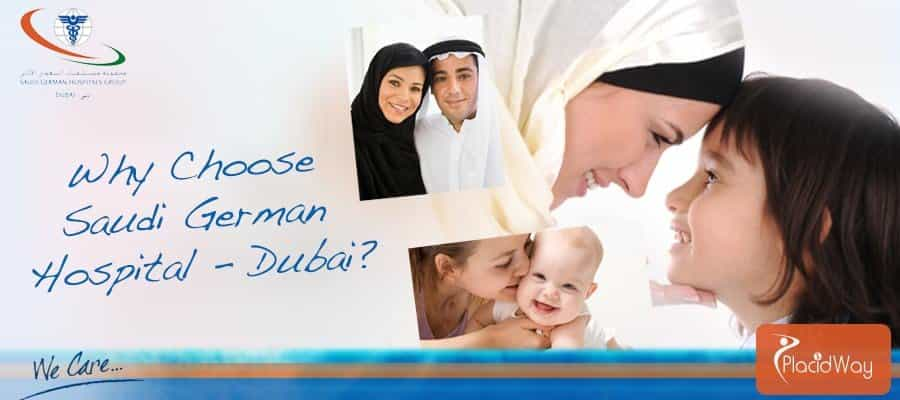 Why Choose Saudi German Hospital - Dubai?
We take pride in our accomplishments, unique blend of exceptional medical expertise and leading-edge technology
We are committed to persistently enhancing our performance in all key areas and providing quality care to our patients in all our specialties and subspecialties
Besides delivering a full range of medical and surgical services, SGH-Dubai focuses on delivering its services with a proactive methodology.
For more information about Saudi German Hospital - Dubai
do not hesitate to contact us!