Guatemala Dental Team
Affordable Dental Work in Guatemala City at Guatemala Dental Team
Blvd. Vista Hermosa 24-00 zona 15, Vista Hermosa II, Edificio Domani, Of. 1201, Guatemala City, Guatemala, 01015, Guatemala City, Guatemala

Focus Area:

Guatemala Dental Team | Dental Implants | Veneers | Crowns | All on 4 | Dentistry
Guatemala Dental Team Profile Overview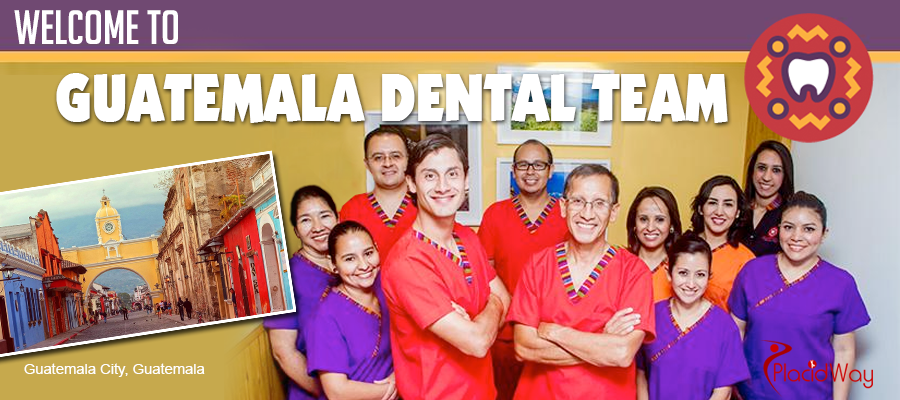 Welcome to Guatemala Dental Team
Guatemala Dental Team makes a simple promise, which is to give you a beautiful smile. Located amid the upscale commercial neighborhood of the Guatemala City, the dental clinic promises to provide friendly, comfortable, affordable and personalized dental experience. Their top-notch dental services are backed by Lifetime Replacement Guarantee. If you are concerned about the savings, then you will be happy to know that you can save between 50% and 80% in comparison to the rates charged at a typical US-based clinic.
Apart from the dental treatment services, the clinic offers fabulous views of the nearby attractions including UNESCO World Heritage site of Antigua, Guatemala along with high-end spas, hotels, shopping, etc. Thus, the clinic ensures top-rated dental care with the best of tourism activities.
Treatment and Procedures
Full mouth reconstruction

Pain free

dentistry

Root canals

Cosmetic dentistry

Bonds and fillings

Crowns & bridges

Teeth whitening

Porcelain veneers

Orthodontics

Invisalign
In order to contact the medical center, please fill out the contact form by clicking on the tab given below.

---
---
Reviews
Bethany

We went to visit Dr. Guerra after my husband had been two three other dentists and had a root canal and another endodontical surgery, none of which brought a solution to his problem. Dr. Guerra and his staff were friendly, thorough, and quick and were able to resolve his problem and bring an end to about a year of pain. Since then we go to them for all our dental needs. They have modern equipment and use the latest techniques, they provide a service that is above and beyond excellent. I would highly recommend them to anyone needing dental care in Guatemala.

Google

Oct 23 2020

Xander

Professional team, well organized, all inclusive and very accommodating. I traveled from Florida to get a bunch of fillings. I felt no pain, doctor was very gentle with the novocain injections. Beautiful view from the chair, also ceiling mounted TV with Netflix and wireless headphones to distract me for the whole procedure. Office staff organized all my transportation and my overnight stay, all I had to do was book my flight. I highly recommend Guatemala Dental Team to anybody needing any kind of dental work at all. I will be sure to go back here if I ever need to have work done again. Makes me look forward to going to the dentist!

Google

Aug 18 2021

MARYGAIL

I have a very delightful experience with the Guatemala Dental Team. I needed 4 implants/crowns, 1 additional crown, and 2 cavities repaired. Every step and team member was easy, clear and superior to any USA dentist I would been to in my 60+ yrs. VERY professional and kind. All of this and I got to visit Guatemala twice I would fallen love with Guat. in a 1977 visit for almost 1/2 of what it all would have cost me in the USA!! Including hotel and airfare. All around a win-win-win. After Covid-19 I went in 2018 I encourage you to experience a very positive and safe adventure and cultural experience.

Google

Jul 23 2021
---
Dentistry Related Packages
Dentistry Related Experiences