Dr HE Obesity Clinic
Weight Loss Surgery in Istanbul Turkey At Dr. HE Obesity Clinic
Altunizade, K?s?kl? Cd. No: 5B D:2, 34662 Üsküdar/Istanbul, Istanbul, Turkey

Specialty:

Laparoscopic Surgery, Obesity/Bariatric Surgery, Weight Loss Program

Focus Area:

Bariatric Surgery Clinic in Istanbul, Turkey | Dr. Hasan Erdem | Dr. HE Obesity Clinic | Gastric Sleeve | Gastric Bypass | Obesity Surgery | Bariatric Surgery | Obesity Surgeon
Dr HE Obesity Clinic Profile Overview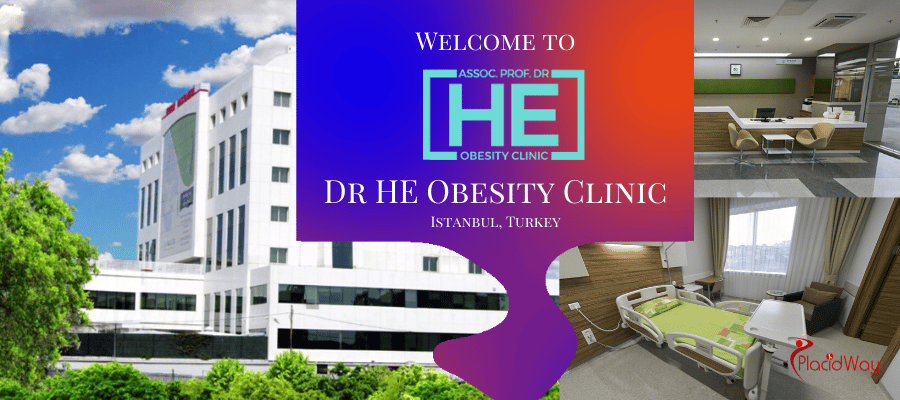 Dr. HE Obesity Clinic- Best Bariatric Surgery Center in Istanbul, Turkey
Hasan Erdem Obesity Clinic or Dr. HE Obesity Clinic is a complete bariatric surgery center located in Istanbul, Turkey. With the support of the best bariatric surgeons and advanced medical technologies, the clinic provides a wide range of obesity surgeries. Dr. HE Obesity Clinic is equipped with the highest quality and the most advanced equipment for obesity weight-loss surgeries. They also provide pre and post counseling services to the patients that help them maintain excellent transparency, ethics, and guidance.
Table of Content
• Cost • Procedures • Advantages
• Doctors • Why Turkey
• FAQs • How to Book
Dr. Hasan Erdem is not just the Chief Surgeon of Dr. HE Obesity Clinic, but also one of the most well recognized bariatric surgeons in Turkey. He has the longest and most prominent experience in the field of bariatric surgery in the country. To date, he has performed more than 5,000 weight loss surgeries with an impeccable success rate.
Obesity surgery in istanbul, Turkey will assure you with top bariatric surgery with affordable cost. Top center will provide you with convenience and new experience. Click button below to get more information about the latest cost for obesity surgery in Istanbul, Turkey

List of Treatments and Services Offered by Dr HE- Obesity Clinic
Gastric sleeve
Gastric sleeve surgery is a safe and effective surgical weight loss method that allows people with obesity problems to lose weight which is done under general anesthesia. Laparoscopic surgery is the most commonly used surgery today and is performed through a laparoscope, which means that the surgery will be performed on a small incision in the upper abdomen. The procedure involves removing about 80 percent of the stomach so that the rest remains in the form of a tube, no changes are made to the intestines.
Gastric bypass
Gastric Bypass in Turkey is one of the most common types of bariatric surgery combining restrictive and malabsorptive procedures. Technically, during this procedure, a small pouch is created to shrink the stomach and a certain segment of the small intestine is brought up and connected to this small pouch. Unlike sleeve gastrectomy, the remnant of the stomach is not removed.
Gastric balloon
Gastric Balloon in Turkey system consists of a soft, expandable balloon, a placement tube, and a filling system. The Intragastric balloon is too big to pass into the gut and leads to a relatively long-term feeling of fullness with smaller food portions. In general, intragastric balloon placement significantly reduces portion sizes and helps you to achieve your long-term weight loss goals.
Stomach Botox
Gastric botulinum toxin injections have been widely used in recent years and botulinum toxin is injected into the gastric fundus using an endoscopy needle. Botulinum toxin affects striated muscles of the stomach, inhibits their contractions; in this way it slows the digestion of food in the stomach. It takes longer for the stomach to digest the food and accordingly, the sensation of fullness persists for a longer period of time. The botox is mainly injected into the gastric fundus which is considered to be the appetite center of the stomach and stops Ghrelin hormone signaling from the area. Ultimately, the procedure facilitates appetite control. In other words, the procedure decreases the appetite and induces a feeling of prolonged fullness.

---
Dr HE Obesity Clinic, Istanbul, Turkey Profile Details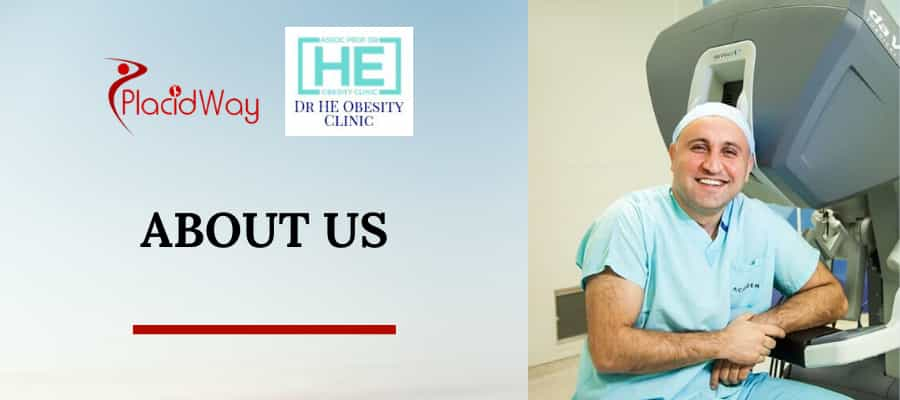 Dr. Hasan Erdem with more than 20 years of surgical experience along with his specialist team offers expert assessment and surgical treatments for overweight and obesity issues. Upon admission to HE Clinic, every patient goes through a detailed examination of underlying causes that might have lead to obesity. Thus, the expert team assesses patients' general health status along with eating habits and psychological factors. Only after such thorough examinations and evaluations, individual patients are given the most appropriate treatments.
The clinic is JCI and ISO certified, which ensures high-quality treatment and care for the patients. The clinic has more than 5,000 satisfied patients.
International Patient Center
A modern high-tech hospital built in 2015

Advanced biochemistry and microbiology laboratory

Cutting-edge robotic technologies

All-inclusive packages

Accredited by the Ministry of Health Turkey
Services of the International Patient Relations Department include
VIP Transfers, Concierge

All medical appointments

Cost estimates for expected treatment

English, Arabic, German, Bulgarian, Russian-speaking staff and language interpretation

High Quality, Low Prices

Accreditation
Accommodation Facilities at Comfortable Hotel in Istanbul
Accommodation is provided with Hampton by Hilton. The hotel is located very close to the
hospital. Staying so close to the hospitals has the advantage of keeping you out of the
congested traffic of Istanbul. Additionally, if patients need emergency services, they are
only minutes away.
Hampton by Hilton is a fabulous 5 stars hotel that offers its guests free wifi and 24-hour
room service, among other amenities. There is a restaurant, gym, spa, and lounge on-site restaurant
Single Room

Twin for Sole Use

Twin Room

Double Room

Triple Room
For more information about their treatments and procedures, click the button below:

---
Dr HE Obesity Clinic Certificates, Accreditations, Qualifications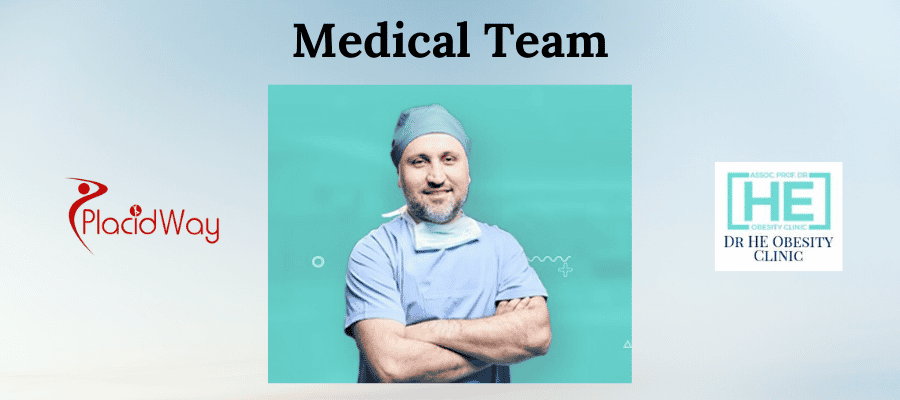 Here you can find information about best obesity surgeons in Istanbul, Turkey:
Dr. Hasan Erdem M.D- Owner of HE Clinic
Dr. Hasan Erdem M.D is a bariatric Surgeon who received medical training at the Istanbul Medical School of Istanbul University between 1995 and 2002. He completed his residency in General Surgery at Bezmialem Vakif Gureba Teaching Hospital in Istanbul. He worked at the Adana Numune Teaching Hospital as chief assistant in general surgery. In August 2018, he was granted the title of Associate Professor of Surgery of Obesity and Metabolic Conditions.
20 years of experience in surgery

More than 5,000 satisfied patients

Universal Conferences

International Scientific Publications
Other Members of the HE Clinic Medical team are:
Dr. Mehmet GENÇTÜRK- General Surgeon
8 years of experience in surgery

More than 1,000 satisfied patients

Universal Conferences

Scientific Publications
Dyt. NAYAT KABAPCI- Bariatric Dietitian
Metabolic and bariatric surgery dietician

5 years of experience in bariatric surgery

Over 3,000 satisfied patients

Universal Conferences
Frank Carter- International Patient Representatives
For more information about HE Clinic medical team, click the button below:

---
Dr HE Obesity Clinic Testimonials
---
Istanbul, Turkey Destination Overview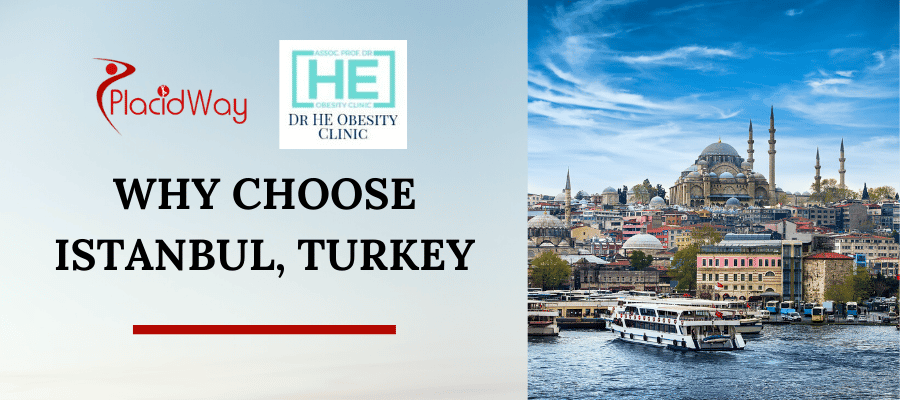 Why Should You Choose Istanbul, Turkey for Medical Tourism?
It is very important to select the right medical tourism destination, as it affects the healing and recovery of the person. Istanbul, Turkey is counted among the safest and the best medical tourism destinations that greet you with its charming climatic conditions and natural beauty. The cost of living in Turkey is relatively less than in other European countries. One can save a lot on healthcare costs and get quality treatment abroad at affordable packages.
Turkey is well-known for its exciting culture and history. The refreshing breezes from the Aegean and the soothing climate make it an ace destination for healing. The lovely environment makes you feel relaxed, which also works towards attaining faster results.
In addition, you can also enjoy natural relaxation on Kusadasi or Cesme beaches or take a trip to the classical City of Pergamum or Ephesus. Istanbul is the perfect place to see ancient palaces, museums, churches, mosques, and traditional markets.
For more information about Dr. HE Clinic in Istanbul, Turkey, click the button below:

---
---