Medworld Health & Wellness Center
Medworld Clinic - Health & Rehabilitation Center in Antalya, Turkey
Medworld Clinic Meltem Mah.Sakip Sabanci Bul.No 3, Muratpasa / Antalya , Antalya, Turkey

Specialty:

Alternative Medicine, Anti Aging, Dentistry, Detox, Hair Transplantation, Medical Spa Treatment, Obesity/Bariatric Surgery, Rehabilitation and Medical Spa Treatment, Skin Care, Weight Loss Program

Focus Area:

Medworld Clinic | Health & Rehabilitation Center in Antalya, Turkey | | Cosmetic Surgery | Dental Care | Alternative Medicine | Hair Transplant | Anti Aging | Wellness Program
Medworld Health & Wellness Center Profile Overview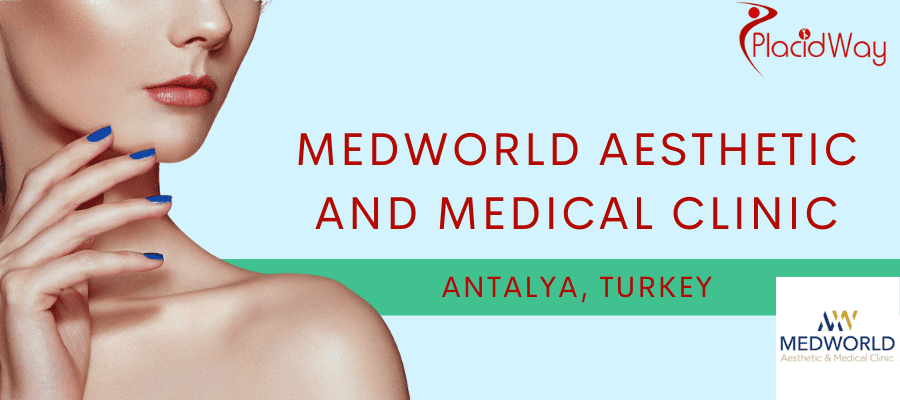 Medworld Clinic for Rehabilitation, Wellness Program, and Asthetic Surgery in Antalya, Turkey
MedWorld Clinic in Antalya, Turkey brings the idea of wellness, rehabilitation, and beauty transformation. If you are in search of a perfect health holiday, now you can get a wide range of health services along with impeccable relaxation.
Located right next to hotel territory, MedWorld Clinic offers a wide range of health programs such as plastic surgery services, dentistry, hair transplantation, and hair mesotherapy, aesthetic cosmetology, check-up examinations, spa and wellness procedures, alternative medicine, physiotherapy, and rehabilitation.
At MedWorld Clinic, patients can choose from various health programs depending on personal requirements. One can personalize the programs as per need. The clinic works with some of the best doctors from various branches. They focus on a healthy diet, physical therapies, and exercises to ensure overall health.
The rehab cosmetic surgery clinic is fully equipped with the latest equipment and 360 suites with panoramic views, swimming pools, green parks, restaurants, and many more to offer the best health holiday experience to the patients. Here are the services, health programs, and specialized clinics to help you understand the services and offerings better.
Medworld Health & Rehabilitation Center Services offered in Antalya, Turkey :
Medical aesthetics

Alternative medicine

Naturopathy, detoxification

Acupuncture, aromatherapy

Manual therapy

Oxygen therapy

Ozone therapy

Mesotherapy

Yoga, Ayurveda, Hypnosis

Osteo-healing practices

Traditional Chinese medicine

Hair transplant DHI / FUE,

check-ups

physical treatment and rehabilitation

Health programs

Plastic surgeries

Wellness treatments
Health programs
Anti Asthma60 Plus Wellness Program

Anti Stress

Detox & Weight Loss Program

Expanded Man's Health

Women's Health Program

Return To Life After Oncology

Family & Baby Planning Program

Anti-aging

Bridal Beauty Program

Hair Transplant Program

Oncology Check-up Program

Natural Beauty Face Program

Dental Hollywood Smile Program
Specialty Clinics
Aesthetics Clinic

Algology Clinic

Alternative Medicine

Dental & Oral Health

SPA & Wellness

Hand & Foot Health

Hair Health & Transplants

Diagnostics & Check-Up

Physical Therapy and Rehabilitation
Book Your Appointment for Rehabilitation and Cosmetic Surgery in Antalya, Turkey at PlacidWay!
Since MedWorld clinic was founded in 2018, we've been working every day to improve each of these programs according to our client's needs. All following programs include accommodation.
The duration recommended to achieve a real health result is a minimum of 7 days. However, it is recommended at least 14 days to achieve long-term results.
Programs supposed to respond to the requirements and health of each patient individually. This means that changes may be applied within the program, following initial assessment and if one of our doctors believes that a treatment included in the program may not be recommended for a patient, in which case they will offer you a suitable alternative.
To know more about the clinic and treatment packages, click below:

---
Medworld Health & Wellness Center, Antalya, Turkey Profile Details
Medworld Clinic -

Rehabilitation, Wellness Program, and Aesthetic Surgery Clinic in Antalya, Turkey
Dear Patient,
As Medworld Clinic, we have brought together professionals and various programs to help our patients to look and feel the best in their life, and we have integrated east and west medicine for you and we have adapted an integrative approach to healthy living. At Medworld Clinic, we have created a new personalized health stream for you.
Our professional doctors have come together to help you fully understand your current health status and to help you live a longer and more fulfilled life. At Medworld Clinic, we have created an outstanding professional team of professionals specializing in physiotherapy, osteopathy and personal training, where you can receive training according to your needs. Within Medworld Clinic; dental, Ophthalmology, dermatology, IV therapy, hair transplantations (DHI & FUE Method), physiotherapy, algology, orthopedic polyclinics as well as checkups and detox packages we have prepared for you.
At Medworld Clinic you will have a learning experience about your eating habits and you will be able to raise the awareness about how you will be eating throughout your life. Our team of fitness experts will provide you with the best practices to fit your lifestyle. You will have the opportunity to relax during your stay in the sauna, steam room, Turkish bath, rest areas and fitness center. During your stay at Medworld Clinic, you will benefit from a healthy atmosphere.
Antalya is a natural paradise where you can enjoy the Mediterranean coast with its mild climate and breathtaking views. Our clinic; In the exotic garden of Rixos Downtown Hotel, which is located in Antalya, the capital of tourism, it provides a luxury concept holiday with health service to its guests from all over the world.
Our guest relations department is always next to our guests 24/7 with airport-hotel transfer and translate service. Medworld Clinic offers healthcare services at the Rixos Hotels in Antalya for patients who wish to receive treatment together with a comfortable holiday. We continue our efforts to provide the most appropriate treatment for our patients with our specialist doctors and high tech devices.
It's Pegah, Health Tourism Specialist in Medworld Health & Rehabilitation Center, we would like to give first class beauty and health services to you.
Do let me know if there's anything else can help you with in the meantime.
Have a great day and stay safe!

---
---