Eliava Phage Therapy Center
EPTC - The Leading Phage Therapy Alternative Medicine Clinic in Tbilisi, Georgia
3 Gotua street, 0160 Tbilisi, Georgia, Tbilisi, Georgia

Specialty:

Alternative Medicine, Anti Aging, Chronic Diseases, Cosmetic/Plastic Surgery, Dentistry, Detox, ENT, Executive Healthcheck, Gynecology Treatment, Hair Transplantation, Medical Spa Treatment, Obesity/Bariatric Surgery, Rehabilitation, Rehabilitation and Medical Spa Treatment, Sexual Medicine and Treatment, Urology, Weight Loss Program

Focus Area:

Eliava Phage Therapy Center | Tbilisi | Georgia | Internal Medicine | Pediatrics | ENT | Urology | Gynecology | Physiotherapy
Eliava Phage Therapy Center Profile Overview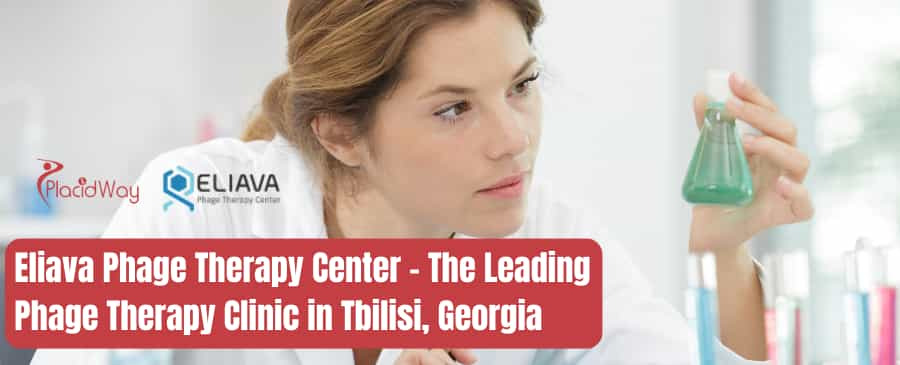 At the forefront of medical innovation, the Eliava Phage Therapy Center in Tbilisi, Georgia is a trailblazer in the field of phage therapy. With a rich history dating back to 1923, the center is part of the esteemed Eliava Institute of Bacteriophages, Microbiology and Virology. The center's dedicated focus on bacteriophage science and applications sets it apart as one of the few institutions in the world solely dedicated to phage therapy. Patients who seek innovative and effective treatments for antibiotic-resistant or chronic bacterial infections can find hope and healing at this renowned center.
As a leading phage therapy clinic, the Eliava Phage Therapy Center boasts a team of accomplished physicians who are experts in the field. Chief Physician Dr. Dea Nizharadze, alongside esteemed colleagues like Dr. Lia Nadareishvili, Dr. Irma Tedoradze, and Dr. Levan Pipia, brings a wealth of knowledge and experience to the center. With their collective expertise, the center provides patients with comprehensive and individualized treatment plans, ensuring the best possible outcomes. The center's commitment to delivering cutting-edge phage therapy treatments sets it apart as a leader in the field, offering a beacon of hope for patients seeking effective alternatives to conventional medicine.
Cutting-Edge Medical Innovations
Within the walls of the Eliava Phage Therapy Center, cutting-edge medical innovations are transforming the landscape of alternative medicine. Bacteriophage therapy, the utilization of "good" viruses to combat bacterial infections, is at the heart of these breakthrough treatments. By targeting specific bacteria and inducing their destruction through a process called lysis, bacteriophages offer a unique and effective alternative to traditional antibiotics. This pioneering approach, supported by rigorous research and clinical expertise, has positioned the center as a beacon of hope for patients seeking new solutions to previously untreatable infections.
The Eliava Phage Therapy Center is not only a pioneer in phage therapy but also a world-class treatment facility. Equipped with state-of-the-art medical technology and staffed by highly skilled professionals, the center provides exceptional patient care. Offering a wide range of medical specialties, including Internal Medicine, Pediatrics, Ear, Nose, and Throat Care, Urology, Gynecology, Surgery, Dermatology, Massage, Physiotherapy, and Laboratory Diagnostics, the center ensures comprehensive and holistic treatment for patients from around the globe.
Renowned Alternative Medicine
The Eliava Phage Therapy Center has gained international recognition as a premier alternative medicine clinic, celebrated for its outstanding outcomes and patient-centered approach. The center's team of specialists works diligently to provide personalized and evidence-based care to each individual, focusing on phage therapy as a cornerstone of their treatment strategies. With a strong emphasis on addressing antibiotic resistance and chronic bacterial infections, the center offers a beacon of hope to patients in search of effective alternatives. Through their unwavering dedication and expertise, the Eliava Phage Therapy Center continues to redefine what is achievable in the realm of alternative medicine.
Excellence in Phage Therapy
At the Eliava Phage Therapy Center, excellence in phage therapy is not just an aspiration, but a standard that is upheld by the entire team. The center's specialists, proficient in various medical fields, bring a wealth of expertise and knowledge to their practice. With a focus on outpatient surgical consultations and a commitment to utilizing bacteriophages as the primary treatment modality, the center ensures that patients receive the highest quality of care. By offering comprehensive medical services and harnessing the collective experience of its professionals, the Eliava Phage Therapy Center has positioned itself as a global leader in the field of phage therapy.
Tbilisi's Premier Medical Center
Situated in the heart of Tbilisi, the Eliava Phage Therapy Center stands as the city's premier medical facility. The center's commitment to excellence, innovative treatments, and exceptional patient care has solidified its position as a trusted healthcare provider in the region. Patients from near and far come to the center seeking advanced phage therapy, finding solace in the expertise of the center's dedicated medical team. As Tbilisi's leading phage therapy clinic, the center continues to make significant strides in alternative medicine, offering hope and improvement to patients facing challenging infections.
To begin your journey with the Eliava Phage Therapy Center in Tbilisi, Georgia, simply click the "Contact Us" button below and our dedicated customer representative at PlacidWay will assist you in connecting with them.

---
---