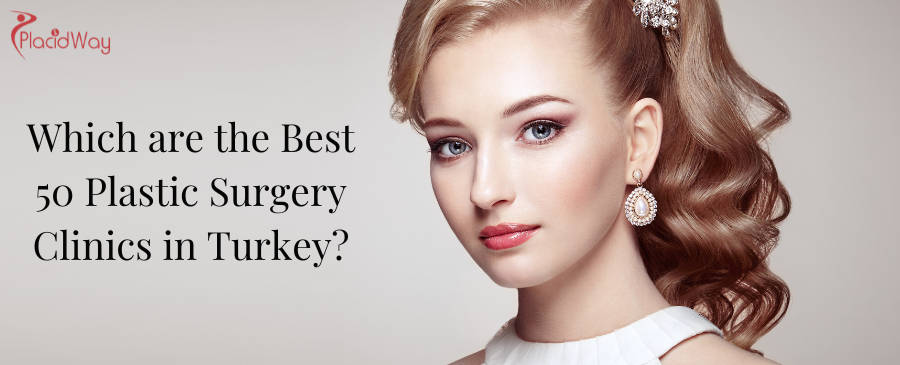 Turkey is known for having a large number of plastic surgery clinics that offer a wide range of procedures at affordable prices. These clinics typically offer procedures such as facelift, liposuction, breast augmentation, tummy tuck and more. Some popular clinics in Turkey include:
Top 50 Plastic Surgery Clinics in Turkey

It is important to note that before undergoing any procedure, it is important to research the qualifications and experience of the surgeon, as well as the safety record of the clinic. Additionally, it is recommended to have a consultation with the surgeon prior to the procedure to discuss your goals and any potential risks or complications.
Benefits of Plastic Surgery
Plastic surgery can provide both physical and psychological benefits. Some of the most common benefits include:
Improved physical appearance: Plastic surgery can improve or enhance the appearance of various body parts, such as the face, breasts, and body. This can lead to increased self-confidence and self-esteem.

Correction of physical defects: Plastic surgery can correct physical defects caused by injury, illness, or birth defects. This can improve function and mobility, as well as appearance.

Improved self-esteem: Plastic surgery can help individuals feel better about their appearance, which can improve self-esteem and overall well-being.

Improved health: Some plastic surgery procedures, such as breast reduction or tummy tuck, can improve overall health by reducing pain and discomfort caused by excessive weight or sagging skin.
Cost of Plastic Surgery in Turkey
The cost of plastic surgery in Turkey can vary depending on the type of procedure and the location of the clinic or hospital. However, in general, Turkey is known for offering plastic surgery at a lower cost compared to other countries, such as the United States or Western Europe. This is due to a combination of factors, including lower labor costs and a lower cost of living. Patients can save up to 50-70% on plastic surgery procedures in Turkey compared to the same procedures in the US or Western Europe.
| | | |
| --- | --- | --- |
| Cosmetic Procedures | Plastic Surgery in Turkey Prices | Cost in Uk |
| Liposuction | $1,500 | $8,000 |
| Nose Surgery | $2,000 | $11,000 |
| Facelift Surgery | | $12,000 |
| Breast Augmentation | $2,000 | $7,000 - $15,000 |
| Eyelid Surgery | $1,000 | $3,000 - $8,000 |
| Breast Lift | $2,500 | $8,000 - $14,000 |
| Butt Lift | $2,000 | $5,000 - $8,000 |
| Tummy Tuck Surgery | $3,000 | $7,000 - $10,000 |

Why Choose Plastic Surgery Clinic in Turkey?
There are several reasons why patients may choose to have plastic surgery in Turkey. Some of the main reasons include:
Lower cost: As mentioned earlier, Turkey is known for offering plastic surgery at a lower cost compared to other countries, making it a popular destination for medical tourism.

High-quality care: Turkey has a strong medical tourism industry, and many plastic surgeons and clinics have experience treating international patients. They offer high-quality care and use the latest technology and techniques.

Experienced surgeons: Turkey has a large number of experienced and qualified plastic surgeons, many of whom have trained and worked in other countries. They are board-certified and have extensive experience in performing a wide range of plastic surgery procedures.

Wide range of procedures: Turkey offers a wide range of plastic surgery procedures, including facelifts, liposuction, breast augmentation, tummy tucks, and more.

Modern facilities: Turkey has many modern and well-equipped clinics and hospitals that provide a comfortable and safe environment for patients.

Recovery vacation: Many patients choose Turkey to have their surgery because of the opportunity to recover in a beautiful and unique country, with many options for sightseeing, relaxation and spa treatments.
Question to Ask Cosmetic Surgeon Before Plastic Surgery?
When considering plastic surgery, it's important to have a thorough consultation with your surgeon to ensure that you understand the risks, benefits, and expectations of the procedure. Here are some questions that you may want to ask your surgeon during your consultation:
Are you board-certified by the relevant national board in plastic surgery?

How many years of experience do you have performing this specific procedure?

Can you provide before-and-after photos of patients who have had similar procedures?

What are the risks and complications associated with this procedure?

How long is the recovery period, and what can I expect during my recovery?

What type of anesthesia will be used during the procedure?

How long the results are expected to last and will I need revision surgeries in the future?

What are the costs associated with the procedure, including pre- and post-operative care, follow-up appointments, and any necessary additional treatments or surgeries?

What is your policy for follow-up care and for any revision surgeries that may be necessary?

Can you provide me with references from other patients you have treated?
It's also important to ask any other question that may come to your mind and that you consider relevant to make a well-informed decision. It's also important to be honest with your surgeon about your goals and expectations for the procedure.
If you wish to know more about plastic surgery clinics in Turkey and would like to get a FREE quote from our best partner cosmetic surgery clinics, feel free to contact us by using the button below!