Health Tourism in Croatia
A Wonderful Experience

Anyone looking for a bit of a bargain in the European health spa market would do well to consider Croatia. The northern coastal area in particular has a long tradition of attracting seekers of well being. And the country is stunningly beautiful.
My own Croatian experience began this past June in London when, at the beginning of a summer in which I intended to explore Europe sans automobile, my foot stopped working. A bad case of plantar's fasciitis got dramatically worse, and for all practical purposes I couldn't walk. Considering my options, which included just abandoning the European walking summer and returning to the States and my car, I recalled a Croatian health spa that had popped up online during earlier investigations of European possibilities – Terme Selce.
They had told me that they had considerable experience with plantar's, as well as with my other bedevilment, knee arthritis, and their prices appeared to be half or less of what was charged by Italian spas offering the same services. A phone call to their very helpful customer relations person, Millie, confirmed that they could take me right away, so off I went, flying Ryan Air to Trieste. (And for those unfamiliar with "budget" carriers such as Ryan, be ready for the add-ons – in my case 40 GBP for not printing out the ticket ahead of time and 120 GBP for eight extra pounds of luggage, almost tripling the cost of the ticket.)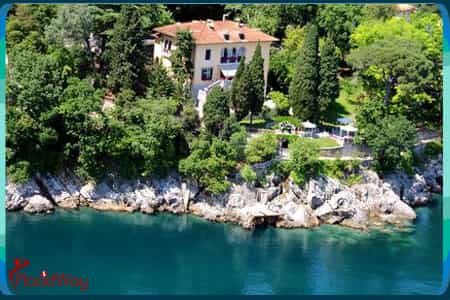 Terme Selce is located in the coastal resort village of Selce, about 25 miles south of Rijeka, a city of around 150,000, and right next to Crikvenica. The clinic is a renovation of the former home of the two doctors who own and run it, a married couple who do a wonderful job of creating a family atmosphere in the facility. The husband is a mellow and cheerful cardiologist, the wife, known affectionately as "Big Mama," is a whirlwind of energy whose beat is orthopedics with a specialty in injury rehab. The place is usually populated with world-class athletes – while I was there, a silver medalist in gymnastics in the 2008 Olympics, members of the Croatian national teams in soccer and European handball (Croatia's two most popular sports), and a member of the Turkish national basketball team.
After the doctors examined me, the genial staff bombarded my foot and knee with every kind of therapy imaginable for seven hours a day – ultrasound, magnets, electrical stimulation, suction, ice, manipulation, stretching, and thera-band resistance. There were daily massages of back, feet and Achilles tendons, along with daily workouts in the gym. The cost for this therapy worked out to about $20 an hour. The podiatrist I saw later in London told me that the $140 a day I spent at Terme Selce would get me one hour of therapy in London. The price of lodging was also reasonable. I stayed at the Hotel Selce, in a quite satisfactory room with a fantastic view of the Adriatic, for about $100 a day at the height of tourist season.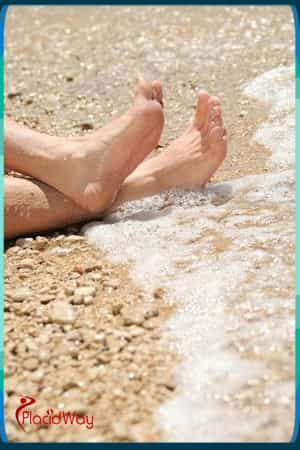 Among the most helpful therapies, I thought, was the Adriatic itself. The saline content is unusually high, and the sea water has restorative qualities. I would soak for an hour or so in the magnificent sunshine during my lunch breaks. The summer sun can get hot along the Croatian coastline, but it's a relatively dry heat and you're fairly comfortable at around 90 F. Sand is a bit hard to find along this stretch of the coastline – very little in Selce, a full size beach of it in Crikvenica that will set you back a couple of euro to use. Towards the end of your therapy, the gym guys at Terme Selce will probably take you out to exercise on the beach at Crikvenica.
The beach scene in Selce at night was a remarkable experience for an American accustomed to abandoned public spaces and most socializing taking place in private areas. During the beach season, literally everyone in the village returns to the boardwalk (concrete walk, to be precise) around 6 p.m., and they promenade up and down the beachfront for hours, chatting, shopping, sucking on the ubiquitous ice cream cones, kids playing, music coming out of different venues. Many hundreds of people, quite a few of them tourists, especially from Italy and Germany. Over the half mile or so of Selce beachfront, they fill up virtually every bit of available space, but it's not congested. It's sort of a perfect spacing, and a perfect environment for sociability.
One can't visit Croatia without taking note of its two principal resources – its people and its amazingly beautiful coastline. The people are wonderful: friendly, attractive, hard working, conversant in English for the most part – many of them fluent – and optimistic, despite a national government situation that remains dysfunctional enough to delay membership in the European Union. It's a bit disconcerting to discover that most everyone in the country looks back fondly and longingly on the days of Balkan unification under Tito. The movement toward a western market economy has been haphazard, set back periodically by the kleptocrats. But unlike much of western Europe, anti-Americanism doesn't seem to have taken root in Croatia. Even in the market tumbling days of mid-2009, you could hear the U.S. referred to in Croatia as "Dreamland."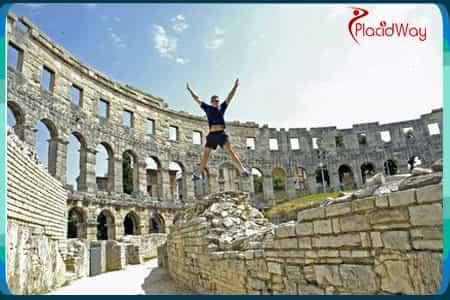 They don't know how good they have it there. Their coastline is one of the world's great treasures, as I discovered on a weekend rental car excursion down to Dubrovnik. The first weekend I had taken the bus into Rijeka and the adjacent coastal resort of Opatia. Very impressive, but the true wonders awaited the journey south.
Dubrovnik was where I put the inflamed foot to the test of several hours walking, and it passed admirably. After three weeks in health camp, I flew back to London from Zagreb, the Croatian capital, with the European summer back on. Saw some more beautiful places, but it didn't get any better than Croatia.

For more information about Terme Selce and the treatments it offers, click the button below.