When Should I Get a Second Opinion Abroad?
Medical Tourism Options
Thirty-six years old *Dinesha Klaas from South Africa, was diagnosed with a triple negative breast cancer.
According to Adrienne Edkins from Science Africa, an American research revealed that black women are more likely to develop a highly aggressive form of cancer, as opposed to white women. This aggressive type is known as the triple-negative breast cancer, the one Dinesha was suspected to have.
This breast cancer affects younger women and is often resistant to treatment. Only a third of cancer sufferers will survive longer than 5 years even with therapy. When Dinesha learned that she has cancer, being a proactive person that she is, she began a series of treatments including chemotherapy.
However, it wasn't only cancer she was battling. She had to deal with equipment and rescheduling problems at the academic hospital she's in. Dinesha had a therapy confirmed for May 7 but on 30 April, she received a phone call from the hospital that her appointment had been cancelled until further notice. She learned that the machines she's been using in the hospital recently broke down. Despite 5 months of being in treatment, her cancer still continued to develop.
Worried of the inconsistency and availability of treatment options, her local oncologist advised her to get a second opinion and treatment. Dinesha's oncologist referred her to a larger cancer center, this time in another country like India. "*Dr. Moseline Luus was worried that my cancer cells are still growing, and that treatment here can be very hard to continue because of logistic problems and funding. So, she told me to get a second opinion and possibly continue treatment in India at the Basavatarakam Indo American Cancer Hospital & Research Institute, Hyderabad, India," says Dinesha.
Reasons of Getting a Second Opinion Abroad
In order to make sure individuals are diagnosed correctly and are getting the right treatment for serious diagnoses (like cancer), many individuals seek a second opinion from another specialist or from another clinic overseas.
Getting a second medical opinion does not always mean that the patient doesn't trust his or her primary medical provider. In the case of serious diagnosis such as breast cancer or kidney disease, getting a second opinion from a specialist is a good idea - so that patients can feel more confident about their diagnosis and treatment plan.
Access to the latest medical technology and seeking second opinion were also considered as important reasons for medical travel. A desire to seek another opinion is the second most important factor why people are considering treatment abroad. These are the findings in a consumer research led by PlacidWay.
Aside from seeking affordable treatment costs, research results revealed that global patients travel abroad to get an expert or second opinion from another doctor or surgeon. Their reasons include the lack of technology in their home countries, quality concerns of the treatment available and the lack of trust with their local doctors specifically their ability to analyze their symptoms.
Global patients are continuously seeking cheaper and available solutions than what is locally available in their home countries. When these patients seek solutions out of their local environment, it is because they want to avail the best possible treatment and the most affordable cost to save on money.
Most of these patients like Dinesha, who seek a second opinion hail from the Middle East, Eastern Europe and Africa where treatment modalities are not often available.
In the case of South Africa, it is the lack of access to medication, rescheduling concerns and broken treatment machines has made life-saving cancer treatment very difficult to access for South African patients, according to Dan Roodt of the Cancer Alliance South Africa.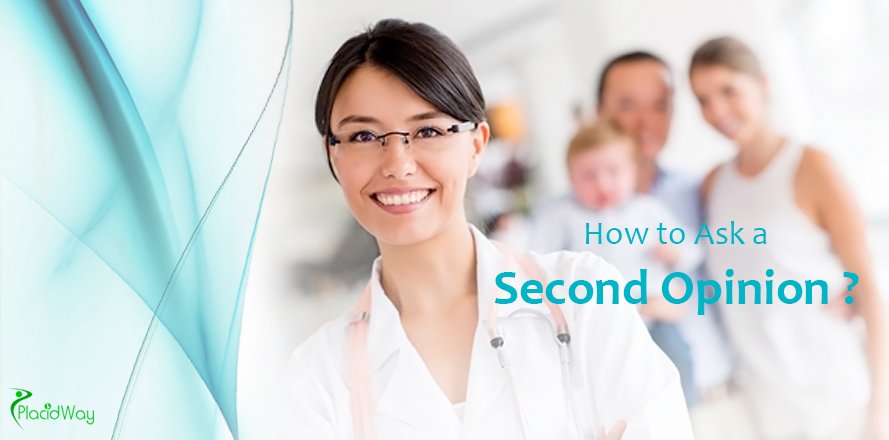 How to Ask a Second Opinion
Now Dinesha is under the treatment supervision of Dr. T.Subramanyeshwar Rao, a surgical oncologist from the Basavatarakam Indo American Cancer Hospital & Research Institute, Hyderabad, India.
Before Dinesha was able to get an appointment with the help of PlacidWay, she called the institute to find out if they have a specialist with an experience treating her cancer type. In turn, what Dr. T.Subramanyeshwar Rao asked her to provide are her recent medical records. These included copies of all blood tests, scans, exams, pathology slides, previous treatment and requested her to bring these in their first appointment.
During Dinesha's first meeting with Dr. Rao, she made him understand what she needs. She made it clear that she needs a confirmation of her diagnosis and if the previous cancer treatment plan was correct. And if in case it wasn't, she expressed that she is open for other treatment options, including clinical trials for her cancer type.
Dr. Rao studied her medical records thoroughly and after 2 days, he came up with a diagnosis. Dinesha's intial diagnosis and treatment was correct. Now, Dr. Rao consulted with Dinesha if she needs to transfer her care to them for her to receive new treatment options. Or, if she wants that the treatment plan communicated to her local oncologist. Knowing the situation back in South Africa, she opted to continue the treatment with Basavatarakam Hospital.
Dr. T.Subramanyeshwar Rao explained that he is considering a clinical trial of PARP inhibitor therapy for her.
According to Drs. Marcie Weil and Alice Chen, researchers from the National Institutes of Health, National Cancer Institute of Maryland, Poly (ADP-ribose) polymerase or PARP inhibitors are chemotherapeutic agents that enhance cytotoxic therapy without increasing side effects. They destroy cancer cells with DNA repair defects acting as a single agent. PARP works by selecting the tumor cells over cancer cells and because of the tumor's genomic instability, PARP inhibitors can be effective in eradicating cancer cells in the body specifically in the cancers of the ovary and the breast.
Since Dinesha opted to undergo a clinical trial, it still has many areas for potential and development. But for now, her clinical responses have lasted long even after treatment and this may indicate that it has worked. However, further research and trials may still be needed to answer questions that will better understand PARP inhibitors and its additional use for different cancer types.
Other than a feeling a little nauseous, tired and because she has lost weight, Dinesha has not experienced other side effects. "I feel better and hopeful now. My treatments are ongoing. I am glad to have taken the risk of going to India. I am also thankful for Dr. Luus'open-mindedness. She was the one who suggested that I go here. I partly owe her the simple success that I am experiencing."
Getting a second opinion is now increasingly common not unlike in the past where people go anxious and are afraid they might offend their primary care providers. Sometimes we don't realize that getting a second opinion is one of our rights as a patient. We should be comfortable, after all it is our life and we have to make the right choices. You cannot replace or buy having "peace of mind."
*Their names were changed to protect their privacy.
About PlacidWay:
PlacidWay, a leading medical tourism provider in the US and the world, aims to help the global medical consumer get access to treatment options, medical centers, healthcare providers and even getting second opinions. Its overall aim as an organization is to help a patient get access to care that is affordable yet high quality, safe and effective.
If you seek a second opinion from specialists overseas, do not hesitate to contact us!