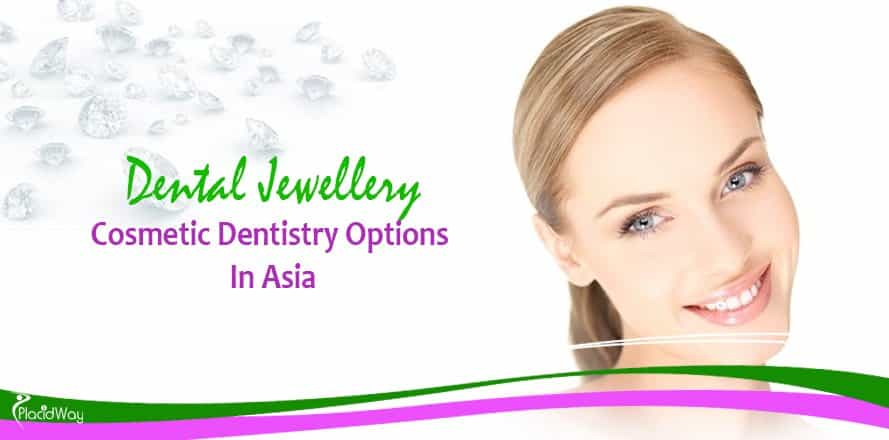 Dental Jewellery
What Are Your Cosmetic Dentistry Options In Asia?
How far would you be willing to travel to see a dentist? Would you fly to another country? It may sound excessive but, as dental costs continue to rise, some people are choosing to travel overseas for treatment. There are plenty of exotic countries to choose from, but those who are looking for discount dental work are flocking to Asia. High-quality care, a wealth of options, and great prices help make this healthcare necessity accessible.
Dental Jewellery, a Cool Fashion Trend in Asia
People are becoming increasingly selfconscious about their appearance and smile. They are looking for various treatments like body art and cosmetic dental treatments to achieve the desired aesthetic appearance and to make a fashion statement. You might have noticed the recent popularity of tooth jewelry and DIY braces, in light of a fashion trend that seems to have originated in Asia. Oral tooth jewellery is for all patients who want a dazzling smile. Gems can be either drilled in permanently, glued on using dental grade adhesive, or for a less permanent solution, gemstone kits are readily available for home use.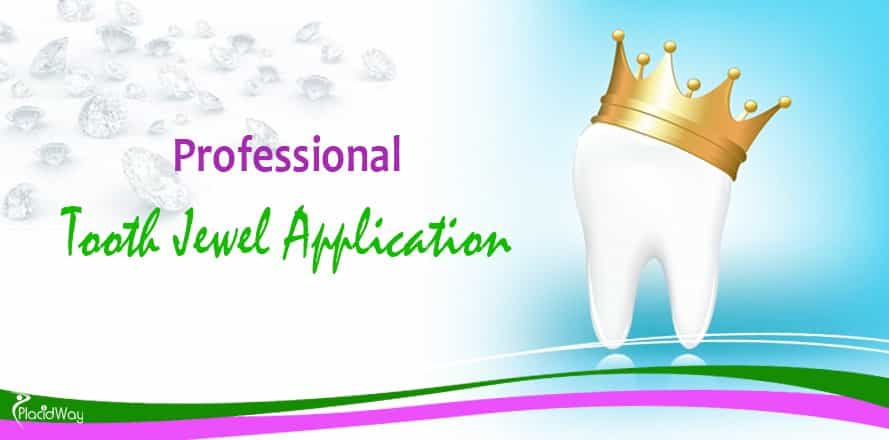 Professional Tooth Jewel Application
All body piercing presents a level of risk of infection because of the presence and variety of bacteria in the oral cavity, therefore oral piercings are considered to have higher risk and are strongly discouraged. But with the introduction of cosmetic dental treatments like porcelain veneering, composite veneering, bleaching and placement of tooth jewellery, patients' smile can be made more pleasing, appealing, and aesthetic.
There are generally two ways to apply a tooth gem: at home with a specially created at-home kit or by visiting a professionally trained dentist. Naturally, the latter is the better option to choose; not just for your oral health but for aesthetic purposes as well. A dentist can not only determine the health of the tooth you have chosen to decorate but a dentist also has substantial experience in the procedure and is sure to undergo the application with a great deal more accuracy than you or your best friend could.
Before the application of the jewel your dentist will examine the teeth for any dental work that might need to be done. If any problems are found then these should generally be treated before undergoing application. In particular a dentist will want to be sure that the enamel of the chosen tooth is strong and healthy. If your dentist feels the chosen tooth is not strong enough to uphold the gem then they may suggest a different location for the gem.
The professional method of application can be done in two ways:
The permanent method involves drilling a small hole into the tooth in which the jewel can be nested. This method, although proving to last longer, has major drawbacks and should only be undertaken if you are absolutely certain that you want this accessory in your mouth for a long period of time. Not only is this method sometimes painful, problematic and extremely difficult to reverse, but the jewel will eventually fade, wear or even fall out, sometimes leaving the metal backing and no jewel attached to the tooth; or if the jewel falls out, a small hole where the tooth was drilled for application. Naturally, this permanent method can only be carried out by a professional.
The less permanent method is often a safer option to choose; especially if you have never had a tooth gem before. This option still lasts for a substantial period of time, up to a year in fact, but is completely and easily reversible. The procedure is very simple, painless, and usually takes about 10 to 15 minutes. Dentists offer lots of fun designs to choose from - crystals, diamonds and 24 carat gold. There is no drilling involved, so the jewel does not damage tooth and has no side effects. It can be easily removed without any damage to the tooth structure, and a new jewel can be fixed again at a later stage with a safe, superficial bonding agent.
While the most preferred teeth for tattoos and jewellery are the lateral upper incisors, canines, molars and premolars, most popular designs are floral designs and cartoon characters, but zodiac symbols and football templates are also trendy. There are many different designs which appeal to both men and women. Children under the age of 16 should have parental consent. The longitivity of adhesion of the tooth jewel varies from weeks to years. When properly placed on a natural tooth, it will not damage your tooth in any way, nor obstruct regular brushing. However, it is recommended not to use an electric tooth brush for the first 24 hours after the jewel has been attached. Also, you can still have your teeth cleaned by your dental professional. The hygienist can easily polish on top and around the jewel.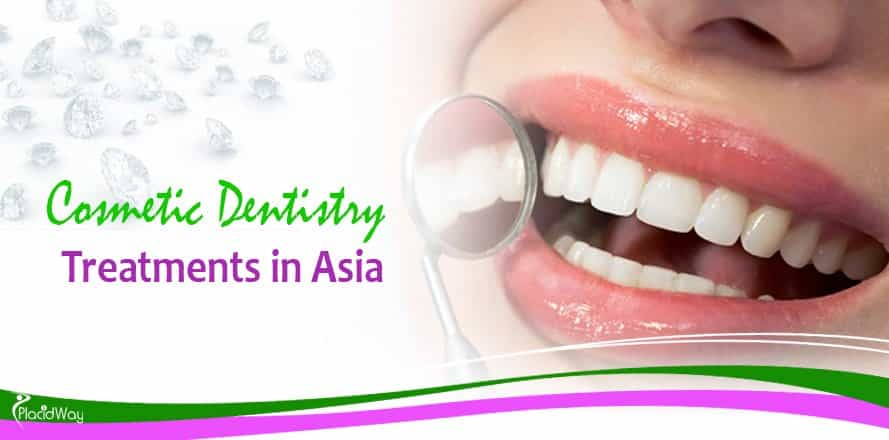 Cosmetic Dentistry Treatments and Trends in Asia
In normal cases, cosmetic dentistry implements a combination of dental treatment procedures to extra work of gifting you an aesthetically appealing look and smile. Hospitals in Asia are highly advanced in this realm; whether you prefer crystal or gem for the professional tooth jewel application you can get it done at an affordable rate.
There are a number of different materials and designs available with tooth gems so the price varies considerably depending on your choice of gem. A basic starting price in Asia would be around $20 if you were to have the most basic of gems applied professionally by a dentist. If your visit also included a dental cleaning or minor dental work prior to application then the cost would increase. The prices for custom-made jewellery start at around $200.
Other cosmetic dentistry options in Asia:
Teeth Whitening is perhaps the most commonly recommended cosmetic dentistry procedure. The term "bleaching" is permitted to be used only when the teeth can be whitened beyond their natural color. This applies strictly to products that contain bleach – typically hydrogen peroxide or carbamide peroxide. The term "whitening," on the other hand, refers to restoring a tooth's surface color by removing dirt and debris. So any product that cleans (like a toothpaste) is technically considered a whitener. Teeth whitening costs can range from $40 to $500, depending on the procedure you choose.
Dental Veneers are composite or porcelain laminates that are adhesively bonded to the surface of a tooth to correct and repair chips and cracks, improving a worn appearance or severe tooth discoloration. Veneers may also be recommended if you have gaps in your teeth or if you have not had success with teeth whitening. Indirect (created outside of your mouth) porcelain veneers and composite veneers are made by a dental technician in a dental laboratory. Direct (created directly on your teeth) composite veneers are made by your dentist during your appointment at the dental office. Dental Veneers costs can range from $340 to $1.600.
Dental Bridges literally bridge the gap created by one or more missing teeth. A bridge is made up of two crowns, one on each tooth on either side of the gap and a false tooth/teeth in between, which can be made from gold, alloys, porcelain or a combination of these materials. Dental bridges are supported by either natural teeth or dental implants and their costs can range from $25 to $800.
Dental Crowns are tooth-shaped "caps" that are placed over teeth to cover them and restore their shape and size, improving their appearance. When cemented into place, the crowns fully encase the entire visible portion of a tooth that lies at and above the gum line. A dental crown may be needed to protect a weak tooth from breaking or to hold together parts of a cracked tooth, to hold a dental bridge in place, to cover misshapened or severely discolored teeth, to cover a dental implant, to make a cosmetic modification. Dental Crowns prices can range from $25 to $1.500.
Dental Fillings are used to repair cracked or broken teeth and teeth that have been worn down from misuse. To treat a cavity your dentist will remove the decayed portion of the tooth and then "fill" the area on the tooth where the decayed material once lived. Teeth can be filled with gold, porcelain,  silver amalgam (which consists of mercury mixed with silver, tin, zinc, and copper), plastic and glass materials called composite resin fillings. Dental Fillings prices can range from $25 to $95.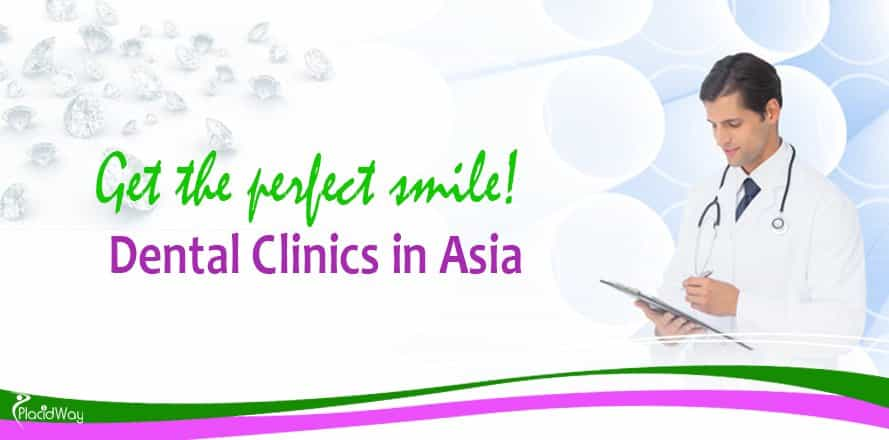 Dental Clinics in Asia
When looking for a dentist doctor, it is important to make sure they are board certified dentists. For example, in India, a dentist should be certified through the Dental Council of India. In Singapore, a dental care doctor should be registered with the College of Dental Surgeons. Take the time to ask and find out more about certification requirements for any country you're interested in.
New Face Dental Hospital in Seoul, South Korea, is a modern dental clinic which aims to offer the best and safest medical care to its patients. The clinic strives to be in the forefront of dental service both domestically and internationally.
Smiles and More Dental Clinic in Bangalore, India, is an advanced speciality clinic, with all modern treatment facilities and the latest in technology. Their forte are Orthodontics, Clear Aligners and Cosmetic Smile Makeovers.
Dental Solutions Centre for Implants and Laser Dentistry in Bangalore, India, is a private dental care oro-maxillofacial, implantology & Laser Centre. With the mixture of oral modern technology and devoted dental care specialists they are dedicated in reconstructing your smile.
Nirunda Clinic in Bangkok, Thailand,  is part of the new age inbeauty health care & therapies – with a well-balanced technique that creates beauty from the inside out and outside in.
Manipal Hospital, in Bangalore, India, is among India's top medical care suppliers with more than 5 decades of expertise serving the humanity in the area of medicine. With a thick network of fifteen hospitals, three main clinics offering total medical care not just in curative but preventive as well.
Wonjin Beauty Medical Group, in Seoul, South Korea, is a comprehensive aesthetic medical center, is available of highly competent health care staffs including plastic surgeons specialized in each surgical parts, anesthesiologists, surgeons specialized in linked surgical parts such as ENT specialists, chest surgeons, oral/dental surgeons, and orthodontists.
Phuket International Dental Center, in Phuket, Thailand, is not just handy for clients of the hospital, but additionally for accessibility, car parking and taking advantage of all the amenities and expertise that Phuket International Hospital offers.
About PlacidWay:
PlacidWay is one of the most comprehensive industry leader in providing medical tourism services in the world today. Through its collaborative enterprises with healthcare facilities from all over the world, PlacidWay aims to provide information services to medical travelers who badly need healthcare services not available in their own home countries.
Interested to find dental treatment abroad? There are plenty of solutions for you to sink your teeth into!
For more information about Dental Procedures and Treatments click the button below: