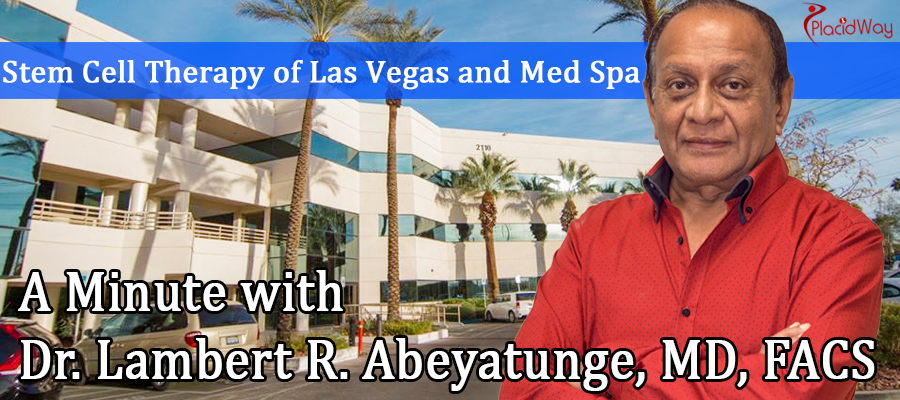 A Minute with Dr. Lambert Abeyatunge and Stem Cell Therapy in Las Vegas 
Stem Cell Therapy of Las Vegas and Med Spa is a stem cell treatment medical center in Las Vegas, Nevada which strives to use the latest available technologies in stem cell treatment to provide the best possible care for its patients. Led by Dr. Lambert R. Abeyatunge, MD, FACS who has been in practice for more than 20  years with different international affiliations, the clinic specializes and has been offering autologous and homologous therapy for more than 3 years now.
We were given the privilege to do an interview with Dr. Lambert and have him share with us his passion for increasing awareness on how his treatments can help people in the US find cost-effective and personalized care.
STEM CELL THERAPY OF LAS VEGAS & MEDSPA was opened in 2015, what do you consider your top treatments, and what made them as such?
I would say our facial rejuvenation with PRP until we started offering anti-aging procedures with stem cells, I believe more and more patients see the value of it.
You see, stem cell therapy is a relatively "new" procedure, and not too many are aware of this therapy, its availability, and its benefits. I wanted to bring about awareness to this kind of treatment and decided to start with aesthetic procedures, as the word got around I have been able to treat both aesthetic and medical conditions that are amenable to Stem Cell Therapy. This kind of therapy or somewhat on the same line has been available for over 40 years in Europe and then in Asia. In the 1980s the term used was "LIVE CELL THERAPY" but then again at that time they used animal products from calf placenta and mountain goat placenta. Obviously, they were not using actual STEM CELLS but perhaps growth factors. Nevertheless, the procedures worked for beauty and anti-aging!. I cannot remember any reports on adverse effects which is great for anyone who would want to do this. Now I aim to offer this treatment to treat diseases in a fun and laidback environment which you will get in Las Vegas. My clinic offers the same or even more advanced procedures for half to a third of the price charged elsewhere in the world.
With more and more patients taking an interest in your services, what is your clinic's concept or approach in assisting these patients?
I believe in fully educating my patients about what their options are on the results they're seeking. I make sure I give my personal attention to the case and the administration of the treatment is very hands-on. I offer a phone call to my patients at the start of their inquiry so that I could know their story very well and from there, work with them to create the solution.
Patients do have to think of certain arrangements before traveling, what additional services are you able to provide, and which of them are included/ excluded from the treatment?
When I have a patient coming from another country, I could recommend/arrange a fine hotel and I will also include a SHOW TICKET which Las Vegas is famous for. This could be a Musical, Circus, Magic, or Ventriloquist show, etc. They won't have to worry about making the reservations and could concentrate on the treatment that they will be getting at my clinic.
 When necessary and if there are no allergies to Vitamins etc. I can also offer a MEGA DOSE VITAMIN THERAPY AS WELL to support the treatment that they would be doing.
How do you believe your center should be perceived domestically and internationally?
I would like my clinic to be seen as a very friendly, professional, and patient-friendly clinic that provides them an atmosphere conducive to healing. Personally, as their doctor, I want my patients to feel that I'm someone who they can work with to see the best treatment they can have with their safety and welfare as my top priority.
Medical Tourism has been rapidly growing and evolving. How does your center adapt to this?
Medical Tourism is new to me but I see an opportunity here to reach out to and help many patients seeking treatment. There are so much growth and possibilities for people to get medical treatment outside their comfort zone and opt for much more cost-effective medical care.
Being part of the Medical Tourism industry, what are the challenges and risks that your clinic sees?
As most of the procedures that I do are not risky and are minimally invasive, I can say that I have nothing to be concerned about. The challenge for me is being able to reach out to people who deserve to have a much more cost-effective medical care option in the US through my clinic.
Taking these challenges into consideration, what do you believe needs to be improved to overcome these?
I think that the quality itself of the treatment we offer should always be open to improvement and development. We need to ensure we work with patients closely to know their needs fully and help them. Open communication also should be there.
What is unique about your center compared to other clinics?
My clinic was the first to offer Stem Cell Therapy proper starting in 2016 in the US, hence, l had patients calling from other States and other countries as well. I think that what makes us unique is our passion to offer stem cell therapy in a way that is very customized and hands-on. I engage myself in the cases of my patients and focus on finding the right treatment, more than profit.
What do you recommend a patient should do or take note of when opting to travel for healthcare to your facility?
Once a patient decides to come down for treatment, I would like him/her to visit their physician and get a thorough physical checkup and a recent Blood test Panel, and any X-rays, MRI, CT scans, etc depending on their condition. If necessary they could be arranged here too but will require them to stay here more than 2-3 days and that will add to their expense/ cost factor to include testing etc. It would be nice to come prepared and have me see their medical records so that we can gauge the case much more carefully and manage their expectations as well.
We would like to ask, What do you feel is the overall value that patients will enjoy should they decide to do their treatment with your clinic?
Patients who are mobile and Clients coming for Aesthetics/ Anti-Ageing etc can have a fun time in Las Vegas, enjoy varieties of Restaurants, and see all kinds of Shows and who knows they may be lucky at the Casinos and make the money back that they spent on getting beautiful or healthy !!!. On a serious note, I would say that the personalized attention I invest in my patients is where the overall value is. Our clinic works closely with my patients and the care is not to be missed. I believe that for anyone, it always is nice to have your doctor work with you closely and that is something I see to it that I do.
Medical Tourism in the US, in general, has been undeniably promising and is regarded as capable of offering high-quality medical care to medical tourists. For someone who would pursue treatment, you might probably think of Las Vegas as an unlikely destination to consider. Truth be told, the location with all the lights can be overwhelming but if this means having a doctor who will work with you closely to ensure you reap the benefits from your treatment, it would probably make it worth traveling for after all.
Would you like to learn more about Stem Cell Therapy of Las Vegas and Med Spa and get a free phone consultation with Dr. Lambert Abeyatunge? Please contact us and we'd be happy to assist.