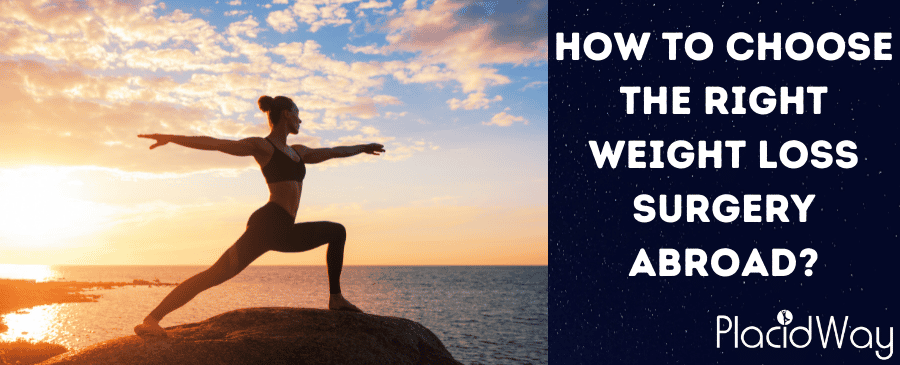 How to Choose the Right Weight Loss Surgery Abroad?
You've tried to lose weight with different alternatives but with no results. If you are among the 40% of world population with an obesity problem, you might consider bariatric surgery. But, you feel overwhelmed with all the existing options. Keep reading this article to learn how to choose the right weight loss surgery.
Why Choose Weight Loss Surgery Abroad?
In America, weight loss surgery costs are sky-high. Therefore, uninsured American patients travel abroad for a low-cost bariatric surgery. They get the same quality in another country as they would at home but 50%-70% cheaper.
The other significant factors for choosing bariatric surgery abroad are:
High Success Rate of Surgery – Up to 95% of success rate guaranteed.
No Waiting Time for Surgery!
Highly Qualified Bariatric Surgeons – Surgeons have international certificates and provide a post-operative care.
All-Inclusive Package Price – The package includes a variety of amenities for your comfortable trip.
World-class Obesity Clinics – Using the latest technology in performing surgery.
Relaxing Vacation – The recovery is faster in a pleasant climate.
What to Consider before Choosing the Right Bariatric Surgery?
Before choosing the right Bariatric Surgery, you have to consider numerous factors. We'll help you understand what those factors are.
Research the pros and cons of different bariatric surgeries.

Look for a qualified bariatric surgeon with high patient satisfaction.

Research the clinics if they are certified to perform bariatric surgeries.

Find out in which category of obese patient you fall into.
Are you the Right Candidate for Weight Loss Surgery?
A patient is considered obese with a BMI of 35 or higher. Let's have a look at the few points and examine if you are the right candidate for Weight Loss Surgery:
Your BMI is 35 and higher, and you have obesity-related problems (type2diabetes, high blood pressure, coronary heart disease, or sleep apnea).
You don't have a condition that prevents bariatric surgery.
Other weight loss methods and exercises didn't give expected results.
You are mentally ready for a drastic change and to follow post-operative instructions.
You don't suffer from endocrine diseases, alcohol, or drug addiction.
If you found yourself in some of the mentioned categories, WLS is for you.
How to Choose the Right Clinic for Weight Loss Surgery?
The first thing you should look for in the clinic is the certification to perform WLS. We've shortlisted the crucial things every bariatric clinic should have:
JCI-Certified Bariatric clinic

Highly experienced surgeons with international degrees

Regular inspections by the Ministry of Health

Affordable Costs
Using latest technologies with global medical standards
PlacidWay partners with high-quality bariatric clinics and surgeons worldwide. Don't hesitate to contact us for more information.
Research Bariatric Surgeon's Credentials
Research a doctor's website and social media profiles to learn more about him. Also, looking for a past patient's experience could be of help.
Some of the credentials bariatric surgeons should have:
Board-Certified

Doctors offer a high patient safety

Surgeons 10+ years of experience
Providing post-operative care, diet, and weight loss program

Fluent in English
It would be helpful to ask for video consultation with the doctor before making a decision. This would benefit to avoid confusion and build trust.  
Weight Loss Surgery - Overview
Be open-minded when considering the various options in choosing the right weight loss surgery. A lot of misinformation can lead to the wrong surgery.
Every surgery has its risks. The right surgery brings minimum risks and more benefits. 
Let' dive into the comparison for each of three popular weight loss surgeries:
A doctor attaches a small pouch to the intestine to bypass the stomach. 

A surgeon removes a part of the stomach and creates a new, tube-shaped stomach or "sleeve." 

A small, tubular stomach pouch is created, and its outlet is connected to the last portion of the small intestine, called the duodenum. 

Over 35 and obesity-related problems 

Expected % of Weight Loss In the first 12 to 18 months 

The Benefits of a procedure 

Significant overall weight loss.

96% of health problems related to obesity are entirely resolved. 

Loss of 60-70% of the extra weight. 

Ability to tolerate most foods, just in small amounts. 

Reduces the absorption of fat by 70% or more.

Reduces appetite and improves satiety. 
Conclusion
Obesity can lead to severe health conditions. Having bariatric surgery will help you combat obesity permanently.