European Health Centre Otwock
European Health Centre Otwock, Cancer Treatment, Oncology, Radiotherapy, Hormone Therapy, HIFU, Chemotherapy, Breast Cancer, Warsaw, Poland

F. Chopin Hospital - ul. Borowa 14/18, Warsaw 05-400, Poland

Specialty:

Cancer Treatment, General Surgery, Heart Care/Surgery, Obesity/Bariatric Surgery, Robotic Surgery, Urology

Focus Area:

European Health Centre Otwock | Cancer Treatment | Oncology | Radiotherapy | HIFU | Chemotherapy | Breast Cancer | Warsaw | Poland
European Health Centre Otwock Profile Overview

Founded in 2004, the European Health Centre Otwock is a successful and patient-centric medical treatment facility for cancer treatments. The medical services are at the highest level thanks to comprehensive and fruitful cooperation with scholars in various fields of medicine latest technology in diagnosis and monitoring sensitive nursing care and psychological support enriched by music therapy based on the works of Chopin.
Cooperation with the Best Health Care Centers in Poland and Worldwide
The extensive cooperation with the renowned medical centers in Poland and abroad gives the chance to all patients for excellent treatments. The patients under the care of the European Health Centre Otwock diagnostic and therapeutic teams have the opportunity to receive outstanding medical care of neurologists, endocrinologists, diabetologists, urologists, surgeons, gynecologists and many other medical professionals.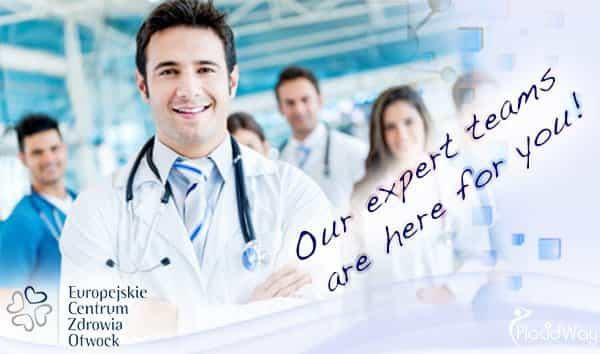 The Most Advanced Technology:
The European Health Centre Otwock combines tradition and innovation.
Thanks to the sophisticated equipment available here, the European Health Centre Otwock has been recognized as the International Reference Centre for Philips Diagnosis and Treatment, where the latest in high-tech medicine apparatus of Philips will be transferred. Thus, professionals and directors of medical institutions worldwide, can learn about and implement cutting-edge technology and adapt to innovative therapies.
Scientific Council and Professional Medical Team
The medical team of the European Health Centre Otwock has two main departments:
The Scientific council headed by Professor Cezary Szczylik, MD and comprised of 15 outstanding and awarded doctors in medicine.

The Medical Team is comprised of more than 50 specialists with help from dedicated nursing staff.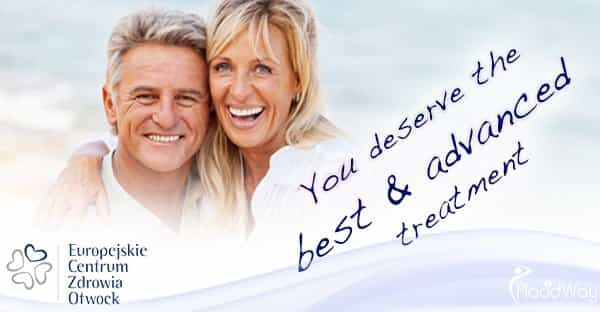 Treatments & Services


at The European Health Centre Otwock in Warsaw, Poland

The European Health Centre Otwock has in its structure an outpatient department where patients can consult our high class specialists, in particular for those patients with complex health complications.
Oncology/Cancer Treatment
Laboratory testing (i.e. markers such as PSA, CEA, CA 19-9, CA 125, APF)
Monitoring of treatment progress using advanced imaging and radiology equipment
Chemotherapy
Adjuvant hormonal therapy (breast, prostate cancers)
Adjuvant immunotherapy of renal cancers
Targeted therapy using monoclonal antibodies and kinase inhibitors in particular for breast, lung, pancreas, kidney and liver cancers
Surgical treatment of breast cancer, ovary cancer, urinary bladder cancer, kidney cancer, prostate, lung, stomach, pancreas and colon
Surgical treatment of disease in the metastasized stage with metastases in parenchymal organs & bones.
Clinical Trials - The European Health Care Centre Otwock does not only provide standard surgical, oncology and chemotherapy treatment, but also allows its patients to participate in controlled clinical trials. Having signed an informed consent to take part in such trials, the patients, in whom other methods of treatment have failed, are offered the most advanced therapeutic solutions in
Breast cancer
Kidney cancer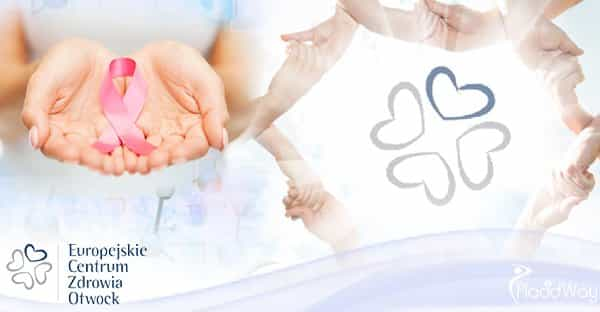 Why Choose The European Health Centre Otwock in Poland?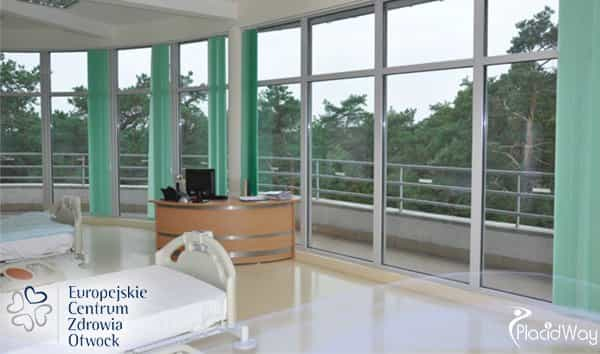 The most modern cancer hospital in Poland
Award winning medicine
Unique Multidisciplinary Clinic
State-of-the-art diagnostic testing
Latest equipment, ensuring medical services of the highest quality
The best oncology care in the region
Accurate cancer diagnosis and treatment
Clinical trials in breast & kidney cancer available
Cooperation with the best health care centers in Poland and worldwide
European Health Centre Otwock Sights and Location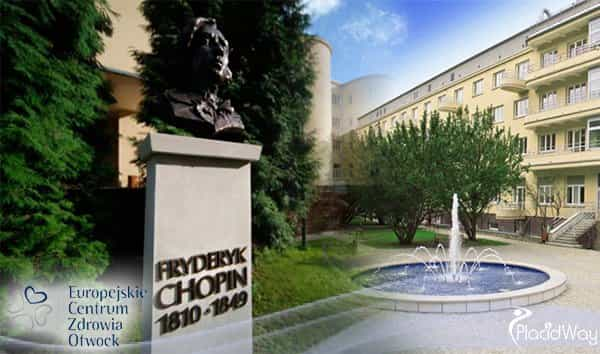 The Otwock European Health Centre is located in Otwock resort town, located 25km from the center of Warsaw in a lush, picturesque landscape that draw tourists in the area and also close to the "Na Torfach" nature reservation nearby.
Joining tradition and innovation, the hospital building was modelled on a legendary sanatorium in Paimo, authored by Alvana Aalto (the famous Finnish modernist), designed by Edgar Norwerth, has been entirely renovated and equipped with the most advanced medical systems in this part of Europe.
Today, the hospital building remains under conservatory care, at the same time being a modern medical centre, as well as a green enclave of peace and quiet, which brings an additional benefit in diagnosis, treatment and recovery.


---
---