Best Kidney Stones Removal Package by Family Hospital in Mexicali Mexico
Package price starting from:
$4500
Treatment:
Urology, Lithotripsy
Focus Area:
Family Hospital | Hospital de la Familia | Mexicali | Mexico | Kidney Stones Removal | Lithotripsy
---
Kidney Stones Removal Surgery in Mexicali, Mexico - Affordable Lithotripsy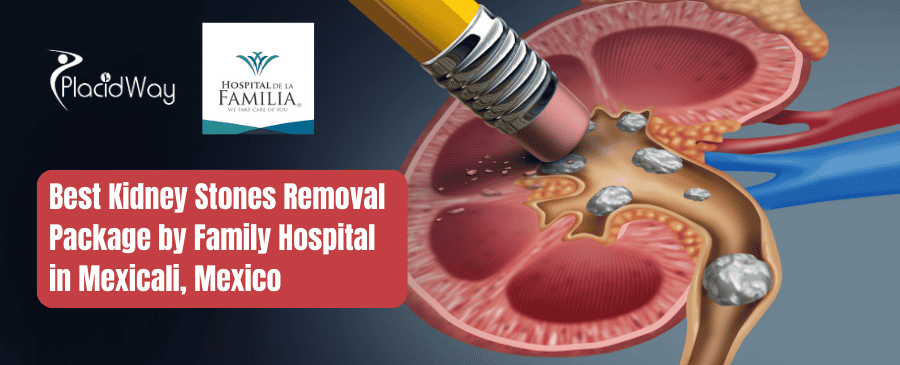 When it comes to kidney stones, seeking the best medical care is crucial for a safe and effective treatment journey. Family Hospital in Mexicali, Mexico, stands as a beacon of excellence in urological care, offering a comprehensive Kidney Stones Removal Package. Renowned for its state-of-the-art facilities and experienced medical professionals, this hospital provides a holistic approach to kidney stone treatment, ensuring patient comfort and well-being throughout the process. At Family Hospital, patients can expect world-class treatment, cutting-edge technology, and compassionate care, making it a prime destination for individuals seeking reliable kidney stone removal procedures.
You can get kidney stones removal package by Family Hospital in Mexicali, Mexico with the price starts at $4,500. Please refer to our price list table below:
| | |
| --- | --- |
| Location | Cost in USD |
| Mexicali, Mexico | $4,500 |
| United States | $20,000 |
| Canada | $20,000 |
Note: For more information about the final price, make sure to contact the clinic directly. The price may vary depending on your condition and the complexity of the procedure.

Note: price may change and vary depends on complexity of procedures and patient conditions. Click free quote button below to learn more.
Advanced Medical Expertise: Family Hospital boasts a team of skilled urologists with vast experience in kidney stone treatment, ensuring top-notch medical care.
State-of-the-Art Facilities: Equipped with modern technology and infrastructure, the hospital offers a safe and comfortable environment for patients.
Affordable Packages: The hospital's kidney stone removal package is not only comprehensive but also budget-friendly, making high-quality treatment accessible.
Multilingual Support: A team of multilingual staff provides seamless communication and assistance to international patients, eliminating language barriers.
Tourism Opportunities: Located in Mexicali, patients can enjoy the vibrant culture and attractions of Mexico while undergoing treatment, enhancing the overall experience.
Kidney Stones Removal is a non-surgical procedure to treat kidney stones, gallbladder stones, or stones found in the urinary bladder or ureters and even the liver. If you've ever experienced the pain of such blockages, you should know about this procedure. Lithotripsy is considered one of the safest and most effective methods of treating kidney stones, whether they're formed by a buildup of calcium or sodium deposits. Each has the potential to block passageways and cause mild to extreme pain.
The lithotripsy urology procedure effectively disintegrates/dissolves/fragments kidney or gallbladder stones through shock wave therapy, reducing pain and allows adequate excretion of urine out of the body. Fragmenting calcium, stones, sodium deposits or stones such as gall stones enables them to pass through the bile duct (in the case the gallbladder; ureters in the case of kidney stones), and then to be excreted out of the body in the urine flow.
The surgical package includes the following:
All pre-operative testing and exams

All related surgical costs: surgeons, anesthesia, equipment, hospital stay, nursing care

All surgeon consultations

X night stay at Mexicali Health Care

X night stay at local hotel

Ground transportation to and from the hospital from the Yuma or San Diego Airport

Necessary transportation between hospital and hotel

If you are a patient with a BMI (Body Mass Index) over 32, the hospital will have to add an additional $450 to your quote.
Travel Expenses: Costs related to travel, including airfare and accommodation, are not covered in the package.
Personal Expenses: Incidental expenses, meals, and entertainment during the stay are not included.
Complications: Additional treatments needed due to unexpected complications may incur extra charges.
Extended Stay: Costs for an extended hospital stay beyond the package duration are not covered.
Non-Specified Services: Services not explicitly mentioned in the package are excluded from coverage.
Kidney Stones Removal Surgery Pre-Op Tests
Blood Tests: To assess kidney function, blood count, and overall health before the procedure.
Urinalysis: Analysis of urine composition to aid in diagnosis and treatment planning.
Imaging Tests: X-rays and CT scans to determine the size, number, and location of kidney stones.
Electrocardiogram (ECG): To evaluate heart health and determine anesthesia suitability.
Medical History Review: Understanding the patient's medical background to ensure safe treatment planning.
Transportation
Considering some of you might be flying from long distances, we provide ground transportation from San Diego, CA airport and/or Yuma, AZ airport (round trip). We also provide personal pick up from your home or any particular location if you are located anywhere within 130 miles from Mexicali, BC Mexico. All ground transportation while you are in Mexicali is also provided from the Hospital, Hotel, Doctor's office, and/or pharmacy
At Family Hospital in Mexicali, Mexico, you can entrust your kidney stone removal journey to our esteemed team of top-notch urologists. Renowned for their exceptional skill and experience, our surgeons are dedicated to providing the highest level of care, employing advanced techniques to ensure successful outcomes. With a focus on patient well-being, our top kidney stone removal surgeons at Family Hospital bring expertise, compassion, and a commitment to excellence to every procedure they undertake.
Experienced Urologist in Mexicali, Mexico

 

Intern at Vicente D'Antoni Hospital in Honduras - 1980

Urologist surgeon at the Mexican Social Security Association - 1991-1998

Active medical surgeon for the General Hospital of Mexicali, Baja Clifornia - 1992-present

General Director of the General Hospital of Mexicali - 1999

Active urology surgeon in Hospital Hispano Americano and General Hospital in Mexicali - 1999-present
Is Kidney Stones Removal Right for You?
Stone Size: Suitable for small to medium-sized kidney stones.
Health Condition: Considered for patients in good overall health without severe medical complications.
Consultation: A thorough assessment by the medical team will determine individual eligibility.
Why Choose Us?
We are the best healthcare option for you and your family because At the Family Hospital, we've set ourselves the aim of developing a comprehensive and thorough medical service.

All our services are offered within a setting where tranquility, privacy and personalized attention provided by all our certified staff will make your stay with us reliable and quiet one.

We have the best specialists in the city to offer the intensive care needed.

Every area in the Hospital is equipped with the best frequently-updated technology to offer the best performance in all of our services
What to Expect During the Kidney Stones Removal Surgery?
Preparation: Fasting and necessary pre-op measures are undertaken as advised by the medical team.
Procedure: Minimally invasive techniques ensure shorter hospital stays, reduced discomfort, and quicker recovery.
Post-Op: Recovery involves pain management, hydration, and adherence to the medical team's guidance.
Q: What is the cost of kidney stone removal in Mexicali?
A: The cost varies based on the procedure and package chosen, but Mexicali offers affordable options compared to many other countries.
Q: Are the urologists experienced in treating kidney stones?
A: Yes, the urologists at Family Hospital in Mexicali have extensive experience in kidney stone treatment using advanced techniques.
Q: What if I don't speak Spanish? Will language be a barrier?
A: No worries. The hospital's staff includes multilingual professionals who ensure effective communication and care for international patients.
Q: Is there a preferred procedure for larger kidney stones?
A: Depending on stone size and location, urologists might recommend procedures like PCNL (Percutaneous Nephrolithotomy) for larger stones.
Q: How long does recovery take after kidney stone removal?
A: Recovery varies, but minimally invasive procedures often result in shorter hospital stays and quicker overall recovery times.
Embark on a journey to kidney stone relief with Family Hospital's renowned expertise. Book your consultation through PlacidWay Medical Tourism and experience top-tier care in the heart of Mexicali, Mexico. Your path to improved kidney health starts here. Click contact us button below to get started!

Related Experiences:
Prevent Pregnancy with Vasectomy in Mexico
Kidney Stone Removal Surgery in Mexico
Vasectomy in Turkey
Kidney Stones Removal Surgery in Turkey
Kidney Transplant in India - Improve Your Kidney Function
Kidney Transplant in Turkey - Improve Your Kidney Function
---