Affordable Kidney Stone Surgery Package in Mexico
Package price starting from:
$3500
Focus Area:
Kidney Stone Surgery | Urology | Kidney Stone Removal | Lithotripsy | Nephrectomy
---
Be Stone Free with Mexicos Medical Centers for Kidney Stone Surgery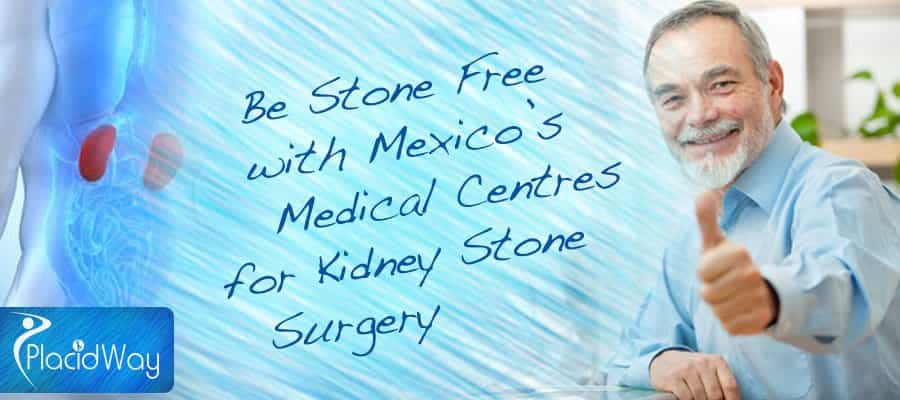 Do you feel a burning sensation when you urinate or a sharp, cramping pain on your lower abdomen? These symptoms may put you at risk for having kidney stones. Twenty years ago, open surgery (nephrectomy) was the only option to remove a kidney stone which required a recovery time of 4 to 6 weeks - a very stressful period for patients.
Today, because of medical advancements, kidney stone treatment has greatly improved, and many non-invasive options may now be performed in an outpatient setting like Lithotripsy. Moreover, here are signs and symptoms you can check if you are a candidate for Kidney Stone Removal or Lithotripsy. 
The kidney stone blocks urine flow.

It causes frequent urinary tract infection (UTI).

It causes constant bleeding and kidney tissue damage.

It causes constant pain and does not pass after a reasonable period of time.

It grew larger, as seen on X-ray results.

It has become too large that is caught in a difficult place to pass on its own
If surgical treatment may still be necessary as advised by your urologist (kidney doctor), there are a lot of medical centres in Mexico you can try to make you kidney stone free. There are top medical centers in Mexico that can assist you in having a Lithotripsy.
You can get Kidney Stone Surgery Package in Mexico with the price starts at $3,500. Check our price list table below:
| | | |
| --- | --- | --- |
| Location | Provider | Cost in USD |
| | | |
Note: price may change and vary depends on complexity of procedures and patient conditions. Click free quote button below to learn more:

Medical Consultation: Comprehensive medical evaluation by skilled urologists to determine the most suitable treatment plan.
Hospital Stay: Accommodation in modern and comfortable hospital rooms, ensuring proper post-operative care.
Surgical Procedure: The chosen surgical intervention administered by experienced surgeons using advanced techniques and equipment.
Anesthesia and Medication: Administration of anesthesia during the surgery and post-operative medication to manage pain and promote healing.
Follow-Up Care: Post-operative check-ups and follow-up consultations to monitor recovery progress and address any concerns.
Travel and Accommodation: Expenses related to travel, accommodation, and transportation to and from Mexico.
Personal Expenses: Any personal expenses incurred during the stay, such as meals, entertainment, and shopping.
Complications: Additional medical procedures or treatments required due to unexpected complications.
Visa and Documentation: Costs associated with obtaining necessary visas and documentation for travel to Mexico.
Non-Covered Services: Any medical services or treatments not explicitly mentioned in the package inclusions.
Kidney Stone Surgery Pre-Op Tests
Blood Tests: Comprehensive blood tests to assess kidney function, electrolyte levels, and overall health.
Urinalysis: Examination of urine to detect any abnormalities or signs of kidney stones.
Imaging Studies: X-rays, CT scans, or ultrasound to visualize the size, location, and number of kidney stones.
Electrocardiogram (ECG): Assessment of heart health and suitability for surgery under anesthesia.
Medical History Review: Thorough review of the patient's medical history to ensure personalized and safe treatment.
Cost-Effective Solutions: One of the primary reasons patients opt for kidney stone surgery in Mexico is the cost advantage. With healthcare costs significantly lower than in many other countries, Mexico offers a budget-friendly solution without compromising on the quality of medical care.
Experienced Medical Professionals: Mexico boasts a well-established network of experienced medical professionals specializing in urology and kidney stone procedures. Surgeons and medical staff are often trained internationally, ensuring patients receive expert care.
Modern Medical Facilities: Major cities in Mexico are equipped with state-of-the-art medical facilities that rival those in any developed country. Cutting-edge technology and advanced equipment ensure accurate diagnoses and effective treatments.
Quick Access to Care: Mexico's medical tourism infrastructure is designed to provide timely care to international patients. Reduced waiting times mean that patients can undergo procedures sooner, preventing further complications.
Cultural Experience: Beyond medical benefits, opting for kidney stone surgery in Mexico offers an opportunity to explore a rich cultural heritage. Patients can combine their medical journey with a unique travel experience, aiding in stress reduction and holistic healing.
The kidney stone surgery procedures offered in Mexico encompass a range of techniques tailored to individual patient needs. From minimally invasive procedures like Extracorporeal Shock Wave Lithotripsy (ESWL) to more complex interventions such as Percutaneous Nephrolithotomy (PCNL), Mexico's medical facilities are adept at providing a comprehensive spectrum of treatments. These procedures aim to effectively remove kidney stones and alleviate associated discomfort.
Top Hospitals for Kidney Stone Surgery in Mexico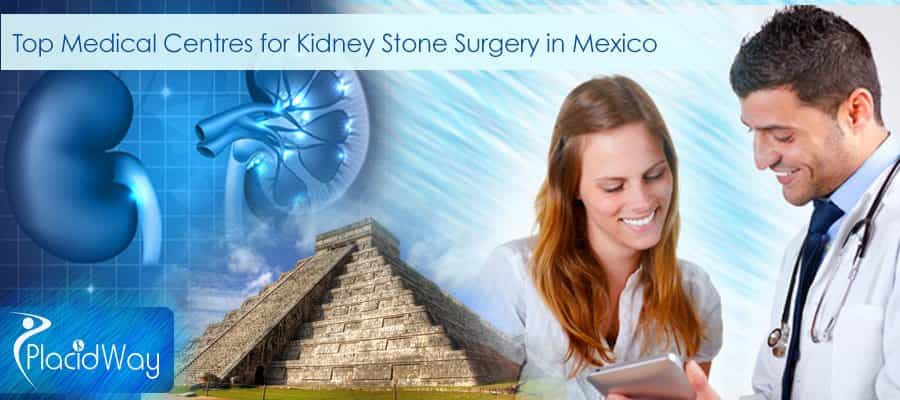 Mexico boasts a selection of top-tier hospitals renowned for their excellence in kidney stone surgery. These healthcare facilities are equipped with state-of-the-art technology, modern infrastructure, and a team of highly skilled urologists and medical professionals. With a focus on patient care and safety, these hospitals offer a comprehensive range of kidney stone procedures, from minimally invasive techniques to complex interventions, ensuring optimal treatment outcomes. Whether seeking affordable options, experienced surgeons, or advanced medical facilities, patients can confidently choose from Mexico's top hospitals for their kidney stone surgery needs.
Best Urology Hospitals in Mexico

 

 

 

 
The kidney stone surgery procedures in Mexico are performed by highly qualified and experienced urologists. These medical professionals have a track record of successful surgeries and a commitment to patient well-being. Their expertise spans various techniques, enabling them to recommend the most suitable treatment for each patient's unique condition.
Best Urology Specialists in Mexico

 

Urologist surgeon at the Mexican Social Security Association - 1991-1998

Active medical surgeon for the General Hospital of Mexicali, Baja Clifornia - 1992-present

General Director of the General Hospital of Mexicali - 1999

Active urology surgeon in Hospital Hispano Americano and General Hospital in Mexicali - 1999-present

 

Kidney, Bladder, and Urinary Tract Stones Surgery - Procedure

Urethra Surgery - Procedure

Resection Of Genital Warts - Procedure

Frenuloplasty Surgery - Procedure

Removal Of Testicular Cyst - Procedure

Course in Advanced Trauma Life Support - General Hospital of Sonora

Course in Advanced Cardiovascular Life Support - General Hospital of Sonora
Is Kidney Stone Surgery Right for You?
Kidney Stone Size and Location: Suitable for medium to large kidney stones that may not pass naturally.
Discomfort and Pain: If kidney stones cause severe pain, discomfort, and potential complications.
Unsuccessful Conservative Treatments: For patients for whom conservative treatments have not yielded satisfactory results.
Desire for Quick Relief: Individuals seeking rapid resolution of kidney stone-related issues.
Medical Evaluation: Eligibility determined through a comprehensive medical assessment and consultation.
What to Expect During the Kidney Stone Removal Surgery?
Pre-Procedure Preparation: Patients will undergo necessary tests and evaluations to ensure readiness for surgery.
Surgical Intervention: Surgeons will perform the chosen procedure using minimally invasive techniques whenever possible.
Recovery Period: After surgery, patients can expect a hospital stay for monitoring and post-operative care.
Follow-Up Appointments: Regular follow-up appointments will be scheduled to monitor healing and recovery progress.
Lifestyle Recommendations: Doctors will provide guidance on dietary and lifestyle adjustments to prevent future kidney stone formation.
Why Choose Top Medical Centers in Mexico for Kidney Stone Removal?
International patients logistic needs and services such as airport and hotel transfers, hotel accommodations, consultation, diagnostic and procedure coordination are also well provided.

Hospitals are well-staffed, well-equipped (with their own diagnostic and laboratory units) along with comfortable patient room suites made for patients? convenience.

Urologists and surgeons have years of experience and has received training from world-renowned surgeons

Patients' well-being and expectations are also a priority when planning for care.

Medical centers in Mexico only use the latest medical and surgical equipment to perform treatments and procedures. 

Urology centres in Mexico only offer highly successful and safe procedures to their international and local patients.

Utilizes a multidisciplinary approach to cure diseases.
1. How much does kidney stone surgery cost in Mexico?
The cost of kidney stone surgery in Mexico varies based on factors like procedure type and facility. However, it's generally more affordable compared to many other countries, starting from around $3,500.
2. Are Mexican urologists experienced in performing kidney stone surgery?
Yes, Mexican urologists are highly experienced and often trained internationally. They specialize in various kidney stone procedures and provide quality care using advanced techniques and equipment.
3. What types of kidney stone procedures are available in Mexico?
Mexico offers a range of procedures, including Extracorporeal Shock Wave Lithotripsy (ESWL) for smaller stones, as well as more complex interventions like Percutaneous Nephrolithotomy (PCNL) for larger or more challenging stones.
4. How long is the recovery period after kidney stone surgery?
Recovery time varies based on the procedure and individual factors. Generally, patients may need a hospital stay for monitoring, followed by a period of rest and gradually resuming normal activities over a few weeks.
5. Can I combine kidney stone surgery with a vacation in Mexico?
Absolutely! Medical tourism in Mexico allows you to combine your procedure with a unique travel experience. After recovery, you can explore Mexico's cultural attractions, making it a holistic healing journey.
To embark on your journey to affordable kidney stone surgery in Mexico and experience expert medical care combined with the opportunity for cultural exploration, book your consultation at PlacidWay Medical Tourism today. Our team is committed to facilitating a seamless medical travel experience tailored to your needs.

Related Experiences:
Ibogaine Addiction Treatment in Tijuana, Mexico
Stem Cell Therapy for COPD in Tijuana Mexico
Tubal Ligation Reversal in Tijuana Mexico
Stem Cell Therapy for Diabetes in Tijuana, Mexico
Stem Cell Therapy for Parkinson's Disease in Tijuana, Mexico
Stem Cell Therapy for Cerebral Palsy in Tijuana Mexico
---