Dr. Ricardo Garcia Audelo Bariatric Surgeon
Dr. Garcia Weight Loss Surgeon in Mexicali, Mexico
OBREGON 684, SECOND SECTION, CP 21100 MEXICALI, BC, Mexicali, Mexico

Specialty:

Eye/Lasik Care, Fertility Treatment, General Surgery, Gynecology Treatment, Laparoscopic Surgery, Obesity/Bariatric Surgery, Urology

Focus Area:

Dr. Ricardo Garcia Audelo | Obesity surgery | General Surgery| Laparoscopic Surgery | Gastroenterology | Appendix Surgery | Mexicali | Mexico
Dr. Ricardo Garcia Audelo Bariatric Surgeon Profile Overview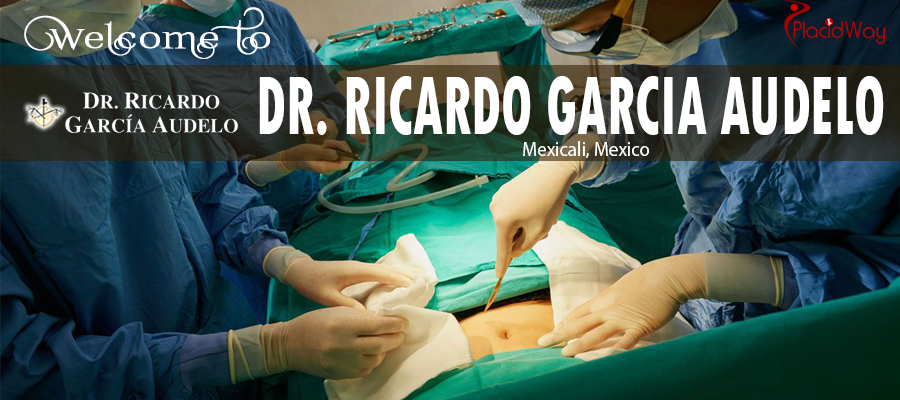 Doctor Ricardo Garcia Audelo is one of the most established and admired medical surgeon who operates in various fields of expertise and offers treatment services to local and international patients. Dr. Ricardo Garcia Audelo is an expert in all cases related to obesity in both adults and children. Respectively, Dr. Garcia Audelo offers a wide range of extra services such as pediatrics, general surgery and more.
Aside from the regular procedures happening for the Dr. Ricardo Garcia Audelo, his services move on to providing pre and post procedure patient care, consults, and 24-hour patient monitoring. Of course, all this comes with a wide range of certifications, research and experience in the field.Dr. Garcia Audelo is highly-educated, accredited for surgery and has plenty of practice in all sorts of obesity treatments available. The team working under Dr. Ricardo Garcia Audelo, is composed of all skilled and expert medical staffers, who understand the best patient care and work hard to deliver great results.
Dr. Ricardo Garcia Audelo comes highly recommended for numerous patients who have been treated by him, so feel free to ask for their reviews and testimonials and learn more before making a rational decision.
For information about the Cost of Weight Loss Surgery in Mexicali, Mexico, you can directly contact the Customer Representative of Doctor Ricardo Garcia Audelo. You will later get transparent and detailed information about the costs you need to prepare, procedures, and other terms and conditions that you must fulfill.

Have a look at all specific treatments and procedures the Dr. Ricardo Garcia Audelo and his team offer:
Obesity surgery
General Surgery
Laparoscopic surgery
Gastroenterology
Gallbladder cytology
Appendix surgery
Medical line passes
Ample parking
There are some amazing benefits that patients will get when undergoing Weight Loss Surgery in Mexicali, Mexico. This has been proven by many patients from all over the world who choose Mexicali, Mexico as a destination for quality, inexpensive and Top-Quality Medical Tourism. Some of the benefits you can get include:
Ease of Virtual Consultation: Weight Loss Surgery in Mexicali, Mexico will provide you with consultation services that can be accessed virtually. As a result, you can talk directly with experienced medical staff whenever and wherever you are.
Professional Surgeon Team:

Dr. Ricardo Garcia Audelo

presents the best Obesity Surgery in Mexicali, Mexico and is carried out directly by a team of Professional Surgeons who are qualified, trained, experienced and certified in Bariatric Surgery.
It's time to get the best medical services for obesity surgery in Mexicali, Mexico by Dr. Ricardo Garcia Audelo. You will get wholehearted medical services from experienced medical staff, competent surgeons, and the most complete facilities that exceed your expectations. For more information, please click the button below:

---
---
Reviews
A S

Hello Alejandro and Dr Garcia,
So I have no idea how this happened or what was done through my surgery but I just found out that I am pregnant !!!!!!! This is just gonna be a miracle baby, Thank you so much ❤️❤️❤️ To both of you. I am beyond excited!!
A Shelton

EMAIL

Sep 20 2022

Angelica

I use to be 376 lbs. before going to see Doctor Garcia 3 years ago. I have nothing but good things to say about him and his staff. The nurses while I was inpatient were always extremely attentive. The housekeeping staff was impeccable and had the hospital floors so shiny. And Doctor Garcia was beyond attentive and helpful. I lost 230 lbs. after my gastric sleeve with no complications from my surgery. Thanks to him I have been able to keep the weight off for the past 3 years and not become part of the statistic of people who have gastric sleeve surgery and regain their weight within the first year. If I had to do it all over again I would without a question.

Google Reviews

Apr 21 2020

Jose

He operated on my wife 2 years ago and everything was perfect, he is an excellent doctor with a lot of experience and very clear to explain things to you. Good instructions and very attentive staff.

Google Reviews

Mar 21 2021
---
Eye/Lasik-Care Related Packages
Eye/Lasik-Care Related Experiences