Effective Gastric Sleeve in Antalya, Turkey by Klinik Mavi
Package price starting from:
$4000
Treatment:
Obesity/Bariatric Surgery, Sleeve Gastrectomy
Location:
Hosnudiye Mah, 732. Sk, No46, Noora Plaza A Blok Kat 1, D1, Turkey
Focus Area:
Klinik Mavi | Antalya | Eskisehir | Turkey | Gastric Sleeve
---
All-inclusive Package for Gastric Sleeve in Eskisehir, Antalya, Turkey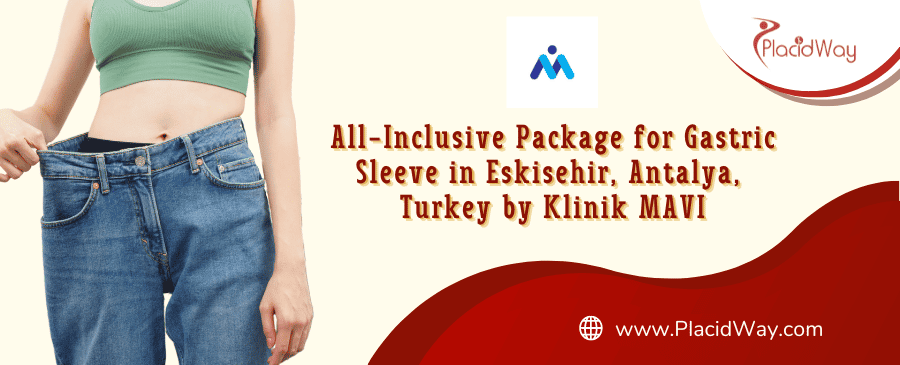 Klinik Mavi offers an all-inclusive package for Gastric Sleeve in Eskisehir and Antalya, TURKEY. Choose effective weight loss surgery in Eskisehir at the cost of only $4000. Klinik Mavi  is the top bariatric clinic in Eskisehir providing effective weight loss surgery to international patients. There are 2 experienced bariatric and methabolic surgeons working and performing operations together. The surgical experience is 25 years and the bariatric experience is 10 years. It has collaborated with all hospitals in Eskisehir and has a branch office in Antalya. We are collaborated with Private Olimpos Hospital in Antalya. 
Klinik Mavi provides a low-cost Gastric Sleeve for only $4,000. Compared to the US and Canada prices, Eskisehir/Antalya is up to 70% less expensive for weight loss surgery.  Check our price list table below to learn more:
| | |
| --- | --- |
| City, Country  | Cost in USD |
| Eskisehir-Turkey  | $4,000  |
| United States  | $18,000  |
| Canada  | $19,500  |
Note: Price may change depending on difficulties of procedure and patient conditions after lab test. You can contact the Customer Representative. Click free quote button below to learn more:

Gastric Sleeve surgery is performed as laparoscopic surgery, where a surgeon makes  small incisions in the upper abdomen. The 2/3 of the stomach is removed. The remaining stomach looks like a narrow tube called the sleeve. Gastric sleeve is effective surgery that limits your food intake which leads to weight loss. You can loose about 70-80% of your excess weight afterward.  
Below are the advantages of choosing Weight Loss in Eskisehir/Antalya; TURKEY: 
​

Quick recovery time: Bariatric surgery techniques, such as gastric sleeve or gastric bypass, performed by skilled surgeons often result in a relatively quick recovery time. Advanced surgical approaches and minimally invasive procedures contribute to reduced post-operative pain, shorter hospital stays, and faster return to daily activities.
Improves stomach function: Bariatric surgery, such as gastric sleeve, involves the removal of a portion of the stomach, which helps in reducing the stomach's capacity. This leads to improved stomach function by restricting the amount of food that can be consumed, promoting feelings of fullness, and aiding in portion control.
Safe and effective for patients with high BMI: Bariatric surgery has been proven to be a safe and effective weight loss solution for patients with a high body mass index (BMI). It offers significant weight loss results, improves obesity-related health conditions, such as diabetes and hypertension, and enhances overall quality of life for these individuals.
Less tissue damage: Minimally invasive bariatric surgery techniques, such as laparoscopic or robotic-assisted procedures, involve making small incisions rather than a large abdominal incision. This approach leads to less tissue damage, reduced scarring, and a faster recovery compared to traditional open surgery.
Long-term benefits: Bariatric surgery offers long-term benefits beyond initial weight loss. It can lead to sustained weight loss, improved metabolic health, enhanced insulin sensitivity, and a decreased risk of obesity-related diseases. It also provides long-lasting psychological benefits by boosting self-esteem, confidence, and overall well-being.
A vacation in Eskisehir or Antalya: Eskisehir and Antalya, both located in Turkey, offer beautiful and diverse vacation destinations. These cities provide opportunities for relaxation, sightseeing, and enjoying the local culture, which can be combined with your bariatric surgery trip to enhance your overall experience and recovery.
Time of use of the medical facilities 

Supplies needed for your surgery 

IV medications needed for your surgery 

Medical and nursing fees 

Anesthetic procedure 

Complete and personalized post-surgical follow-up from a health professional 

Food adequate to your needs. Snacks and healthy drinks 

Smart TV with all the facilities related. Wi-Fi Telephone Air conditioning 

Free valuation consultation by the bariatric surgeon 

Recovery hotel (3 nights) 

Medical supplies needed for your surgery 

1 incentive deep breathing exerciser 

1 pair of compression stockings 

Use of the operative room 

Surgical team fees during the surgery (bariatric surgeon, assistants, anesthesiologist, surgical nurse) 

Preoperative evaluation by an internal medicine specialist 

Evaluation by bariatric psychology 

Pre-Op and Post-Op nutritional evaluation 

Premium Endostapler Kit 

Electrocardiogram 

Accomodation of the patient 

Airport-Hotel-Hospital-Airport Transfer of the Patient 
Pre-op Tests before Bariatric Surgery at Klinik Mavi 
Pre-operative studies: COMPLETE BLOOD COUNT, BLOOD CHEMISTRY OF 36 ELEMENTS (COMPREHENSIVE METABOLIC PANEL), SERUM ELECTROLYTES (CALCIUM, PHOSPHORUS AND MAGNESIUM), COAGULATION TIME TEST (PT, PTT, AND INR), LIVER FUNCTION TEST, LIPID PROFILE, GLYCOSYLATED HEMOGLOBIN A1C, VIRAL PANEL 

Abdominal Ultrasound 

Upper GİS Endoscopy 

Consultation of the patient with Internal Medicine Specialist, Cardiologist, Psychiatrist, Dietician and Respiratory Medicine Specialist 

Follow-up program by Klinik Mavi medical team for 12 months 

Information and nutritional counseling for 12 months 

Additional discount in case of requiring any plastic surgery later 
Payment Options: Cash, Credit Card, Wire Transfer 
Note: The clinic may ask you for a money deposit once you decide to receive the surgery. 
At Klinik Mavi in Turkey, you can find highly skilled and board-certified bariatric surgeons who are dedicated to providing exceptional care and transformative results for patients seeking weight loss surgery. These experienced surgeons have undergone rigorous training and certification processes, ensuring their expertise in the field of bariatric surgery. With their comprehensive knowledge and advanced surgical techniques, they offer personalized treatment plans tailored to each patient's unique needs, helping them achieve sustainable weight loss and improved overall health. Klinik Mavi's board-certified bariatric surgeons are committed to delivering safe, effective, and long-lasting outcomes, making them a trusted choice for individuals seeking top-quality care in Turkey.
Gastric Sleeve Surgeon in Turkey

Dr Alper HACIOGLU, Bariatric Surgeon 

Dr Muslum Tarkan, Bariatric Surgeon 
Why get Gastric Sleeve in Eskisehir or Antalya, Turkey? 
Antalya is a popular city for medical tourism. Besides that, Antalya has numerous places where you can relax and indulge in Turkish food, culture, people, and nature. 
Eskisehir is one of the most popular cities in Turkey. It is located between Istanbul and Ankara. There are many places to visit and relax. The city is awarded with 10'th place regarding safety and living quallity in the World. 
We recommend the following tourist places in Antalya for visiting: 
Konyaaltı beach  
Antalya acquarium 
Kemer 
Belek 
Lara 
We recommend the following tourist places in Eskisehir: 
Odunpazarı houses 

Museum for glass arts 

Porsuk river 

Kentpark 

Sazova park 

Yazılıkaya/ Midas 

Frigian walley 
Am I a Good Candidate for Gastric Sleeve? 
After the consultation with your doctor, you will know if the Gastric sleeve is surgery for you. A BMI of 35-39 or higher, with specific health problems like Type 2 diabetes, sleep apnea, or high blood pressure can make you a good candidate for the surgery. 
What can I expect after Gastric Sleeve Surgery in Eskisehir/Antalya? 
You can expect to lose about 70% or even more of your excess weight within two years after gastric sleeve surgery. Of course, you need to maintain a healthy lifestyle as your doctor advises to see long-lasting results. However, every patient is different, and many factors determine the success of the gastric sleeve procedure. 
Is Gastric Sleeve Surgery Safe? 
Gastric sleeve surgery is generally a safe procedure. However, like any bariatric surgery, there are certain risks involved in gastric sleeve procedure such as: 
Bleeding 

Blood Cloths 

Leakage 

Irregular heartbeat 
Luckily, all these complications can be eliminated with precautions taken. Your doctor will let you know what to expect and help you stay safe during and after the procedure. 
Begin your life-changing journey to weight loss today and get an all-inclusive package for Gastric Sleeve in Eskiseihr/ Antalya, TURKEY at Klinik Mavi. Experience long-term positive results and improve your health and self-esteem after effective WLS. Contact us to get more information: 

Related Experiences:
Gastric Sleeve Surgery in Turkey 2023
Gastric Sleeve in Izmir Turkey
Gastric Sleeve Surgery in Istanbul, Turkey
Choose Affordable Gastric Sleeve in India for Your Weight Loss
Gastric Sleeve Surgery in Mexicali Mexico - Safe and Trusted
Gastric Sleeve Surgery in Merida, Mexico - Remove Excess Fat!
---