GMTP Rehabilitation Package in Greece for Spinal Cord Injury, Cerebral Palsy & Brain Injury
Package price starting from:
$7783
Treatment:
Neurology,Rehabilitation,Rehabilitation and Medical Spa Treatment, Traumatic brain injury, Spinal cord stimulation (SCS), Cerebral Palsy
Location:
Thessaloniki, Ethnikis Antistaseos str., 42-44, Kalamaria, 55133, Greece
Focus Area:
GMTP Group | St. Luke Hospital | Thessaloniki | Greece | Rehabilitation | Spinal Cord Injury | Cerebral Palsy | Brain Injury
---
Rehabilitation for Spinal Cord Injury, Cerebral Palsy and Brain Injury in Thessaloniki, Greece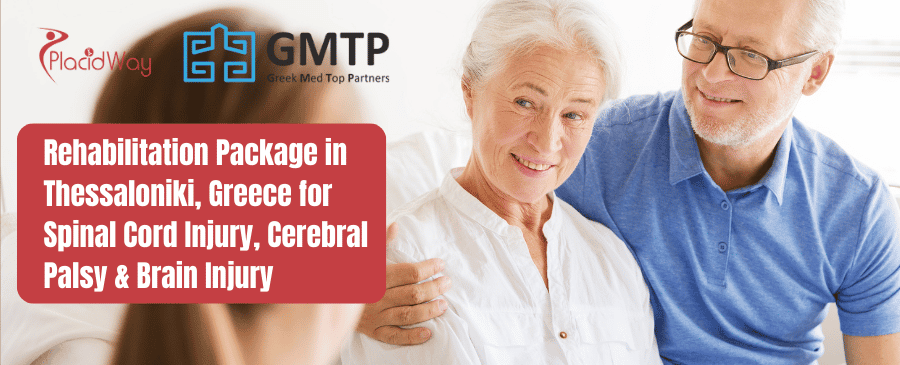 Recovering from spinal cord injury, cerebral palsy, or brain injury can be a challenging journey, requiring comprehensive rehabilitation services. GMTP Medical Group in Thessaloniki, Greece offers a specialized rehabilitation package designed to provide world-class care and support for patients facing these conditions. With a team of experienced healthcare professionals and state-of-the-art facilities, GMTP aims to facilitate the recovery process and enhance the quality of life for patients.
Located in Thessaloniki, Greece, GMTP - St. Luke's Hospital is renowned for its expertise in rehabilitation and commitment to patient well-being. The hospital's multidisciplinary approach combines medical expertise, cutting-edge technology, and personalized care to create a nurturing environment for patients. Whether it's a spinal cord injury, cerebral palsy, or brain injury, GMTP's rehabilitation package focuses on restoring functionality, improving mobility, and promoting independence, tailored to each patient's unique needs.
You can get GMTP rehabilitation package in Thessaloniki, Greece for spinal cord injury, cerebral palsy and brain injury with the price starts at: 7130 Euro or $7,783. Check our price list table below to learn more:
| | |
| --- | --- |
| City, Country | Cost in USD |
| Thessaloniki, Greece | $7,783 |
| United States | $30,000 |
| Canada | $20,000 |
Note: price may change and vary depends on complexity of procedures and patient conditions. Click free quote button below for more information:

Access to World-Class Medical Professionals: Thessaloniki boasts a pool of highly skilled healthcare professionals who specialize in neurorehabilitation. With their expertise, patients can receive top-notch care throughout their rehabilitation journey.
State-of-the-Art Facilities: GMTP - St. Luke's Hospital in Thessaloniki is equipped with advanced rehabilitation facilities, including cutting-edge technology and specialized equipment. These modern amenities contribute to more effective treatments and better outcomes for patients.
Beautiful Location: Thessaloniki's scenic beauty provides a serene and relaxing atmosphere, which plays a significant role in the overall healing process. The city's pleasant climate and cultural attractions further enhance the rehabilitation experience.
Multidisciplinary Approach: GMTP adopts a multidisciplinary approach to rehabilitation, involving a team of experts from various fields such as physiotherapy, occupational therapy, speech therapy, and psychology. This comprehensive approach ensures comprehensive care for patients.
Supportive Community: Thessaloniki has a strong network of support groups, patient associations, and rehabilitation centers that provide ongoing assistance and guidance to patients and their families. This supportive community fosters a sense of belonging and facilitates a smoother rehabilitation journey.
Personalized Treatment Plan: Each patient receives a customized treatment plan based on their specific condition, needs, and goals. The rehabilitation package ensures that every aspect of the patient's recovery journey is carefully addressed.
Rehabilitation Sessions: The package includes a series of rehabilitation sessions led by experienced therapists. These sessions encompass various therapies such as physiotherapy, occupational therapy, speech therapy, and cognitive rehabilitation, tailored to the patient's requirements.
Accommodation and Meals: GMTP provides comfortable accommodation and nutritious meals for the duration of the patient's stay. A conducive living environment and healthy meals contribute to the overall well-being and recovery of the patients.
Medical Monitoring: The rehabilitation package includes continuous medical monitoring by a team of dedicated healthcare professionals. Regular assessments and adjustments to the treatment plan ensure progress and optimize results.
Follow-Up Care: Even after completion of the rehabilitation program, GMTP provides post-treatment follow-up care and support to ensure a smooth transition back to everyday life. This comprehensive approach promotes long-term success and patient satisfaction.
Travel Expenses: The package does not cover travel expenses such as airfare, visa fees, or transportation to and from the hospital.
Additional Medical Treatments: If any additional medical treatments or interventions beyond the rehabilitation package are required, they may incur additional costs.
Personal Expenses: Personal expenses such as telephone calls, laundry services, and any additional amenities beyond the package are not included.
Medications: The cost of medications or medical supplies needed during the rehabilitation period is not included in the package.
Complications and Unforeseen Circumstances: In case of unforeseen complications or medical emergencies, additional medical procedures or treatments may not be covered by the package.
Rehabilitation Pre-Op Tests
Physical Examination: A thorough physical examination is conducted to evaluate the patient's overall health status and identify any underlying conditions that may affect the rehabilitation process.
Imaging Studies: Various imaging tests, such as X-rays, CT scans, or MRI scans, are performed to assess the extent and location of the injury or condition.
Neurological Assessment: A detailed neurological assessment is conducted to evaluate the function and responsiveness of the central nervous system.
Blood Tests: Blood tests are carried out to analyze various parameters, including blood cell count, biochemical markers, and metabolic function.
Psychological Evaluation: A psychological evaluation helps in assessing the patient's mental health and emotional well-being, identifying any psychological factors that may influence the rehabilitation process.
About Rehabilitation Procedures
4 WEEKS - 3 HOURS DAILY INDIVIDUAL THERAPY
1. Consultation of rehabilitation doctor.

2. Blood test – WBC (white blood cell), RBC (red blood cell), HGB (hemoglobin), HCT (hematocrit), Platelets, MCV (average volume of red cells), MCH (average amount of hemoglobin per red blood cell), MCHC (average concentration of hemoglobin in red blood cell).

3. Cardiac check-up (cardiologist consultation, electrocardiogram, heart Ultrasound).

4. Follow up by neurologist.

5. Follow up by orthopedic.

6. Individual plan of treatment course according to recommendations by our doctors.

7. Individual plan of nutrition according to recommendations by nutrition dietologist.

8. Individual therapies using classic and modern methods which correspond to the needs and abilities of the patient.

9. Therapies may include:

✔ Physiotherapy using classic and modern methods such as Bobath (Baby-bobath), Makenzie, Mulligan concept, PNF method, gymnastics, kinesitherapy, kinesio taping method, CI method for children etc.

✔ Hydrotherapy (therapeutic pool, AQUA-PNF method, hydrotherapeutic water stream massage, pool lift for persons with special needs).

✔ Occupational therapy (Ergo therapy) using classic and modern methods and modern devices such as Hocoma, Armeo spring, Nirvana etc.

✔ Speech (Logo therapy) and swallowing therapy.

✔ Psychological, neuropsychological and cognitive training (with extra charge).

✔ Retraining cognitive functions, social services, ADL (activities of daily living).

✔ Usage of Eksoskeleton and Lokomat, Armeo, Nirvana, Biodex and Snoezelen & many other modern devices.

10. 4 weeks (28 days) accommodation in a fully furnished apartment (patient and accompanying person).

11. Transfer to the rehabilitation center and back (not individual).
GMTP SERVICES:
1. We help you in choosing the best doctor/clinic/rehab center for your case.

2. Medical documents' translations before, during and after your treatment.

3. Arranging appointments with the doctors and for other medical exams, such as MRI, CT, blood tests, etc.

4. Interpreter during doctor's consultation and therapies.

5. Assistance and translation during urgent situations in the hospital for necessary communication between patient and doctor.

6. Professional control of medical services by communication with the doctor in charge and other specialists.

7. Assistance in buying medications.

8. Arranging transfers and taxi services (the cost of the transfer/services not included).

9. 24/7 assistance and translation on the phone.

10. Assistance upon arrival, including help in shopping from the supermarket, internet connection and buying a SIM card.

11. Visa support service.

12. Arrival and departure transfer by car.

13. Meeting inside the airport in Greece.
EXTRA CHARGES (NOT INCLUDED):
1. Electricity, water and building common services bills in the apartment 9€ per day (in case of over usage of the air-conditioner or hot water boiler the charge can be higher).

2. Payment for house cleaning service 40€ once during the whole stay.

3. Outsourced doctors' consultations or follow up (such as neurosurgeon, orthopedic surgeon, urologist, cardiologist, dermatologist etc.) at extra charge. Ask us for exact cost before booking appointment.

4. Scheduled or emergency patient's transfer by ambulance or by car.

5. In case patients wish to have a private transfer (to be alone in the car without other patients) extra charge of 10 € per way will apply.
Important notes:
1. Please sign a contract with our company before you start treatment course.

2. The price of the package is fixed and non-changeable even if the patient does not need any of the included services, the price cannot be reduced.

3. No therapies performed during weekends and public holidays in Greece.

4. We do not recommend you lose therapies because lost therapies are non-refundable even if the patient is sick not able attend the therapy.

5. In case the patient has any infection or sickness that may infect or affect other patients must be transferred individually at extra charge of 10 € per way. It depends on doctor's recommendations.

6. The price of this program is 7.130 Euros.
Dr. Loizidis Theodoros and Dr. Mouza Eirini are among the top rehab doctors in Thessaloniki, Greece, practicing at GMTP - St. Luke's Hospital. With their extensive knowledge, experience, and expertise in the field of rehabilitation, they are dedicated to providing exceptional care for patients with spinal cord injury, cerebral palsy, and brain injury. Dr. Loizidis and Dr. Mouza work closely with their patients, creating personalized treatment plans and employing innovative rehabilitation techniques to optimize outcomes and enhance the overall well-being of their patients. Their commitment to excellence makes them highly respected and sought-after specialists in Thessaloniki.
Top Rehab Doctors in Thessaloniki Greece at GMTP

Loizidis Theodoros

Mouza Eirini
To schedule an appointment with the top rehab specialists in Thessaloniki, Greece at GMTP - St. Luke's Hospital, contact PlacidWay Medical Tourism today.
Testimonial from Real Patients after Rehab Therapy in Thessaloniki, Greece
Alexey Shkuratov and Kroustallis Kostantinos express their heartfelt gratitude for the transformative experience they had in the rehabilitation program in Thessaloniki, Greece. Through the program, they received top-notch care, personalized therapies, and unwavering support, enabling them to regain their independence, enhance their motor skills, and improve their overall well-being.
Thessaloniki, Greece, stands out as an ideal destination for rehabilitation due to its combination of world-class medical facilities, skilled healthcare professionals, a supportive community, and a beautiful location that aids in the healing process. The multidisciplinary approach and personalized treatment plans offered by GMTP - St. Luke's Hospital ensure that patients receive comprehensive care tailored to their individual needs. Furthermore, Thessaloniki's cultural attractions and pleasant climate create a conducive environment for rehabilitation and overall well-being.
Q: Can individuals of all ages benefit from rehabilitation services in Thessaloniki, Greece?
Yes, rehabilitation services in Thessaloniki are available for individuals of all ages, from children to adults, tailored to their specific needs and conditions.
Q: How long is the typical duration of the rehabilitation program in Thessaloniki, Greece?
The duration of the rehabilitation program can vary depending on the severity of the condition and individual progress. It is usually tailored to each patient's specific needs, and the length of the program will be determined by the healthcare professionals.
Q: Are family members or caregivers allowed to be involved in the rehabilitation process?
Yes, family members and caregivers are encouraged to be actively involved in the rehabilitation process. Their participation can provide emotional support and contribute to the patient's overall well-being and progress.
Q: Are there any follow-up or aftercare services provided after the completion of the rehabilitation program?
Yes, GMTP - St. Luke's Hospital in Thessaloniki provides follow-up care and support even after the completion of the rehabilitation program. This ensures a smooth transition back to everyday life and helps monitor long-term progress and outcomes.
To book your consultation and learn more about the Rehabilitation Package in Thessaloniki, Greece, offered by GMTP - St. Luke's Hospital, contact PlacidWay Medical Tourism today. Start your journey towards recovery and improved quality of life. Click button below to book your appointment today!

---