Stem Cell Therapy for Autism Package in Beijing, China by Puhua International Hospital
Package price starting from:
$17000
Treatment:
Stem Cell Therapy, Stem Cell Treatment for Autism
Focus Area:
Beijing Puhua International Hospital | Beijing | China | Stem Cell Therapy for Autism
---
Regenerative Medicine for Autism in Beijing, China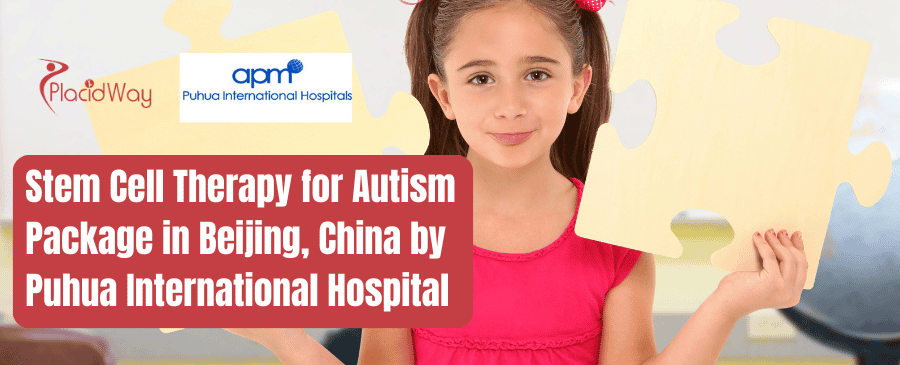 Stem cell therapy has emerged as a promising treatment approach for various medical conditions, including autism. Beijing Puhua International Hospital, located in the vibrant city of Beijing, China, offers advanced stem cell therapy for individuals with autism. With its state-of-the-art facilities and experienced medical professionals, the hospital provides comprehensive and personalized care to patients seeking innovative treatments. Here, we will explore the advantages of choosing stem cell therapy for autism in Beijing, along with the inclusive packages, pre-op tests, and reasons why this city is an ideal destination for medical tourism. Check our package details below for more information.
You can get stem cell therapy for autism in Beijing, China by Puhua International Hospital with the price starts at $17,000. Check our price list table below to learn more:
| | |
| --- | --- |
| City, Country | Cost in USD |
| Beijing, China | $17,000 |
| United States | $20,000 |
| Germany | $32,532 |
Note: price may change and vary depends on complexity of procedures and patient conditions. Click free quote button below to learn more:

Advanced Medical Facilities: Beijing is known for its cutting-edge medical technology and state-of-the-art facilities. Beijing Puhua International Hospital is equipped with the latest advancements in stem cell therapy, ensuring high-quality treatment for individuals with autism.
Expertise in Stem Cell Therapy: The hospital boasts a team of experienced medical professionals who specialize in stem cell therapy for autism. They have extensive knowledge and expertise in this field, providing patients with individualized treatment plans tailored to their unique needs.
Holistic Approach: Beijing Puhua International Hospital takes a holistic approach to autism treatment, combining stem cell therapy with complementary therapies such as occupational therapy, speech therapy, and behavioral therapy. This comprehensive approach aims to address the underlying causes of autism and maximize the potential for improvement.
International Patient Support: The hospital has a dedicated team that provides support and assistance to international patients throughout their treatment journey. From visa assistance to language interpretation, they ensure a smooth and comfortable experience for patients and their families.
Cultural Experience and Tourist Attractions: Beijing, the capital city of China, offers a rich cultural experience and numerous tourist attractions. Patients and their families can explore historical landmarks like the Great Wall of China and the Forbidden City, enhancing their treatment journey with unforgettable memories.
Stem Cells Activation and Proliferation Treatment
1. Patients receive a daily IV of neurotrophic factors and medicines used to stimulate the production of the body's own stem cells.
2. Minimally Invasive Brain Repair + Stem Cell Transplantation using
Neural Stem Cells - Neural stem cells (NSCs) have the potential to give rise to offspring cells that grow and differentiate into neurons and glial cells (non-neuronal cells that insulate neurons and enhance the speed at which neurons send signals).
The SCT treatment may improve his violent behavior, reaction, communication, intelligence, etc. Furthermore, neural activation treatment will supply strong basic for his future development of neural system. It is important to understand that every patient is different and the response of each patient will depend on the level of disability, the age of the patient, related health conditions etc.
Stem cell treatment will help the patient's condition in two aspects: The neural stem cells being injected into the central nervous system can help substitute some of neurons in the brain; the coming stem cells can produce some factors which can stimulate the self stem cells differentiate and proliferate, and then repair the damaged neurons and strengthen the patient's muscles. The stem cell treatment is not a cure for the disease in one circle of the treatment and can NOT correct all the deficits which this patient is suffering from.
3. This combination, on one hand, is able to accurately damage/destroy the lesion that leads to patient's symptoms; on the other hand, stem cells injected directly into the lesion can replace the dead cells and repair the injured cells.
4. The advantages of stereotactic surgery are: high accuracy and minimally invasive.
5. Stem Cell Implantation: stem cell transplantation procedures via lumbar puncture and/or  IV injection.
6. Traditional Chinese Medicine: orall medicine & proffessional acupuncture to improve blood circulation of whole body, especially brain.
7. Physical Therapy: to promote patient's functional recovery.
Treatment period and the cost: The estimate cost is around $17,000 to $29,000, it will take 10 to 14 days, including both treatment and accommodation fee. The recommended treatment period is 10 days. The payment includes:
Stereotactic operation: both sides neural adjusting and repair treatments as mentioned.

Daily physiotherapy and occupational therapy sessions.

One Standard room Fee for the patient AND for 1-2 accompanying family member(s).

General medical services; Doctor's visits and examinations, laboratory tests, etc
Medical Consultation: Comprehensive medical consultation with the expert team to assess the patient's condition and determine the most suitable treatment approach.
Stem Cell Therapy: Administration of stem cell therapy using advanced techniques and protocols tailored to the patient's specific needs.
Rehabilitation and Therapy: Access to a range of rehabilitative and therapeutic services, including occupational therapy, speech therapy, and behavioral therapy, to support the patient's overall development and progress.
Accommodation and Transportation: Comfortable accommodation options near the hospital, as well as transportation services for convenient travel between the hospital and accommodation.
Medical Tourism Assistance: Assistance with travel arrangements, visa processing, and language interpretation to ensure a hassle-free and enjoyable medical tourism experience.
Travel Expenses: The package does not cover expenses related to travel, such as airfare, travel insurance, and local transportation within Beijing.
Personal Expenses: Any personal expenses incurred during the stay, including meals, shopping, and additional leisure activities, are not included in the package.
Pre-existing Medical Conditions: Treatment for pre-existing medical conditions unrelated to autism is not included in the package and may require additional consultations and procedures.
Follow-up Care: Any post-treatment follow-up care or subsequent sessions beyond the specified treatment duration may incur additional charges.
Non-Medical Services: Services not directly related to medical treatment, such as spa treatments, beauty services, and recreational activities, are not included in the package.
Stem Cell Therapy for Autism Pre-Op Tests:
Comprehensive Medical Evaluation: A thorough assessment of the patient's medical history, including neurological examinations, cognitive assessments, and laboratory tests, to determine eligibility for stem cell therapy.
Genetic Testing: Genetic tests may be conducted to identify any underlying genetic factors contributing to autism and aid in personalized treatment planning.
Diagnostic Imaging: Imaging tests, such as magnetic resonance imaging (MRI) and electroencephalography (EEG), may be performed to assess brain structure and activity.
Blood Tests: Routine blood tests to evaluate overall health, check for infections, and ensure the patient's suitability for stem cell therapy.
Psychological Assessment: Psychological evaluations may be conducted to assess behavioral patterns, emotional well-being, and cognitive abilities, providing valuable insights for personalized treatment strategies.
At Beijing Puhua International Hospital, patients seeking stem cell therapy for autism can receive specialized care from Dr. Jae W. Pak, a distinguished Regenerative Medicine Specialist, and Dr. Weiran Tang, an experienced Biological Immunotherapy Specialist, ensuring comprehensive and personalized treatment approaches for individuals with autism.
Beijing, China, offers several compelling reasons to choose stem cell therapy for autism. Beijing is renowned for its medical advancements and expertise in stem cell therapy. Patients can benefit from the knowledge and experience of leading specialists in the field. Stem cell therapy in Beijing, China, is often more cost-effective compared to other countries, providing an excellent balance between quality care and affordability.
Beijing Puhua International Hospital provides a multidisciplinary approach to autism treatment; ensuring patients receive comprehensive care from diagnosis to rehabilitation. Patients and their families can immerse themselves in the rich cultural heritage of Beijing while undergoing treatment, creating a unique and enriching experience. Beijing has excellent international connectivity, making it easily accessible for patients traveling from different parts of the world.
Is stem cell therapy a proven treatment for autism?
Answer: While stem cell therapy shows promise as a potential treatment for autism, it is still considered an experimental and evolving therapy. Ongoing research and clinical trials are being conducted to evaluate its effectiveness. It is important to consult with medical professionals and understand the potential benefits and risks before considering this treatment option.
How are stem cells administered during the therapy?
Answer: Stem cells can be administered through various methods, including intravenous (IV) infusion, lumbar puncture, or intrathecal injection. The most appropriate method is determined based on the patient's specific condition and treatment plan, as recommended by the medical team.
What are the potential benefits of stem cell therapy for autism?
Answer: The potential benefits of stem cell therapy for autism include improved social interactions, enhanced communication skills, better cognitive function, reduced repetitive behaviors, and increased overall quality of life. However, it is important to note that individual results may vary, and not all patients may experience the same level of improvement.
Are there any risks or side effects associated with stem cell therapy for autism?
Answer: As with any medical procedure, stem cell therapy carries potential risks and side effects. These can include temporary fever, headache, fatigue, allergic reactions, or infection at the injection site. It is crucial to discuss these risks with the medical team and ensure proper monitoring during and after the treatment.
What is the duration of the treatment and the expected recovery time?
Answer: The duration of stem cell therapy for autism varies depending on the individual and the treatment plan. Some patients may require a single session, while others may undergo multiple sessions over a period of several weeks or months. The recovery time also varies, with some patients showing improvements shortly after the treatment, while others may experience gradual progress over time. The medical team will provide a personalized treatment plan and discuss the expected timeline during the consultation process.
To book your consultation or learn more about stem cell therapy for autism in Beijing, China, contact PlacidWay Medical Tourism. Their dedicated team will guide you through the process and provide all the necessary information to ensure a smooth and successful treatment journey. Click contact us button below to get started:

Related Experiences:
Stem Cell Therapy for Autism in China
Stem Cell Therapy for Autism in Guadalajara, Mexico
Stem Cell Therapy for Autism in Germany
Autism Treatment in Thailand with Stem Cell Therapy
Stem Cell Therapy for Autism in Mexico City
Stem Cell Therapy for Autism in Colombia
---