Chinese Medicine for Rheumatoid Arthritis in Beijing China
Package price starting from:
$9000
Treatment:
Alternative Medicine
Focus Area:
Chinese Medicine | Chinese Medicine for Rheumatoid Arthritis | Chinese Medicine Clinic | Chinese Medicine Doctors | Chinese Medicine Abroad | Beijing, China
---
Chinese Medicine for Rheumatoid Arthritis, Kerotherapy, Epitherapy, Cheap Chinese Medicine, Alternative Medicine, Beijing, China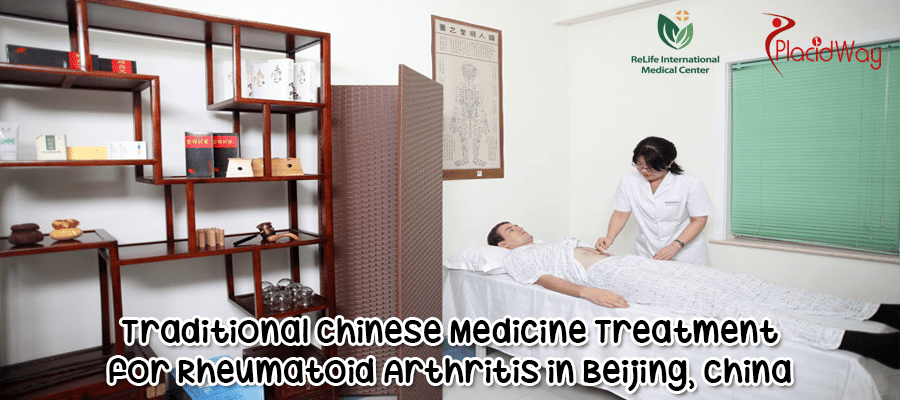 Traditional Chinese Medicine Treatment for Rheumatoid Arthritis in Beijing, China
Rheumatoid arthritis is a relatively common disease that affects the joints. In this condition, the synovial membrane that separates joints becomes inflamed. As the time goes by, joint damaging occurs, leading to joint dysfunction.
ReLife International Medical Center is applying comprehensive Chinese medical ways focusing on epitherapy and Kerotherapy, natural and effective, without any side effect.
Traditional Chinese Medicine Treatment for Rheumatoid Arthritis Overview
Traditional Chinese Medicine is based on a series of analysis and holistic principles that require the inseparable bond between the organs and systems of the human body and the connection between them and environment.
The Traditional Chinese Medicine treatment for rheumatoid arthritis has lasts approximately 2-3 weeks.
What to bring from home
Medical Report: patients are kindly advised to bring along all their medical reports in case the clinic's doctors need to review for more medical details.
Medications: the patients should bring along all the prescribed medication for the patient's hospitalization period, as some medications may not be available in China.
Suitable Attires: during much of the patient's stay, he/she will wear his/her own clothes, night clothes, robe, slippers, shoes and etc. The patient will need to bring the suitable attire for the season as well.
Hygiene Utilities: the patients will use their own sanitary and toiletry items (including item such as diapers), personal hygiene utilities (toothbrush, hairbrush, comb etc.) any other personal items that they wish to use while in China.
Electronic Appliances: laptop computer, digital camera, mobile phone and personal music player etc. The medical center does not provide hair dryers. If the patients need a hair dryer, the clinic suggests patients to bring one (220V only) or that they buy one locally. Patients may ask for the clinic's customer coordinator, if they need help.
Benefits of the Traditional Chinese Medicine Treatment for Rheumatoid Arthritis
Traditional medicine is combined with the latest facilities and cutting-edge technology
Improves overall health status and life quality
Can relieve the condition's symptoms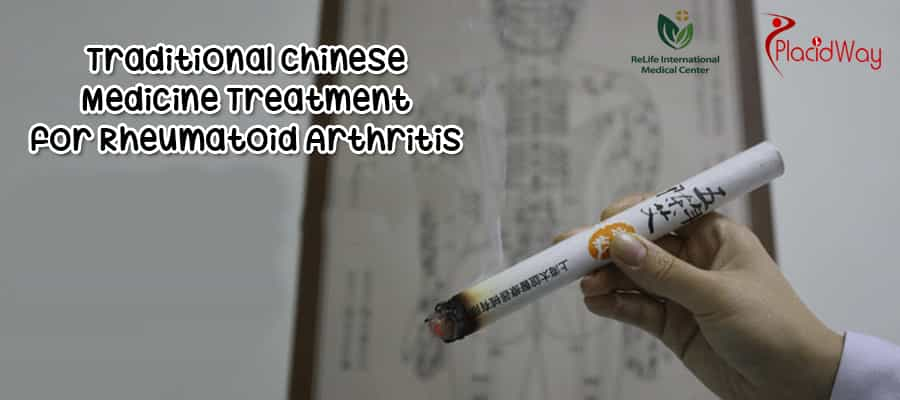 Cost, Inclusions and Exclusions
At ReLife Medical Center (Beijing, China), the Traditional Chinese Medicine Treatment for Rheumatoid Arthritis package's price varies between $9,000 and $12,000.
Inclusions
Apitherapy is the using the bee venom and other natural ingredients to stimulate acupoints, which can activate collaterals, promoting blood circulation and removing blood stasis, anti-inflammatory, analgesic, immune function.
Kerotherapy is using beewax and melittin for warming and activating meridian to remove the root of RA.
Acupuncture
Massage
External application of Chinese herb
Hot compress
Moxibustion
3 month Chinese herb
One room for the patient AND for 1-2 accompanying family members.
General medical services; Doctor's visits and examinations, laboratory tests, Nursing service, etc.
Invitation letter for applying for a visa.
Transportation from Beijing Capital Airport to ReLife International Medical Center
About the food: the clinic provides a free kitchen for patients to cook themselves, and the customer staff will help with buying daily articles.
Exclusions
Emergency medical treatment, stabilizing treatment, or treatment for unrelated illness
Unexpected expenses such as prolonged time of hospitalization
Food
Personal hygiene
Why Choose Us?
The clinic combines top notch technology with Traditional Chinese Medicine
The medical center is inspired by nature and focused on bringing up-to-date, eco-friendly and safe treatments, based on elements already existing in the human bodies, such as genetics and stem cells in order to improve health and create a better life
The clinic is aimed at providing world-class diagnosis and offering care and cure for complex and rare disorders
The medical center is using flawless facilities and cutting-edge technology
The clinic combines traditional medicine with top notch facilities to provide the best possible solutions for each and every patient's needs and desires
The center's Traditional Chinese Medicine experts are well recognized in this field and have a very high success rate
Find everything about the Traditional Chinese Medicine Treatment for Rheumatoid Arthritis available at ReLife Medical Center! Contact us!

Related Experiences:
Stem Cell Therapy for Autism in China
Stem Cell Therapy in China
Plastic Surgery in Santo Domingo, Dominican Republic
Gastric Sleeve Surgery in Turkey 2023
Regenerative Medicine for Knee Injury in United States
Regenerative Medicine for Cerebral Palsy in United States
---