Package Details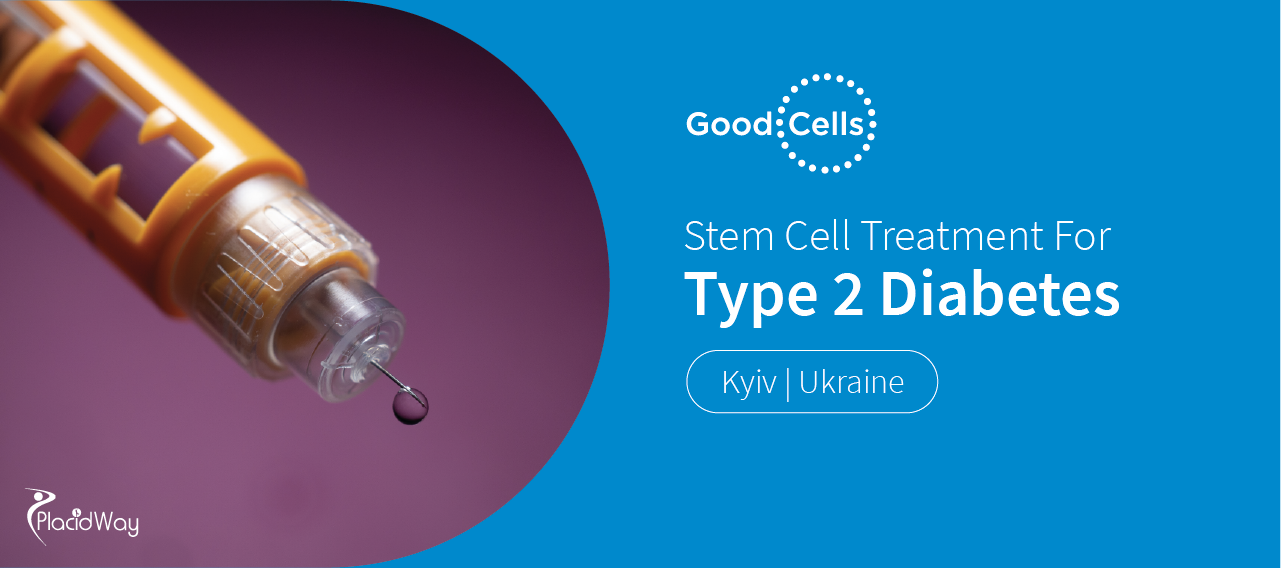 Stem Cell Treatment for Diabetes Type 2
Diabetes is a disease that affects insulin production and causes its insufficiency, thus making it hard for the body to process sugars, which creates all kinds of other problems, like increased risk of stroke or cardiovascular disease, increased risk of lower-limb amputations, and blindness. With stem cell therapy, the pancreas is given the chance to repair itself and boost its production of insulin. This then allows for windows of opportunity to make dietary changes, and much better control of blood sugar levels.
Good Cells has developed schemes for comprehensive treatment of type 2 diabetes that can put an end your dependence on insulin and you can experience the full flavor of life again. This stem cell treatment for diabetes can lead to:
Complete or partial elimination of the need for artificial insulin

Blood sugar levels can be normalized

Insulin levels can be increased

General well-being can be improved

Complications caused by diabetes mellitus (damage to the retina, kidneys, heart and legs) can be prevented

Trophic ulcers and tissue defects of the foot improve the microcirculation processes can be improved

Manifestations of diabetic angiopathy can be reduced

Indicators of red blood, namely increase in the content of hemoglobin and the number of red blood cells can be restored

Body odor and appearance can be improved

Some of the more serious complications caused by diabetes, such as erectile dysfunction and visual impairment can be reversed
Steps of Treatment
Step 1- During the 
consultation, Good Cells' manager can check your medical documents and arrange a free Skype call with the doctor
Step 2- A personalized treatment plan is prepared according to your medical history.
Step 3- The treatment begins. On day 1 you will have a full medical check-up, followed by stem cell therapy according to your treatment plan. Our standard treatment program takes 7 days. Stem cells regenerate damaged tissue, normalize pancreatic function and the neuroendocrine system. Your whole body will feel rejuvenated. The last day you will receive a full treatment report, medical documentation if needed and final consultation with your doctor.
Step 4- Treatment ends and your return home with doctor recommendations. After 3, 6 and 9 months, the test results will be checked and corrections to the recommendations will be made
The treatment takes usually from 3 to 7 days (depends on each case)
Benefits of the Stem Cell Treatment for Type 2 Diabetes
Significantly improves the quality of life of the patient

Through achieving stable remission of the disease, the patient can reduce the dosage (or completely stop the taking) of the hypoglycemic medications

Helps prevent the occurrence (or further complication) of the chronic complications related to diabetes which can influence the kidneys, the eyes, the cardiovascular and nervous system
How much does Stem Cell Therapy Cost for Diabetes Type 2?
At Good Cells in Kyiv, Ukraine, the price for the stem cell treatment for type 2 diabetes starts at $5,000 and it includes:
Stem cell products for the treatment;

Consultation of a doctor-coordinator of stem cell program;

Consultation of profile specialists;

Ultrasound scanning;

Blood and urine medical tests;

Other medical tests recommended by the doctor (if necessary);

Follow up after the treatment.
 Why Choose Good Cells Stem Cell Treatment?
A recognized world leader in developing methods of stem cell treatment

Highly skilled and educated staff

Modern working conditions and medical facilities

Achieved outstanding positive results in stem cell treatment of various disorders

Find out everything about the stem cell treatment for Type 2 diabetes in Kyiv, Ukraine. Contact us!
Related Experiences:
Stem Cell Therapy for Diabetes in India – Proven Results!
Stem Cell Therapy for Diabetes in Mexico - Live Healthy!
Stem Cell Therapy for Knee in Mexico - Choose Knee Treatment Mexico
Stem Cell for Cerebral Palsy in India - Improve Quality of Life
Top and Effective Stem Cell Therapy for Autism in Florida USA
Multiple Sclerosis Stem Cells Treatment in Europe