Package Details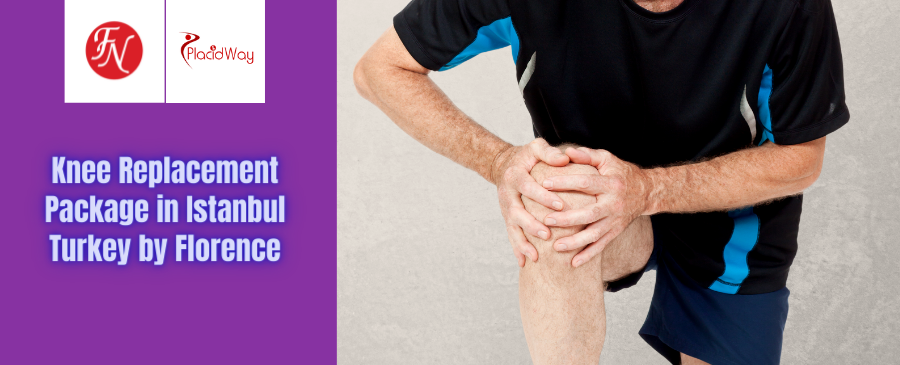 Knee Replacement Package in Istanbul Turkey by Florence provides the best price and maximum quality of medical services. You can take advantage of this package to get the best Knee Replacement Surgery performed directly by an experienced and certified Surgeon from Group Florence Nightingale Hospitals Orthopedics.
You can get the Knee Replacement Package in Istanbul Turkey by Florence at an affordable price, compared to similar surgeries in other countries. For more information about prices, make sure to contact the Customer Representative of Group Florence Nightingale Hospitals Orthopedics.
Note: Price can change depends on patient's condition and complexity of surgery. For more information, please contact Customer Support.
Total joint replacement is a surgical procedure where parts of an arthritic or damaged joint are removed and replaced with a metal, plastic or ceramic device called a prosthesis or implant. The prosthesis is designed to reproduce the shape and motion of the normal joint.
A joint is an area in the body where two or more bones join together to allow motion. The surfaces of the bones are covered with cartilage to form a normal smooth gliding joint. Over time this cartilage can break down, leading to bone-on-bone friction which can cause inflammation and pain.
The most common conditions that lead to joint replacement surgery are osteoarthritis and rheumatoid arthritis. There are, however, other causes of joint pain that may also lead to joint replacement including hereditary disorders, developmental problems, and trauma. Joint replacement is performed only after other conservative treatments have failed such as medications, physical therapy, and injections.
We successfully perform partial and total joint prostheses in our Prosthetic Surgery Department. Total joint prosthesis aims to stabilize the joint by replacing the damaged joint surface with artificial materials and to eliminate existing pain. In recent years, total joint prosthesis practices having increasingly been performed in our country as in the whole world.
The joints where prosthetic surgery is mostly performed are knee and hip prostheses. It is also frequently used in the treatment of deformations in the cartilage surfaces of the joints due to arthritis, infections, rheumatic diseases, trauma, or congenital structural disorders.
We perform general anesthesia or local anesthesia (spinal and/or epidural) for our hip and knee replacement surgeries. We take the choices jointly with our patients. Generally, within the first 48 hours after prosthesis surgery, we get our patients to stand up and walk. 
Hip and knee replacement are two of the most commonly performed operations in orthopedic surgery. Both procedures are very successful at eliminating pain, correcting deformity and improving patient mobility so patients can regain quality of life and get back to the activities they enjoy.
During Hip Replacement, the damaged ball of the hip ball and socket joint is removed and replaced with a metal or ceramic ball that attaches to a stem that fits into the femur. The prosthesis is usually coated with a special material into which the bone will grow over time. In some instances, however, the prosthesis is cemented into the bone. The socket portion of the ball and socket joint is also replaced with a metal cup that is placed into the pelvis. A plastic liner is then snapped into the metal cup and rotates with the new ball on the end of the femoral stem. The prostheses and implants come in a variety of shapes and sizes that can be tailored to the individual.
During total knee replacement surgery, a thin amount of bone along the surface of the joint is removed from the end of the femur or thigh bone, the top of the tibia or leg bone, as well as the underside of the kneecap. The surfaces of the bone are then shaped with tools and sized to allow an appropriate implant fit for each individual knee. The major ligaments and tendons of the knee are typically kept in place to provide stability and normal motion of the knee joint. Like hip replacements, knee replacements can either be cemented into place or are covered in a special material into which the bone will grow.
Total joint replacement surgery usually takes one to two hours and is typically performed in a hospital setting with a one- to two-day hospital stay. The procedure is usually performed under spinal anesthesia in combination with a nerve block. This prevents the need for general anesthesia and intubation during the surgery and can help patients avoid many of the side effects of general anesthesia such as post-operative nausea. This allows for better pain control and quicker recovery.
Following the surgery and a short stay in the recovery room, patients will begin walking on the day of their surgery. The majority of patients are then sent home with instructions for further therapy. Typically, patients can return to work and other normal activities within one to three months, depending on their overall health and progress during recovery.
The most prominent reason in knee joint deterioration is wear and tear. Obesity, rheumatic diseases cause early wear of the knee. Genetic predisposition can have an effect on knee wear and tear. Physical trauma history or repetitive minor traumas are the reasons for wear on the knee. Joint damage is more common in those who regularly do heavy sports, and arthritis is more common in their joints. Women, especially those over the age of 55, experience knee problems more often compared to men. Knee problems are more common in people who have some blood diseases such as hemophilia and those who work by squatting heavily.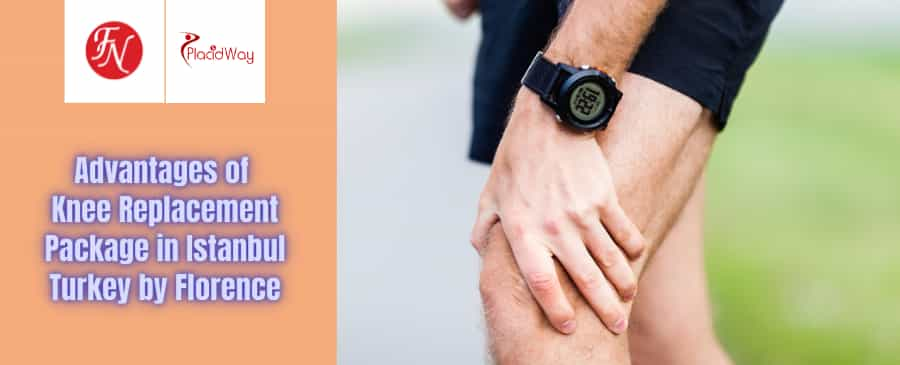 Knee Replacement Package in Istanbul Turkey by Florence will be able to provide you with several benefits, such as:
Worked on personal satisfaction

Independence from torment

Further developed versatility

Reasonable packages

Master and qualified specialists

Fascinating occasion at Istanbul Turkey

Astounding clinical quality

Universally authorize hospitals

Profoundly gifted and experienced specialists

Great English talking specialists

Incredible client care administration
Knee replacement surgery treats harmed knee joints with metal or plastic inserts. It's a popular procedure that is extremely compelling at diminishing agony and solidness from injury or joint pain. After knee replacement and recuperation, you can return to ordinary errands and exercises you appreciate.
Here are some inclusions that you can find in this Knee Replacement Package in Istanbul Turkey by Florence:
Transportation airport – hotel – hospital (If transport by an ambulance is necessary, costs will be carried out by the patient)

Arrangement of all appointments and procedures

Arrangement of the interpretation services

Arrangement of hotel/residence if needed (The accommodation cost will be carried out by the patient)

Hospital stay, meals (breakfast, lunch, and dinner), TV with international channels, free WI-FI, air condition, and en suite bathroom

One accompanying person can also accommodate during the hospital stay, which is included in the cost.
Here are exclusions when using Knee Replacement Package in Istanbul Turkey by Florence:
Hotel or recovery house

Preoperative lab work

Airfare

Other accommodations or personal needs which not listed in inclusions
Pre-Op Test is required when you undergo the Knee Replacement Package in Istanbul Turkey by Florence. Be sure to find out the details below:
Orthopedic pre-operative physical exam

Knee X-ray

Complete blood count, to rule out anemia

Urinalysis

Coagulation testing

Baseline metabolic analysis of kidneys, liver, and electrolyte status
Name: Eyup Bakmaz, M.D.
Experience and Educations:
Gayrettepe Florence Nightingale Hospital Orthopedics and Traumatology Specialist in 1997

Cerrahpaşa Medical Faculty Orthopedics and Traumatology Department – Chief Assistant Specialist Doctor in 1996 – 1997

Istanbul University Cerrahpaşa Faculty of Medicine – Orthopedics and Traumatology, Specialist in 1992 – 1996

Cerrahpaşa Medical Faculty Orthopedics and Traumatology Department – Assistant Physician in 1992 – 1996

Adana Reşat Bey Health Center – General Practitioner in 1987 – 1991

Trabzon Maçka (Compulsory Service) – General Practitioner in 1985 – 1987

Istanbul University Cerrahpaşa Faculty of Medicine – Medical Education in 1979 – 1985.
Here are several things that you need to know when having Knee Replacement Package in Istanbul Turkey by Florence. As a result, you will be able to prepare all necessary requirements before having Knee Replacement Surgery:
Complexity Level of Knee Replacement Surgery is high.

Final prices for Knee Replacement Package in Istanbul Turkey by Florence are determined after physical evaluation and laboratory reports analysis.

Length of stay is 5 days (1 day before the surgery and 4 days after).

The laboratory tests for Knee Replacement Package in Istanbul Turkey by Florence are done at least 7-10 days prior to the procedure. The particular tests are prescribed after a complete physical evaluation of the patient.

Payment Options for this package can use: cash, credit card, and wire transfer

Group Florence Nightingale Hospitals Orthopedics may require a money deposit once a patient decides to book the surgery.
How to Reach Istanbul Turkey
When using Knee Replacement Package in Istanbul Turkey by Florence, you don't have to worry because there are many ways you can do to reach Istanbul Turkey. You can follow below Travel Guide to Istanbul Turkey for more information:
The easiest and fastest way to reach Istanbul Turkey is by plane, especially if you are from abroad. You can get off at Istanbul Ataturk International Airport, which is the main and busiest airport in the country.

Another alternative is to take the train, and choose the route for Istanbul. If you live around the city of Turkey, you can also use the Private Car, or Bus available.

There is also the option of using a Cruise Ship, which will later help you dock in Istanbul Turkey. To get around the city of Istanbul Turkey, you can rent a car or take a taxi.
Here are several questions about Knee Replacement Package in Istanbul Turkey by Florence. By studying frequently asked questions, you can prepare anything completely before undergoing the surgery in Istanbul Turkey.
Is Turkey safe for tourists?
Yes, generally speaking, Turkey is best destination for the travel industry, including medical tourism. The nation stays one of the most famous objections all throughout the earth. The country's most famous traveler objections, including Antalya, Cappadocia, and Istanbul, are by and large protected. In any case, tourists actually need to stay watchful.
Why is Surgery so Cheap in Turkey?
Surgery procedures in Turkey are popular due to less expensive in Turkey than in Europe, or in other big countries. Since Turkey's overall compensation costs are lower than in Europe, there are many tourists like to go there.
Likewise with any surgery, Knee Surgery conveys risk. These dangers range from contamination and torment to blood clusters. In any case, the AAOS call attention to that in excess of 600,000 procedures require every year in the United States alone, with less than 2% get complications.
What is the Success Rate of Knee Surgery?
Specialists have performed knee replacements for more than thirty years by and large with great outcomes; most reports have ten-year achievement rates more than 90%.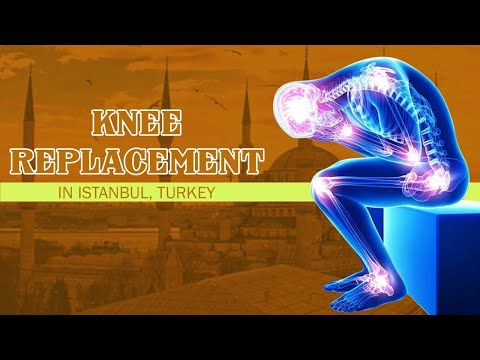 It's time for you to book the Knee Replacement Package in Istanbul Turkey by Florence now, and get the best price for this procedure. Click the button below to make a reservation or if you have any other questions:
Related Experiences:
Get Your Knee Replacement in Istanbul - Turkey
Here is Why Hip Replacement in Turkey Works!
Hip Replacement in Tijuana - Improve Your Hip Health
Total Hip Replacement in Johnstown USA - For Your New Hips
Feel Better & Move Better with Knee Replacement in Mexicali
High Success Rate Hip Replacement Surgery in Cancun Mexico