Stem Cell Therapy for Multiple Sclerosis Packages in Tijuana by Holistic Care
Package price starting from:
$6000
Treatment:
Stem Cell Therapy, Stem Cell Treatment for Multiple Sclerosis
Location:
4558 Agua Caliente Blvd. Ste. CC 1B, Tijuana, Mexico., Mexico
Focus Area:
Holistic Care | Tijuana | Mexico | Stem Cell Therapy for Multiple Sclerosis
---
Regenerative Medicine for Multiple Sclerosis in Tijuana, Mexico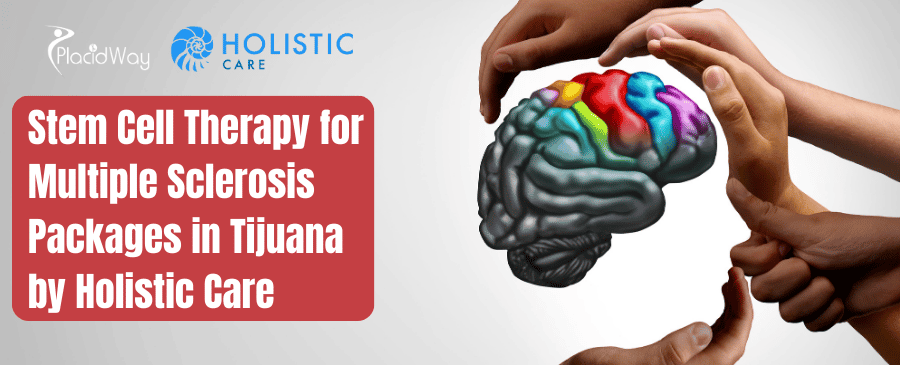 Stem cell therapy has emerged as a promising treatment option for multiple sclerosis (MS), a chronic autoimmune disease affecting the central nervous system. Tijuana, Mexico, has become a leading destination for individuals seeking cutting-edge stem cell therapies, thanks to the expertise of Holistic Care, a renowned medical center specializing in regenerative medicine.
With its state-of-the-art facilities and highly skilled medical professionals, Holistic Care offers a range of comprehensive stem cell therapy packages designed specifically for multiple sclerosis patients. These packages combine advanced treatment protocols with personalized care, providing patients with a holistic approach to managing their condition.
You can get stem cell therapy for multiple sclerosis packages in Tijuana, Mexico by Holistic Care with the price starts at $6,000. Check our price list table below to learn more:
| | |
| --- | --- |
| City, Country | Cost in USD |
| | |
| | |
| | |
Note: price may change and vary depends on complexity of procedures and patient conditions. Click FREE QUOTE button below to learn more:

Advanced Medical Facilities: Tijuana boasts modern medical facilities equipped with cutting-edge technology, ensuring that patients receive the highest standard of care during their treatment journey.
Experienced Medical Professionals: Holistic Care in Tijuana houses a team of experienced physicians and specialists who are well-versed in stem cell therapies for multiple sclerosis. Their expertise ensures that patients receive tailored treatment plans and individualized attention.
Cost-Effective Treatment: Tijuana offers cost-effective stem cell therapy packages compared to many other countries. Patients can receive world-class treatment without breaking the bank, making it an attractive option for those seeking affordable healthcare solutions.
Convenient Location: Tijuana is located in close proximity to the United States, making it easily accessible for international patients. Traveling to Tijuana for treatment is convenient, with various transportation options available.
Holistic Approach to Care: Holistic Care emphasizes a multidisciplinary approach to treatment, integrating stem cell therapy with complementary therapies such as physiotherapy and nutritional counseling. This comprehensive approach enhances the overall well-being of patients and improves treatment outcomes.
Our Stem Cell Therapy Protocols start within 3-5 day protocol, and the package includes:
50 Million Stem Cells + an additional 10 Million as a gift

Consultation with the Stem Cell Specialist

Blood/lab tests

Ultrasound or X-rays if needed

Multivitamins IV therapies

Hyperbaric chamber sessions

For the cost of $6,000 USD (Prices may vary).
Travel expenses (flights, accommodation, etc.) are not included in the packages and should be arranged separately.

Personalized medications and additional diagnostic tests beyond the package inclusions may incur extra costs.

Expenses related to any unforeseen medical complications or extended hospital stays are not covered by the package.

Additional treatments or therapies not directly related to stem cell therapy for multiple sclerosis may not be included in the package.

Any follow-up care or long-term treatment beyond the designated package duration may have separate costs.
Regenerative Therapy for Multiple Sclerosis Pre-Op Tests:
Comprehensive blood tests to assess overall health status.

Magnetic Resonance Imaging (MRI) to evaluate the condition of the central nervous system.

Neurological examinations to determine the extent of multiple sclerosis and assess the patient's neurological function.

Immunological tests to identify specific markers related to the immune system.

Psychological evaluation to assess the patient's mental health and readiness for treatment.
 

Alessandro Porcella - Founder and CEO of Holistic Care

"I have created a Care Center that looks at you as a whole and focuses on the root of the problem: physical, chemical, and emotional stressors. To do this, I have brought here the most qualified experts to take the best of conventional and alternative medicine into ONE place. 

Because your wellness is our goal!"

 
Why Choose Regenerative Medicine for Multiple Sclerosis in Tijuana, Mexico
Choosing stem cell therapy for multiple sclerosis in Tijuana, Mexico, provides numerous advantages. From affordable treatment options and state-of-the-art medical facilities to experienced professionals and a holistic approach to care, Tijuana offers a compelling destination for individuals seeking effective solutions for managing their multiple sclerosis.
Is stem cell therapy an effective treatment for multiple sclerosis?
Stem cell therapy has shown promising results in managing multiple sclerosis symptoms and slowing disease progression. It aims to repair damaged tissues and modulate the immune system, potentially improving patients' quality of life.
How does stem cell therapy for multiple sclerosis work?
Stem cell therapy involves harvesting stem cells, typically from the patient's own body, such as bone marrow or adipose tissue. These cells are then processed and reintroduced into the body, where they can differentiate into various cell types and promote tissue repair and immune system regulation.
Why should I consider getting stem cell therapy for multiple sclerosis in Tijuana, Mexico?
Tijuana, Mexico, is a renowned destination for stem cell therapy due to its advanced medical facilities, experienced medical professionals, cost-effectiveness, convenient location, and holistic approach to care. These factors make it an attractive option for patients seeking comprehensive treatment.
Are there any risks or side effects associated with stem cell therapy?
Like any medical procedure, stem cell therapy carries some risks. Potential side effects include infection, bleeding, allergic reactions, and the possibility of the immune system recognizing the newly introduced cells as foreign. However, adverse events are typically rare, and medical professionals closely monitor patients throughout the treatment process.
How long does the recovery process take after stem cell therapy for multiple sclerosis?
Recovery time can vary depending on the individual and the specific treatment protocol. Some patients may experience immediate improvements, while others may require several weeks or months to see noticeable changes. It's important to discuss expected recovery timelines with your medical team for personalized information.
To begin your journey toward regenerative medicine for multiple sclerosis in Tijuana, Mexico, contact PlacidWay Medical Tourism. Their expert team will guide you through the process, assist with travel arrangements, and ensure a smooth and hassle-free experience. Click contact us button below to learn more:

Disclaimer: Stem cell therapy for multiple sclerosis is still considered an experimental treatment, and its efficacy and safety are subject to ongoing research and clinical trials. It is essential to consult with qualified medical professionals or specialists before making any decisions regarding stem cell therapy or any other medical treatment. Individual results may vary, and the outcomes of stem cell therapy cannot be guaranteed.
Related Experiences:
Stem Cell Therapy for Multiple Sclerosis in Mexico
Multiple Sclerosis Stem Cells Treatment in Europe
Guide to Stem Cell Treatment for MS in India
Regenerative Medicine for Multiple Sclerosis in United States
Stem Cell Therapy for COPD in Tijuana Mexico
Stem Cell Therapy for Diabetes in Tijuana, Mexico
---