A stroke or "brain attack" occurs when a blood vessel carrying oxygen and nutrients to the brain is blocked by a clot or bursts, blood clot blocks an artery (a blood vessel that carries blood from the heart to the body) or a blood vessel (a tube through which the blood moves through the body) breaks, interrupting blood flow to an area of the brain.
When either of these things happens, brain cells begin to die and brain damage occurs causing the brain to starve. When brain cells die during a stroke, abilities controlled by that area of the brain are lost. These abilities include speech, movement and memory. How a stroke patient is affected depends on where the stroke occurs in the brain and how much the brain is damaged.
There are also "mini-strokes" which is often ignored and which if left untreated will lead to full blown strokes. Brain stroke is the third largest killer in India after heart attack and cancer and the second largest in the world, according to the World Health Organization.

The key to successful treatment of stroke when it is occurring is getting help as soon as possible. Receiving faster medical care results in a greater chance of recovery and minimizing brain damage. The type of stroke that has occurred, as well as the length of time between when the stroke occurred and treatment is initiated determine which therapies doctors can use. Both factors also impact how effective those treatments are likely to be.

Stem cell therapies are an important strategy for the treatment of stroke. It works by repairing cells damaged by illness. An increasing number of experiments have demonstrated that a variety of different types of stem cells implanted directly into the central nervous system or delivered systemically beneficially affect functional outcome. In the meantime, researchers continue to explore various ways to harness stem cells effectively in the fight against brain and nervous system diseases.
At NeuroGen Brain and Spine Institute, adult stem cells are used for treating the symptoms of stroke. Although it is not a cure, stem cell therapy in combination with rehabilitation has shown to effect functional improvements in the patient's body, thereby decreasing dependence on care-givers and enhancing the patient's ability to perform activities independently.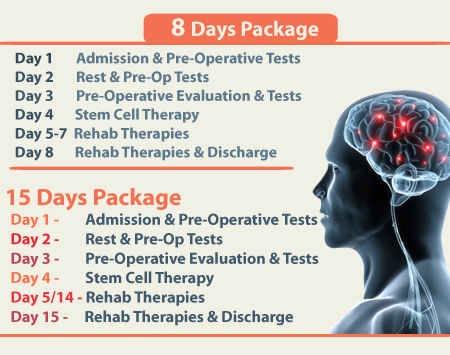 Airports pick up and drop via ambulance/car.
Stay at the hospital in a deluxe room (care taker accommodated along with patient).
Pre-operative investigations as required, (MRI/PET CT scans, EMG & NCV and blood tests).
Stem Cell Therapy.
A comprehensive rehabilitation program which includes physiotherapy, occupational therapy, speech therapy, psychological counseling, genitourinary rehabilitation, sexual rehabilitation.
Specialty consultations during the stay.
Nursing care.
Vegetarian food for the patient and one attendant.
The above packages are at a fixed cost
Payment Mode: 100% payment through SWIFT transfer before admission.

At NeuroGen Brain and Spine Institute we provide a ray of hope to people who have none and thereby increase the quality of life.

NeuroGen Brain and Spine Institute is an institution which not just wants to give treatment to the patients but also take into consideration the overall well being of the patient.