Dr. Santiago Arango Velez - Ophthalmologist
Lasik Eye Care in Medellin Colombia at Sandiego Ophthalmology Clinic
Carrera 43#29-35 Medellin Antioquia, Medellin, Colombia

Specialty:

Eye/Lasik Care

Focus Area:

Clinica de Oftalmologia Sandiego | Lasik Eye Treatment | Keratoconus, Cataract and Glaucoma Surgery | Cornea Transplant | Laser Treatment | Sandiego Ophthalmology Clinic in Medellin Colombia
Dr. Santiago Arango Velez - Ophthalmologist Profile Overview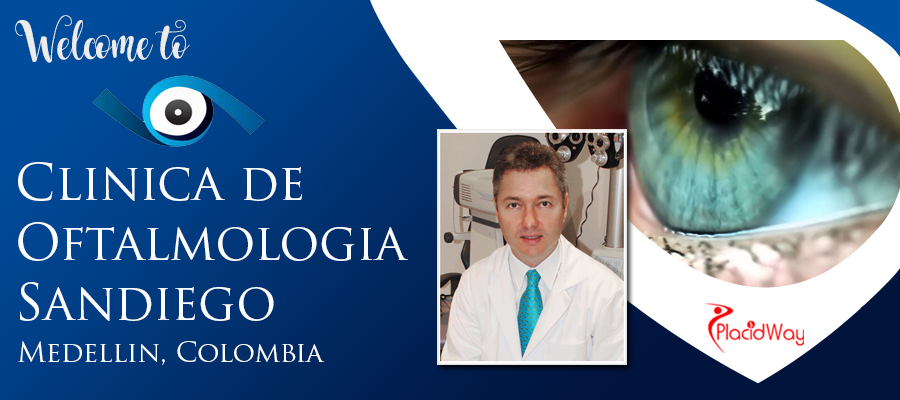 Clinica de Oftalmologia Sandiego - Specialized Eye Treatment and Surgery in Medellin, Colombia
Clinica de Oftalmologia Sandiego is a renowned Ophthalmology clinic in Medellin, Colombia. The eye clinic provides various procedures such as lasik surgery, cataract surgery, glaucoma surgery, cornea transplant, dry eye treatment and much more for the local as well as international patients at affordable prices. However, they ensure the use and applications of most-advanced technology and supreme care by the experts.
The clinic performs a wide range of eye surgery and treatment under the expert supervision of Dr. Santiago Arango Vélez, physician and surgeon graduated from CES University with specialization in Ophthalmology at the University of Antioquia. The doctor has subspecialties in Refractive Surgery, Anterior Segment and Cornea at the University of Boston and Glaucoma at the University of Texas. Take a look at the top specialties provided by Clinica de Oftalmologia Sandiego.
Treatments and Procedures offered in Medellin, Colombia at Clinica de Oftalmologia Sandiego
LASIK surgery (Myopia, Hyperopia, Astigmatism, Presbyopia)

Cataract Surgery

Glaucoma Surgery

Cornea Transplant

Keratoconus surgery

Other services
Why Choose Sandiego Ophthalmology Clinic for Eye Care in Colombia?
At Sandiego Ophthalmology Clinic, we provide world-class eye care services using the latest technology and techniques. We are experts in a wide range of ophthalmologic conditions and procedures, including cataract surgery, glaucoma treatment, retina surgery, and pediatric ophthalmology. Our team of highly skilled ophthalmologists and optometrists are committed to providing our patients with the best possible care. We offer a wide range of services for both adults and children, and we accept all major insurance plans. For more information about our clinic or to schedule an appointment, please call us today. Thank you for choosing Sandiego Ophthalmology Clinic!
To learn more about the treatments and procedures, click the button below:

---
---
Reviews
Ashton M

Dr Arango is a very good Opthalmologist and speaks perfect english.

I initially booked a consultation for lasik for both myself and my wife. :During my consultation, he told me that it would be a good idea to fix my astigmatisms which I agreed with. He told my wife that the surgery wouldn't be necessary for her so don't worry about it. That shows a lot of integrity. Whereas most doctors would simply take your money, he actually cares about his patients and will not do something that is unnecessary for an extra buck.

My case was kind of tough and I could tell that he was very passionate about getting it right. He truly cares about his work. I am sitting here writing this review exactly 8 days after surgery and my vision is starting to lock in. Lasik recovery is different for everyone and mine has taken 8 days to start to stabilize.

My lasik was $1380 out the door with all the tests and medications and fees included. In the US it would have been around 5-8k for the same result.

Overall, I'm very pleased with Dr Arango and the surgery and recommend him to people from the US looking for a good value and precise surgery from a very good doctor.

Feb 01 2023

Johan

The sector is wide and you find everything

Google

Mar 10 2022

Favio

To get there by public transport, take Line 2 of MetroPlus/ Barrio Colombia. Excellent treatment by the medical staff, the facilities of the clinic are of a good standard. It is located opposite the Premium Plaza shopping center.

Google

Mar 03 2022
---
Eye/Lasik-Care Related Packages
Eye/Lasik-Care Related Experiences