Health and Spa Resort Radenci to host the 6th SPA-CE trade show
6th Trade Show of Spa and Wellness Tourism | Medical Tourism Event European Spa Meetings | Networking Meetings | Health & Wellness Event | Central Europe | Eastern Europe | Western Europe | Slovenia | Radenci
Health & Spa Resort Radenci to host the 6th SPA-CE trade show
SPA-CE, trade show of spa & wellness tourism in Central Europe, is returning to Slovenia for another great edition of the show. The 6th SPA-CE will be held in Health & Spa Resort Radenci where suppliers of the natural spas, spas and wellness services from Slovenia and other European countries will meet with representatives of tourist agencies, tour operators, representatives of insurance companies and health institutions from all around Europe. Preparations for the sixth edition of the trade show are under way. Exhibitors and hosted buyers are invited to register on-line and ensure their place at the trade show now to take full advantage of the SPA-CE offer.

From 23 to 25 October 2014, Radenci will host around 30 exhibitors and more than 40 hosted buyers. Barbara Stopinšek from Radenci Health Resort welcomes the event: "It is our honor and with much pleasure, that we at the Radenci Health Resort are hosts to SPA-CE, the largest International Trade Show of Spa and Wellness Tourism in Central Europe". And adds: "More than 130 years ago, we at Radenci welcomed our first health-spa guests. In the first year there were only 79, while today more than 31 thousand guests visit us every year. Guests trust our experts, the exceptional health benefits of the unique mineral and thermal waters, not to mention everything that our comprehensive health resort has to offer."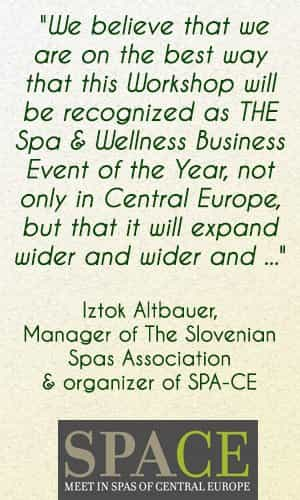 Now already in its sixth year, SPA-CE has developed and grown into a widely recognized business event. Iztok Altbauer, director of Slovenian Spas Association and initiator of SPA-CE: "SPA-CE has found a firm place in the calendar of events as the only trade show of Spa and Wellness tourism in Central Europe. After a very successful appearance in Sárvár Hungary last year, this year's trade show is moving into one of the most traditional and classic spas in Slovenia, Health & Spa Resort Radenci. The sixth SPA-CE will be the perfect chance to in one place encounter tradition, the latest trends as well as new exhibitors and thus combine the past and the future of spa and wellness tourism."
Being organized under one roof and in a form of a trade show, SPA-CE enables exhibitors and hosted buyers to make the most of their time spent at the event. Networking, talking business, learning and experiencing the spa & wellness offer are just some of the main opportunities this event offers. Lošinj Hotels & Villas, exhibitor from Croatia, applauds the event: "SPA-CE is a great opportunity to exhibit and find a position among Central European spas, wellness centers and providers of medical and other programs. The Spa industry is rapidly growing and we need to catch with trends, make contacts and exchange ideas. That is the reason why meetings like this one are important."
Preparations for the upcoming trade show al well under way. On-line applications for this year are already open. Exhibitors can choose between three different exhibitor packages when booking their stands. Tourist agencies offering spa services, travel organizers, organizers of incentive trips, investors, representatives of insurance companies and healthcare institutions and representatives of interest groupings and associations can apply for hosted buyer status and if selected, enjoy a number of hosted buyer benefits tailor-made to their needs.
The 6th SPA-CE trade show will be held from 23 to 25 October 2014 in Health & Spa Resort Radenci, Slovenia. For more information visit the 6th Tradeshow of Spa and Wellness Tourism for Central Europe event page or click on the button below to contact the organizers.
2014-08-01 / Updated on: 2021-01-08