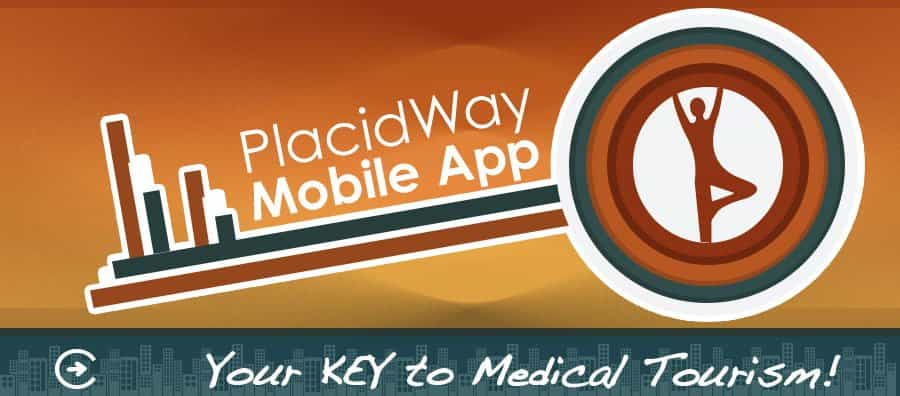 PlacidMobile
Free iOS and Android Medical Tourism App by PlacidWay
Accessing global healthcare options via your smartphones and mobile devices!

PlacidWay Medical Tourism Services, announced the release of its newest innovation: PlacidMobile, an application specially designed for allowing consumers to access medical information from their iPhone/iPad and Android mobile devices faster than ever. PlacidMobile is based on the popular medical tourism website PlacidWay.com. The launch of the phase 1 of this mobile application provides easy access to worldwide medical centers information; consumers can also request and book appointment for their medical services directly from their phones.
PlacidMobile, is a free app which aims to provide to consumers from across the globe, faster and easy access to quality international medical options. The first version of mobile app allows consumers to only search medical centers in different countries and also request free quotes based on their medical needs.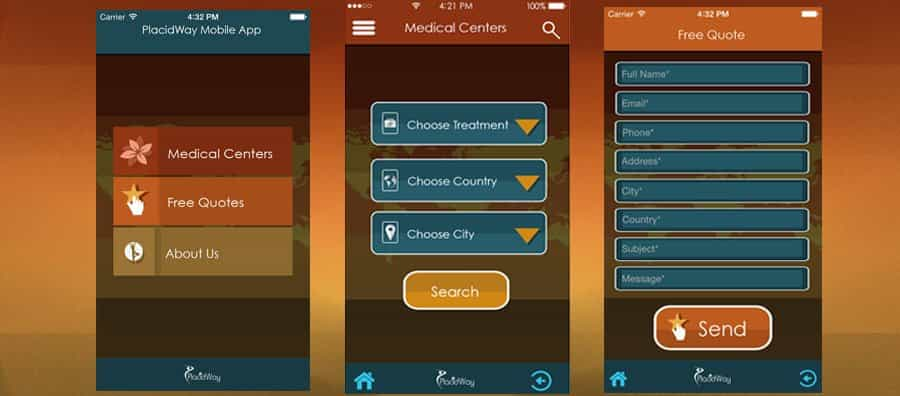 In the future, PlacidMobile will also help patients to search healthcare packages, price comparison, educational articles, renowned doctors, videos, among others resources required to make an informed decision while selecting the right medical services.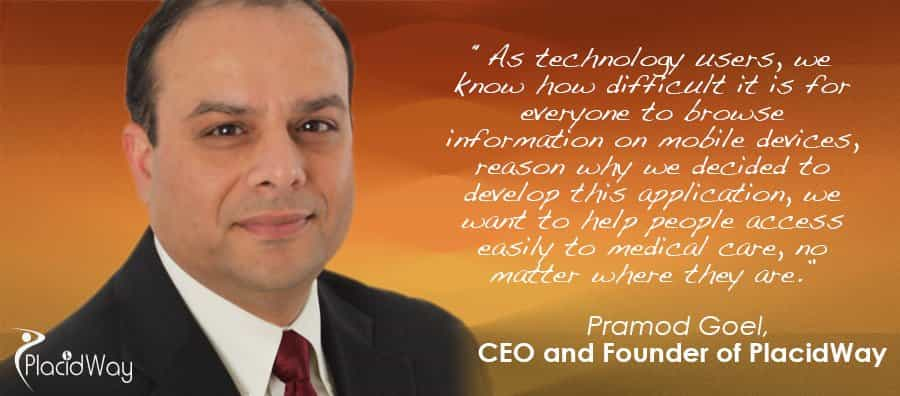 "Mobile technology adoption in medical tourism industry is still at its infancy. We are proud to launch a free service for our customers to extend their medical travel search when or where they are… Our company is forever linked to building sustainable medical tourism solutions. With the launch of PlacidMobile, PlacidWay has an opportunity to make significant breakthrough in expanding value-add services to consumers as well as medical centers." said Pramod Goel, CEO and Founder of PlacidWay. "As technology users, we know how difficult it is for everyone to browse information on mobile devices, reason why we decided to develop this application, we want to help people access easily to medical care, no matter where they are."

PlacidWay continues to innovate offering a variety of services which includes PlacidWay.com an information rich website; PlacidSolutions, an industry best practices for medical service providers, and also, targeted regional sites like PlacidArabic.com, and now PlacidMobile, an innovation in the industry specifically designed for medical tourism consumers.
The mobile apps are available FREE through:

About PlacidWay Medical Tourism:
PlacidWay, a leader in the medical tourism industry, offers extensive information related to medical travel, international medical providers, foreign treatment packages, as well as global destinations for health travelers. PlacidWay's network has over 250 renowned medical centers from more than 30 countries. PlacidWay is able to help customers from all over the world get access to personalized, safe, and affordable medical care meeting their budget requirements, no matter where they are from. Our goal is to help each customer make the right decision when it comes to choosing health care options abroad.