One Week Full Mouth Rehabilitation at Laser Dental Clinic
This is a concept where after a proper examination and diagnosis a treatment plan is sketched out to fully rehabilitate patient's quality of teeth and associated structures to the maximum possible function and aesthetics
IN THIS PROCESS THE DIAGNOSIS WILL POINT OUT
Number of teeth missing
Number of teeth decayed or carious
Identify loose and mobile teeth
Identify gum disease
Recession of gums
Discoloration of teeth
Crowding and mal-alignment of teeth
Identify the state of oral hygiene
Assess the healthy state of the oral mucosa
(The skin of the palate, the skin of the under surface of the tongue, tonsil region, inside the cheeks, floor of the mouth, throat, etc are carefully examined to screen any abnormalities.)     
          
FOLLOWING EXHAUSTIVE EXAMINATION AND ASSESSMENT, THE SEQUENCE OF MEASURES ARE CARRIED OUT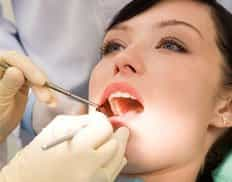 All non salvageable teeth are removed    
All foci of infection are eliminated, including gum infection    
All decayed and carious teeth are restored     
All lost teeth are replaced preferably by dental implants or removable flexible dentures    
Cosmetic dental treatments are carried out to fulfill the patient's demands    
(To improve on the discoloration of teeth, veneers or teeth whitening is done, Smile correction is performed to eliminate gaps, crowding and mal-alignment and Shape and size of the teeth are redesigned to ones just like the real teeth.)     
          
This concept is widely becoming popular and it is worth for dental tourists to travel a long way for this major makeover. All what is needed can be discussed before hand and expenses can be worked out time frame and visits required can also be charted out.     
 
At our centre, " Laser Dental Clinic" , Mumbai, India ...we provide our patients with full mouth rehabilitation packages which are economic and the world's best products are used. We also specialise in Laser Dentistry and more and more International patients are opting for this latest modality at our centre.
The Full mouth Rehabilitation can be finished at times in a week and the patient can have a complete smile makeover. Root canal treatment, Bridges, Implants Vineers etc can all be managed for a full mouth case in just a few days and hence the concept of Full mouth rehabilitation has taken many steps ahead in the minds of patients who wish to travel abroad for a complete cosmetic smile designing.