Best Calf Implants in Chennai India
Package price starting from:
$3250
Treatment:
Cosmetic/Plastic Surgery, Calf Implants
Focus Area:
Calf Implants | Calf Augmentation Surgery | Plastic Surgery in Chennai | Cosmetic Procedures | Aesthetic treatments | Raj Cosmetic and Plastic Surgery Center | Chennai India
---
Calf Implants Service available now in Chennai India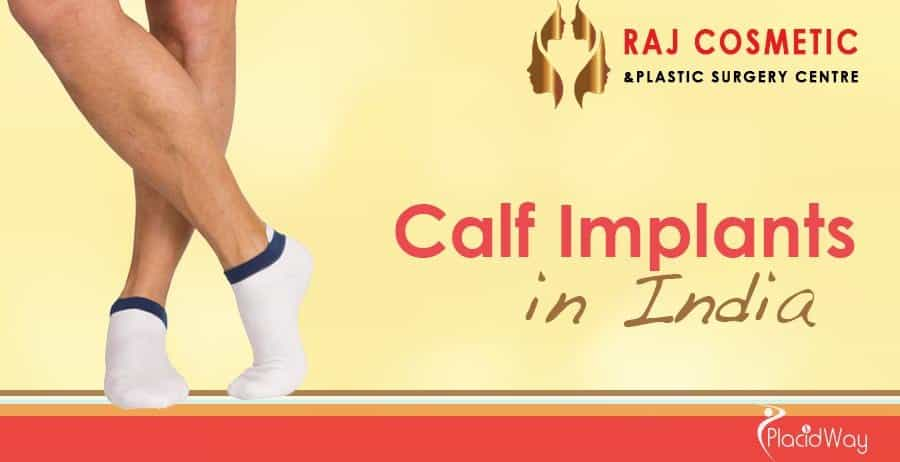 Best Calf Implants in India
If you want to regain your self-confidence and have the body you always dreamed of, India is the best destination. In Chennai, at Raj Cosmetic and Plastic Surgery Centre you will be offered the best patient education and comprehensive approach to both surgical and non-surgical techniques so you'll know every step of the cosmetic procedures that you will decide to undergo. An experienced team of cosmetic surgeons provides in-depth knowledge and assistance in selecting procedures that best refine your look and discover the image you always desired.
What is a Calf Augmentation?

Calf augmentation with implants is a cosmetic procedure to increase the size and improve the shape of the calf. Patients seek calf implants to tone and define the lower leg if it cannot be achieved with exercise alone, or to correct a muscle imbalance resulting from physical or birth defects.
How to Know if You are a Good Candidate for Calf Implants in India

Following are some common reasons why you may want to consider calf implants:
You would like to emphasize the bulk of the calf muscle (usually men)
You desire a lower leg more anatomically proportionate to your thigh (usually women)
You are a bodybuilder and you've reached the plateau of calf development with exercise, but you're not satisfied with the definition of your lower leg
You wish to correct lower leg defects resulting from injury; disease, such as polio; or from congenital conditions, such as clubfoot or spina bifida
If you are in good general health and have a positive attitude and realistic expectations, you are most likely a good candidate for this procedure.
How is Calf Augmentation Performed at Raj Cosmetic and Plastic Surgery Centre?

Calf augmentation is usually performed on an outpatient basis and usually requires about one hour for the doctor to perform. This operation can be performed under either local or general anesthesia. Patients lie on their stomach during the operation.
Once the anesthesia takes effect, the doctor begins by making incisions in a natural crease located on the back of the knee. A pocket is created just large enough to securely fit the artificial implant. Close attention is given to control bleeding. The implant is then gently inserted into the pocket and placed above the muscle.
Cost of Calf Augmentation at Raj Cosmetic and Plastic Surgery Centre India
Cost of Calf Augmentation at Raj Cosmetic and Plastic Surgery Centre India is just 3,250 USD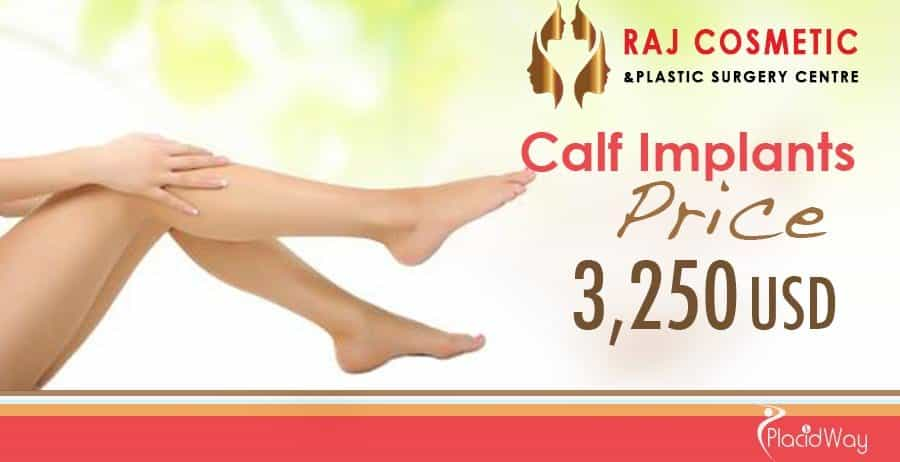 Benefits of Calf Augmentation in India

Can make your legs look as if they have been working out
Add both mass and definition to the calves
Emphasizes bulk for men
Gives anatomical balance for women
Corrects congenital and physical defects:

Polio Disease
Spina Bifida
Clubfoot
When you are considering having cosmetic or reconstructive surgery, you want to be attended by an experienced doctor who not only has the experience and is using the latest technology, but also someone who is dedicated to achieving the natural-looking result that preserves your unique personality and spirit.
 At Raj Cosmetic and Plastic Surgery Centre, you will regain your self-confidence and the legs of Greek gods and goddesses with best calf implants.
Don't hesitate to contact us for more information about other cosmetic procedures in India!

Related Experiences:
Calf Implants in Thailand
Calf Implants in Turkey
Brazilian Butt Lift in India
Rhinoplasty in India
Breast Augmentation in India
Liposuction in India
---