Package Details

Knee Replacement Package in Guadalajara, Mexico
Knees tend to lose its flexibilities as age advances or the person experiences any type of injury. Hence, it becomes painful for the person to bend his knees. This complication is usually accompanied by inflammation and pain. The mobility of the person also sometimes gets restricted as the cartilage between the two knees experiences wear out and causes pain. Knee replacement is the ideal treatment to heal all these complications.
Knee replacement surgery is typically performed utilizing computer assisted surgical technologies. Special equipment like electromagnetic or infrared cameras displays images from inside the knee cavity onto video monitors within an operating suite. Such images are transmitted from the knee through a piece of surgical equipment called an endoscope, eliminating the need for large and painful incisions. Guadalajara city in Mexico has gained popularity in its ability to offer high-quality affordable orthopedic options over the time. Medical tourists are traveling to this destination to take advantage of their world-class medical care.
Benefits of Orthopedic Surgery in Guadalajara, Mexico
Improved quality of life

Freedom from pain

Improved mobility

Affordable packages

Expert and qualified surgeons

Exotic holiday at Guadalajara, Mexico
Complexity Level: High

Knee Replacement Cost in Guadalajara, Mexico
The average cost of Knee Replacement in Guadalajara, Mexico is $13,000.
| | | |
| --- | --- | --- |
| Country | Procedure | Average Price |
| United States | Knee Replacement Total or Partial | $40,000 |
| Guadalajara, Mexico | Knee Replacement Total or Partial | $13,000 |
Note: Final prices are determined after physical evaluation and laboratory reports analysis.
Length of Stay: 10 - 15 days
Knee Replacement Package Inclusions
Hospital

Implants/prosthesis

Medical and rehabilitation fees
Knee Replacement Package Exclusions
Hotel or recovery house

Preoperative lab work

Airfare
Factors that Affect Package Price
You may find that the same provider is offering different knee replacement packages in Guadalajara, Mexico. This happens due to relative factors such as:
Type of Procedure (Partial replacement, Unilateral or Bilateral Knee replacement)

Duration of hospital stay

Type of materials used for implant (titanium or cobalt-chromium alloys/Polymethyl methacrylate or PMMA)

Age of the patient

Health condition of the patient
The doctor at the clinic would ask to go for tests to ascertain the condition of your health. Based on that, the doctor may consult over the phone and explain about the knee replacement surgery.
List of Required Pre-Op Tests for Knee Replacement
Orthopedic pre-operative physical exam

Knee X-ray

Complete blood count, to rule out anemia

Urinalysis

Coagulation testing

Baseline metabolic analysis of kidneys, liver, and electrolyte status
Note: The laboratory tests are done at least 7-10 days prior to the procedure. The particular tests are prescribed after a complete physical evaluation of the patient.
Payment Options: Cash, credit card, wire transfer
Note: The center may require a money deposit once a patient decides to book the surgery.
How to Reach Guadalajara, Mexico?
Located in Mexico's western part, Guadalajara is a popular city known for his food, music and historical monuments. You can reach the city by flights, as its Miguel Hidalgo y Costilla Guadalajara International Airport is connected to all major cities across the world. You can also reach Guadalajara from Mexico City and other major cities using highways.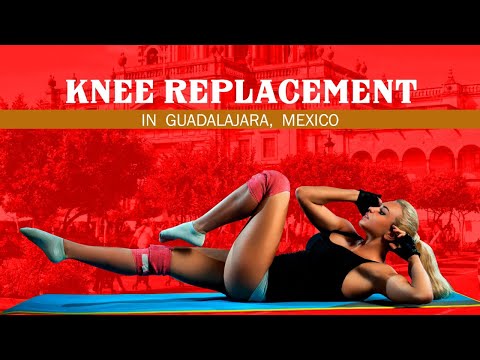 For more details on Knee Replacement in Guadalajara, Mexico, click the button below!
Related Experiences:
Feel Better & Move Better with Knee Replacement in Mexicali
Knee Replacement in Tijuana - Restore Your Knee Health
Best Knee Replacement in Cancun Mexico from Top-Rated Hospital
Knee Replacement in Puerto Vallarta, Mexico – Best Price Today!
Get Your Knee Replacement in Istanbul - Turkey
Knee Replacement in USA - High-Quality Knee Surgery