On Air Plastic Surgery Clinic
Renewed Cosmetic Surgery Clinic in Seoul, South Korea
Seoul, Seoul, South Korea

Specialty:

Anti Aging, Cosmetic/Plastic Surgery

Focus Area:

On Air Plastic Surgery Clinic in Seoul, South Korea | Plastic Surgery | Rhinoplasty | Anti-aging | Eyelid Surgery | Facelift | Brow Lift
On Air Plastic Surgery Clinic Profile Overview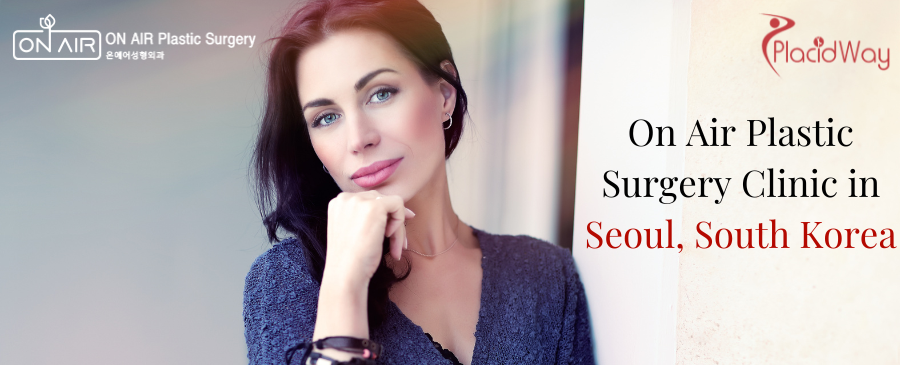 OnAir Plastic Surgery is located in Seoul, South Korea, and helps international and local patients choose the best medical services based on their budget and needs. On Air was voted the best clinic for customer satisfaction and Hae Won Kang was awarded the Top Doctor of 2021! The renowned medical professionals will care for your cosmetic surgery procedure with kindness and good quality treatment.
On Air medical team provides safe and effective Facelift Surgery, Eyelid Surgery, Rhinoplasty, Anti-Aging, and other cosmetic procedures to help you achieve your desired physical appearance and youthful look. On Air serves its patients using cutting-edge technology, modern equipment and adhering to strict hygiene protocols.
Dr. Hae Won Kang offers online consultation to explain the whole procedure and a follow-up after the surgery to help you in your aftercare and recovery.
Clinic: OnAir Plastic Surgery
Procedures: Facelift, Eyelid Surgery, Rhinoplasty, Anti-Aging, etc.
Location: Seoul, South Korea
Doctor: Hae Won Kang
Plastic Surgery Cost in Seoul, South Korea at On Air
The cost of rhinoplasty, eyelid and facelift surgery in Seoul, South Korea at On Air clinic is pocket-friendly. Note that prices can change depending on the procedures' complexity and your overall health condition. For more information, please get in touch with the Customer Representative.

Highly Skilled Plastic Surgeon in Seoul, South Korea at On Air
Dr. Hae Won Kang is the best cosmetic surgeon specialist in Seoul at On Air clinic. She was awarded the Korea Good Doctor Certification in 2021. in the field of eyelid plastic surgery. Here are her credentials:
Education:
The Catholic University of Korea, a plastic surgeon at Seoul St. Mary's Hospital
Memberships:
The Korean Society of Cosmetic Plastic Surgery

The Korean Society of Microsurgery

The Korean Society of Cranial Plastic Surgery

The Korean Society of Plastic Surgeons and Eyelid Plastic Surgery

The Korean Society of Plastic Surgery Co-Plastic Research

The Korean Society of Plastic Surgeons Anti-Aging Research

The International Society of Cosmetic Plastic Surgery (IPRAS)
Experience:
10 + years

Former Director of KODI Plastic Surgery Hospital

Former Director of VIEW Plastic Surgery Hospital
Plastic Surgery in Seoul, South Korea at On Air Clinic is an ideal solution for patients who want improvement for perfect body aesthetics, youthful look, and beauty. Get the best offer for Plastic Surgery Packages at this clinic. Feel free to click the button below to make a reservation or if you have further questions:

---
---
Reviews
Huong N

At ON AIR Plastic Surgery hospital, I have opened the corners of my eyes, injected fillers for the corners of my eyes, and filled with lip fillers at the hospital and the results are very satisfactory.
The consultant team is very friendly and the surgeon is also very professional.
After the surgery, I was taken care of and re-examined to monitor and check very carefully.

On Air Plastic Surgery Clinic

Oct 04 2022

Shilpa G

Such an amazing customer service. As a tourist,they guided me correctly as to which treatment suits me the best. And special mention to their overseas consultant se -jung, who answers spontaneously to all my queries. Will definitely visit next time.

On Air Plastic Surgery Clinic

Nov 23 2022

Ng S

I had my double eyelid plus fat removal and ptosis correction done at on air. From the start of whatsapp conversation to zoom consultation to physical consultation at the clinic, all my questions were patiently answered.
Sometimes the answers also came at night. Dr Kang was really patient n detailed. And very skillful too. There was no pain at all n I m in my day 8 now. Left with a little bruises n swelling.
I also had anti swelling injection plus vitamin c and infra red eye treatment as after surgery care. Which helps a lot in my swelling too.
Everything happened smoothly with assuring English speaking staff. Pls do a consultation with them and you will understand how Dr Kang listens to what u wan and give advice which suits u best.

On Air Plastic Surgery Clinic

Dec 01 2022
---
Anti-Aging Related Packages