Lose Weight Faster by Weight Loss Surgery in Antalya Turkey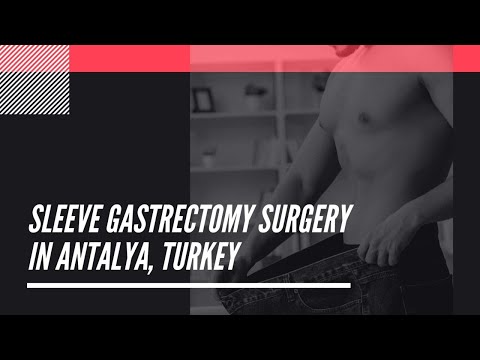 Farewell to Obesity by Weight Loss Surgery in Antalya Turkey
Category:
Obesity | Weight Loss Surgery
Procedure:
Obesity/Bariatric Surgery
Source: YouTube
Safe and Affordable Weight Loss Surgery in Antalya Turkey - Book Now!
Weight Loss Surgery in Antalya Turkey - Gastric sleeve in Turkey or Sleeve Gastrectomy surgeries are the latest words in the weight-loss surgery. Their aim is to reduce the appetite of the patient by reducing their stomach by around 80%. This helps the patient feel full faster when eating, while also reducing the appetite by removing the Gherlin hormone (the hormone related to appetite and a feeling of hunger). Those who undergo this surgery report that they lose weight fast and the results are easy to maintain.
What is Sleeve Gastrectomy?
Sleeve Gastrectomy takes away about 8% from your body mass index (BMI) so its recommended for those who have been diagnosed with weight related illnesses. This procedure is a type of bariatric surgery that reduces the size of one's stomach. The goal in having this done, typically due to obesity or alcohol addiction; it aims at reducing appetite by removing excessive amounts food which can lead you into an unhealthy lifestyle detrimental towards health because if not treated properly could cause diseases like diabetes and high blood pressure among others.
Why Choose Weight Loss Surgery in Antalya Turkey?
Here are several reasons why many patients choose Gastric Sleeve Turkey Antalya:
Complete facilities and modern health-care service

Cost effective solution for Weight Loss Surgery in Antalya Turkey

Significant and lasting weight loss

Improves or resolves related conditions

Get longer life

Get Happier and healthier

Certified Surgeon with several years of experience for Gastric Sleeve in Turkey
Book Now Bariatric Surgery in Antalya Turkey!
Gastric Sleeve Turkey Antalya will be the best way for you to solve problems related to obesity. Improve your quality of life with the best procedures right now! Our PlacidWay Team is ready to help you get recommendations for clinics, surgeons, and the best prices for Weight Loss Surgery in Antalya Turkey!
For more details on Gastric Sleeve Surgery in Antalya, Turkey, click the button below:


Watch Video about Weight Loss Surgery in Antalya Turkey
Keywords: Weight Loss Surgery in Antalya Turkey, Gastric Sleeve Turkey Antalya, Weight Loss Surgery in Turkey, Gastric Sleeve in Turkey