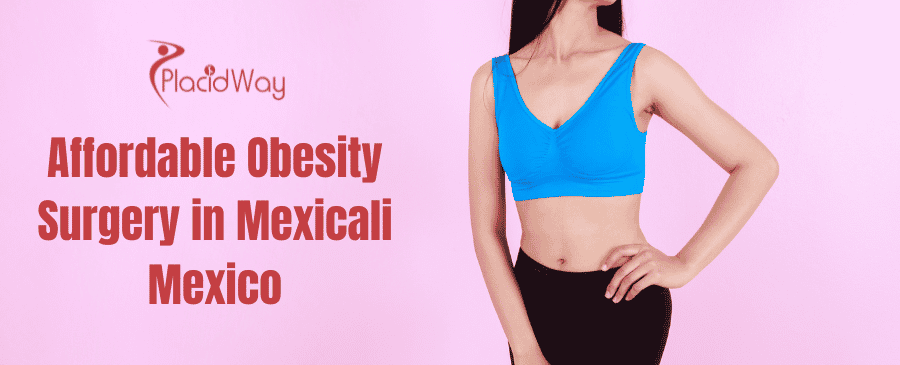 Obesity has become a widespread health concern worldwide, and many individuals struggling with their weight are seeking effective and affordable solutions to regain control of their lives. In Mexicali, Mexico, patients can find a range of affordable obesity surgery options that can help them achieve their weight loss goals without breaking the bank. Mexicali has emerged as a leading medical tourism destination, offering high-quality healthcare services at a fraction of the cost compared to other countries.
Overview about Obesity Surgery in Mexicali, Mexico
Obesity surgery, also known as bariatric surgery, is a surgical procedure designed to aid individuals with severe obesity in achieving substantial and sustainable weight loss. The surgery works by reducing the size of the stomach or bypassing a portion of the digestive system, which restricts the amount of food a person can eat and reduces nutrient absorption.
In Mexicali, obesity surgery is performed by highly skilled and experienced bariatric surgeons using state-of-the-art facilities and advanced surgical techniques. The city is well-known for its excellent medical infrastructure and has become a hub for medical tourists seeking top-notch bariatric procedures.
One of the primary reasons why Mexicali has become a preferred destination for medical tourists seeking weight loss surgery is its competitive prices. The cost of obesity surgery in Mexicali, Mexico, is significantly lower compared to the United States, Canada, and many European countries. On average, patients can save up to 60-70% on surgical expenses, making it a cost-effective choice for those seeking high-quality care without a hefty price tag.
The specific cost of weight loss surgery in Mexicali will vary depending on the type of procedure, the surgeon's expertise, the hospital or clinic's reputation, and the inclusion of additional services in the package. For more information about price list, check our table below:
| | | |
| --- | --- | --- |
| Provider | Procedure | Price in USD |
| Family Hospital | Sleeve Gastrectomy | $4,350 |
| Family Hospital | Gastric Bypass | $6,250 |
| Family Hospital | Gastric Balloon | $3,150 |
| Dr. Ricardo Garcia Audelo | Sleeve Gastrectomy | $4,600 |
| Dr. Ricardo Garcia Audelo | Revision Gastric Sleeve | $6,600 |
Note: As the healthcare industry is dynamic, prices for obesity surgery in Mexicali, Mexico, are subject to fluctuations over time, necessitating patients to stay informed and consult with our team at PlacidWay to obtain the latest pricing details.

Mexicali is home to several world-class bariatric surgery clinics known for their excellent patient outcomes and high standards of care. These clinics offer a comprehensive range of weight loss procedures, including gastric bypass, gastric sleeve, gastric banding, and more. Some of the top bariatric surgery clinics in Mexicali include:
Best Obesity Surgery Clinics in Mexicali, Mexico
The success of any bariatric surgery largely depends on the expertise of the surgeon performing the procedure. Mexicali boasts a pool of highly qualified and board-certified bariatric surgeons known for their expertise in weight loss surgeries. These surgeons have undergone rigorous training and have extensive experience in performing various obesity procedures.
When selecting a board-certified bariatric surgeon in Mexicali, patients can rest assured that they are in the hands of a skilled professional who adheres to the highest standards of patient safety and care. The certification ensures that the surgeon has met specific educational and professional requirements, making them competent in delivering successful bariatric outcomes. Here are some of them:
Top Bariatric Surgeons in Mexicali, Mexico
To cater to the growing number of medical tourists seeking obesity surgery, many clinics in Mexicali offer comprehensive and cost-effective surgery packages. These packages typically include the surgical procedure, pre-operative consultations, post-operative follow-ups, hospital stay, and necessary medications. Some packages may also include accommodation, airport transfers, and support from a patient coordinator.
The advantage of opting for an obesity surgery package is that it provides patients with a clear understanding of the total cost involved and minimizes any hidden expenses. Patients can choose a package that best suits their needs and budget, ensuring a hassle-free and affordable medical journey. Here are some packages available for bariatric surgery in Mexicali, Mexico:
Note: Please note that the prices for obesity surgery in Mexicali, Mexico, may change and vary depending on the specific procedure, the surgeon's expertise, and the inclusions in the package, click free quote button below to learn more:

7 Essential Tips to Find Best Bariatric Surgery Clinics in Mexicali, Mexico
Research Online: Begin your search by conducting thorough research online. Look for the top bariatric surgery clinics in Mexicali, Mexico, and read patient reviews and testimonials to gain insights into the experiences of others.
Check Credentials: Ensure that the clinics and surgeons you are considering are accredited and have the necessary certifications. Look for board-certified bariatric surgeons with extensive experience in performing obesity surgeries.
Compare Pricing: Compare the prices of different clinics to find the best value for your money. Remember that affordability should not compromise the quality of care.
Assess Facilities: Look for clinics equipped with modern facilities and technology. State-of-the-art infrastructure can contribute to a safer and more comfortable surgical experience.
Review Before-and-After Photos: Request before-and-after photos of previous patients to assess the clinic's success rate and the effectiveness of their procedures.
Seek Recommendations: Reach out to individuals who have undergone obesity surgery in Mexicali. Their firsthand experiences and recommendations can be invaluable in making an informed decision.
Consultation with Surgeons: Schedule consultations with potential bariatric surgeons to discuss your goals, medical history, and any concerns you may have. A reputable surgeon will provide personalized recommendations and answer all your questions.
FAQs (Frequently Asked Questions)
What is the minimum BMI required for obesity surgery in Mexicali?
The specific BMI requirement may vary depending on the type of obesity surgery. However, generally, patients with a BMI above 35, along with obesity-related health conditions, are considered suitable candidates for weight loss surgery.
Is bariatric surgery reversible?
Some bariatric surgeries, like gastric banding, are reversible, while others, such as gastric sleeve or gastric bypass, are not typically reversible. It is essential to discuss the permanence of the procedure with the surgeon during the consultation.
What are the potential risks and complications of obesity surgery?
Like any surgical procedure, bariatric surgery carries some risks and potential complications. These may include infection, blood clots, internal bleeding, and post-operative complications. However, the risk can be minimized by choosing a skilled surgeon and following all pre- and post-operative guidelines.
How long is the typical recovery period after bariatric surgery?
The recovery period can vary depending on the type of surgery and individual healing capabilities. Generally, patients can return to light activities within a week after surgery, and a full recovery may take up to six weeks.
Will I need to follow a special diet after surgery?
Yes, dietary changes are crucial after obesity surgery to ensure successful weight loss and prevent complications. Bariatric surgeons typically provide detailed post-operative dietary guidelines, including specific foods to avoid and recommended portion sizes.
Get FREE QUOTE for Bariatric Surgery in Mexicali, Mexico at PlacidWay!
If you are considering bariatric surgery in Mexicali, Mexico, and want to explore your options further, book a consultation with PlacidWay Medical Tourism. PlacidWay is a reputable medical tourism facilitator that can connect you with top bariatric surgery clinics and experienced surgeons in Mexicali.
Their team of professionals will assist you throughout the process, from selecting the right clinic to arranging your travel and accommodation. Take the first step towards a healthier and happier you by contacting PlacidWay Medical Tourism today. Click contact us button below to get started!