Stem Cell Therapy for Osteoarthritis Packages in Dubai, UAE
Package price starting from:
$8170
Treatment:
Stem Cell Therapy, Stem Cell Treatment for Knee Osteoarthritis Abroad, Stem Cell Therapy for Osteoarthritis
Location:
Dubai Healthcare City - Building 64 - Block B - Dubai UAE, UAE
Focus Area:
Bioscience Clinic | Dubai | UAE | Stem Cell Therapy for Osteoarthritis
---
Best Regenerative Treatments for Osteoarthritis in Dubai, UAE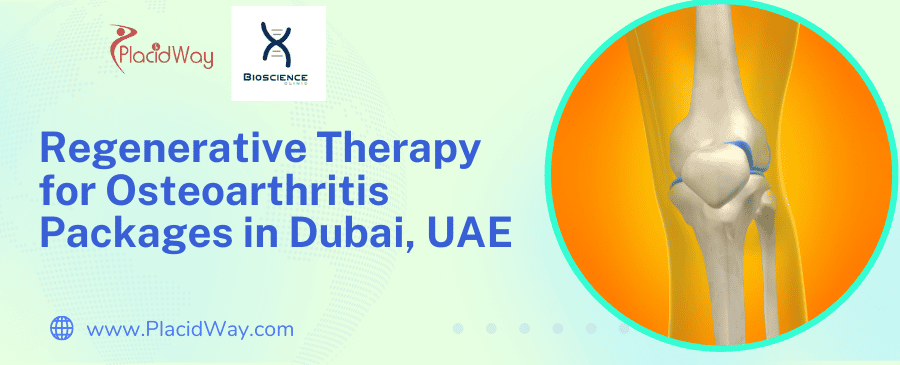 Many people suffer from osteoarthritis, a chronic condition that causes pain and inflammation in the joints. Regenerative therapy is an effective treatment for this condition and can help to reduce its symptoms. At Bioscience Clinic in Dubai, UAE, we offer comprehensive stem cell therapy packages for osteoarthritis sufferers.
Our packages are tailored to the needs of each individual patient. We also provide a thorough evaluation to ensure that our patients' osteoarthritis symptoms are managed properly and addressed effectively. Check our packages detail below to learn more.
You can get stem cell therapy for osteoarthritis in Dubai, UAE by Bioscience Clinic with the price starts at $8,170. For more information, check our price table below:
| | |
| --- | --- |
| Country | Cost |
| Dubai, UAE | $8,170 |
| United Kingdom | $11,000 |
| United States | $32,600 |
Note: price can change and vary depends on complexity of procedure and patient conditions. Click button below to connect with our customer support and get more information:

All medical fees

Stem cell injections for Osteoarthritis
Osteoarthritis Stem Cell Exclusions in Dubai:
Accommodation

Travel and tourist expenses
Immediate Blood Tests

Chest X-ray

Electrocardiogram (EKG) to check your heart health and rhythm

Physical Examination to assess joint mobility and range of motion, as well as evaluating any swelling or tenderness

Imaging tests such as X-rays and Magnetic Resonance Imaging (MRI) to examine joint damage

Joint Fluid Analysis

How Osteoarthritis Regenerative Therapy Works in Dubai?
Bones and cartilage become old or damaged when the cells, which they are composed of, are affected by degenerative processes, that cause pain and motor deficit. By replacing the degenerated cells with new adipose derived stem cells, it is possible to create a regenerative environment and treat joints degenerative diseases.
When will start to notice results
Some people begin to feel results immediately, although it's more likely that it will take few days or even weeks to begin to see significant effects on your health or to feel your symptoms lessen.
Why do we use adipose derived stem cells
The use of adipose derived stem cells to treat degenerative conditions of moderate and midlevels in orthopedics is nowadays the most advanced practice available. Orthopedic surgeons from all over the world have agreed that adipose derived stem cells represent the one of the best approaches to treat the degeneration of bone and cartilage tissue. It is a good alternative approach to managing symptoms instead of joints replacement.
How long does it take to feel a difference
Response time depends on several subjective factors. The therapeutic efficacy of ORTHOSKILL is usually correlated with the biological age of the patient and not connected with the chronological age. Biological age relates to the lifestyle and the general physical condition (obesity, smoking, alcohol and drugs have a negative effect). Usually the regenerative response of ORTHOSKILL takes 2-3 months, but improvement is typically noted before then, approximately 6-8 weeks after the treatment.
Advantages of Choosing Osteoarthritis Regenerative Therapy in Dubai, UAE
Cost effective solution for osteoarthritis

Quick and minimally invasive procedure

High success rate of the treatment

No need for surgery or other invasive treatments

Minimal discomfort during and after the procedure

No downtime required following the procedure 

Results that last for a long time
Here are the top 5 Highly Qualified Regenerative Therapy Doctors in Dubai, UAE for Osteoarthritis
Doctor Names:
Francisco De Melo

Roberto Viel

Massimo Piracci

Maria Kattar

Mohamed Ahmed Elsaid
Certifications and Accreditations:
UAE MOH approval

GMP certificate

ISO certificate

Dubai Health Authority approval

Many patients all over the world have been benefitting from regenerative treatments in Dubai, UAE. It is renowned for its cutting-edge healthcare technology and expertise that make it ideal for regenerative medicine. In addition, the UAE has become a hub for medical tourism due to its proximity to other countries in the region and its reputation for providing quality healthcare.
Regenerative treatments can be used to treat a variety of conditions, from arthritis and chronic pain to sports injuries and neurological disorders. The treatments are often non-invasive, which means that there is minimal risk and recovery time. Patients can expect to find the latest technology and treatments available in Dubai, UAE, making it an ideal destination for regenerative treatments!
Q: What is the success rate of regenerative therapy for osteoarthritis in Dubai, UAE?
A: The success rate of regenerative therapy for osteoarthritis in Dubai, UAE varies depending on the patient's age and health condition. Generally, regenerative therapy is a safe and effective treatment option with a high success rate in patients with mild to moderate osteoarthritis.
Q: Who is eligible for regenerative therapy for osteoarthritis in Dubai, UAE?
A: Patients who are suffering from mild to moderate osteoarthritis and who meet the criteria for regenerative therapy in Dubai, UAE are eligible for this treatment.
Q: How long does regenerative therapy for osteoarthritis in Dubai, UAE take?
A: The duration of regenerative therapy for osteoarthritis in Dubai, UAE can vary depending on the severity and type of arthritis. Generally, the procedure takes about one to two hours.
Q: What are the risks associated with regenerative therapy for osteoarthritis in Dubai, UAE?
A: Generally, regenerative therapy for osteoarthritis in Dubai UAE is a safe treatment option with minimal risks. However, there can be rare cases of infection and allergic reactions to the injected material.
Now, you can find out more about regenerative treatments for osteoarthritis. Specialized medical experts at Bioscience Clinic will provide you with more information and help you decide on the best course of action to improve your symptoms and quality of life. Click contact us button below and our customer care at PlacidWay will help you connect with best clinic for stem cell therapy in Dubai, UAE for Osteoarthritis.

Related Experiences:
Stem Cell Therapy for Osteoarthritis in India
Stem Cell Therapy for Osteoarthritis in Mexico
Stem Cell Therapy for COPD in Dubai UAE
Stem Cell Therapy in Dubai, UAE
Regenerative Medicine for Knee Injury in United States
Regenerative Medicine for Cerebral Palsy in United States
---