Package Details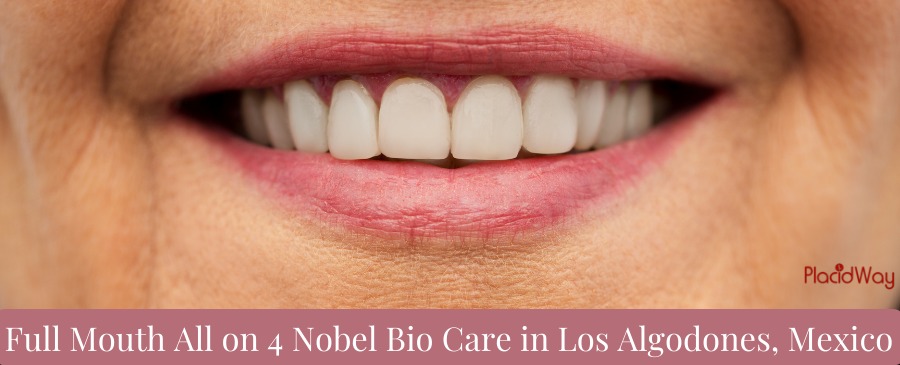 All-On-4 Nobel Bio Care Full Mouth Package in Los Algodones, Mexico
Sani Dental Group offers a pocket-friendly package for All-On-4 Nobel Bio Care Full-Mouth in Los Algodones, Mexico. Get high-quality dental work in Los Algodones today at PlacidWay.
The ALL-ON-4 procedure is an excellent option for patients who suffer from missing teeth. Dental implants are made of strong material produced by the world-known brand Nobel Bio Care. 
Sani Dental Group is one of the most prestigious dental groups in Mexico. It has three clinics in two towns and draws thousands of American and Canadian patients each year.
Advantages of Choosing Sani Dental Group:
On-site laboratory to produce porcelain and metal crowns, E-max crowns, and others. 
Dental work has up to a 5-year full warranty. 

Offer the latest and most innovative procedures for your smile. 

Highly professional staff. 

Modern facilities and a wide variety of treatments for all kinds of dental needs. 

Affordable yet high-quality dental care.
The All-on-4 procedure is an innovative approach to help patients who have problems with missing teeth. It's an immediately loaded fixed acrylic prosthesis supported by 4 implants.
All-on-4 full-mouth restoration improves your oral health as well as aesthetics. A dentist will perform this procedure to help you restore your teeth' function.
All-On-4 Full Mouth Nobel Bio Care Cost in Los Algodones by Sani Dental Group
You can get your All-On-4 Nobel Bio Care implants in Los Algodones by Sani Dental Group at the price of only $17,900!
As you see in the cost comparison table below, All-on-4 full mouth restoration in Algodones is up to 60% less expensive than in North America.
Note: For more information about the final price, make sure to contact the clinic directly. The price may vary depending on your condition and the complexity of the procedure.
Advantages of All-On-4 Nobel Bio Care in Los Algodones, Mexico by Sani Dental Group
The greatest benefit of All-on-4 procedure is how quickly permanent dental implants are placed. You can leave the clinic the same day with fixed, non-removable replacement teeth.
And here are other benefits of getting All-On-4 Nobel Bio Care full mouth restoration: 
The high strength of jaws 

You can eat your favorite food 
Boost your confidence 

Natural-looking new smile 

It preserves your bone structure for a more youthful appearance 

Easy maintenance just like with your natural teeth 

Less invasive technique 
A quicker recovery time 

Cost-effective implants
Diagnosis Consultation 

Titanium Implant 

Fixed Temporary Plate 

Hybrid Fixed Denture 

Surgical Guide
Flight tickets 

Hotel stay
Payment Options: Cash, Credit Card, or Checks.
Best All-on-4 Dentists in Los Algodones at Sani Dental Group
The clinic is a member of the American Dental Association (ADA) which works only with certified dentists.
D.D.S. Diego Miguel Valenzuela Roman  
Specialist in Oral Surgery & Dental Implants 
Education: Autonomous University of Baja California 
D.D.S. Enrique Arturo Jiménez Alvarez 
Specialist in Maxillofacial, Oral Surgery & Dental Implants 
Universidad Nacional Autónoma de Guadalajara 
Implantology Diploma 

Masters in Laser Dentistry 
Los Algodones, widely known as a Molar City, is a small border town in Mexico. A convenient location makes Algodones a favorite dental tourism destination for Americans and Canadians.
Algodones boasts numerous dental clinics but also nice places that you as a dental tourist can visit. And here are the things you can do while in Algodones:
Relax and shop at Mediplaza, the only shopping center in town. 
Walk downtown Los Algodones to meet the city and its locals. 

Eat authentic Mexican food in some of the traditional Algodones restaurants.
FAQs about All-On-4 Full-Mouth Restoration in Los Algodones
Am I a good candidate for All-On-4 Full-Mouth Restoration?
You are a good candidate for All-On-4 Full-Mouth Restoration if 
You have all or most of the missing teeth 

Sufficient jawbone structure and gum tissue in place 

You are committed to proper oral hygiene  
You have bone loss 

Good general health 

You are no smoker.
What should I expect after All-On-4 procedure?
After All-On-4 procedure, you can expect to have minor discomfort which can be reduced with pain killers. The recovery time lasts only a couple of days and you'll gain the complete functionality of your jaws. Another benefit of All-on-4 restoration is that you regain your natural-looking smile with artificial teeth.
How long does All-On-4 procedure take?
The All-On-4 procedure can take 4-6 months after implant insertion. It will depend on your oral health, jaw strength, and quality of dental work.
What is the recovery process like?
The recovery process of All-on-4 procedure is minimal. You might feel sore, and experience bleeding and swelling in and around the mouth. 
Luckily, you can reduce these issues with pain medication and apply an ice pack to the outside of the jaw area.
Choose Your All-On-4 Nobel Bio Care Full Mouth Package in Los Algodones, Mexico!
This procedure can help you achieve a natural-looking smile and restore your self-esteem. Consult with a board-certified dentist to see if you are a good candidate for the procedure. At Sani Dental Group, we can provide you with the best package and affordable All-on-4 in Algodones. Contact us now for more information!
Related Experiences:
Choose All on 4 Dental Implants in Los Algodones, Mexico
All on 4 Dental Implants in Tijuana - Your Best Dental Care in Mexico
Full Mouth Restoration in Mexico - Restore Your Smile
All on 4 Dental Implants in Mexico
Your Complete Guide to All on 4 Dental Implants in Cancun Mexico
All on 4 Teeth Implants in Istanbul Turkey