Hip replacement in Florence Italy at Villa Donatello
Treatment:
Orthopedic/Knee Surgery, Hip Replacement Surgery Partial or Total
Focus Area:
Hip Surgery | Total Hip Replacement | Partial Hip Replacement | Orthopedic Treatment Italy
---
Top Class Hip Replacement available Italy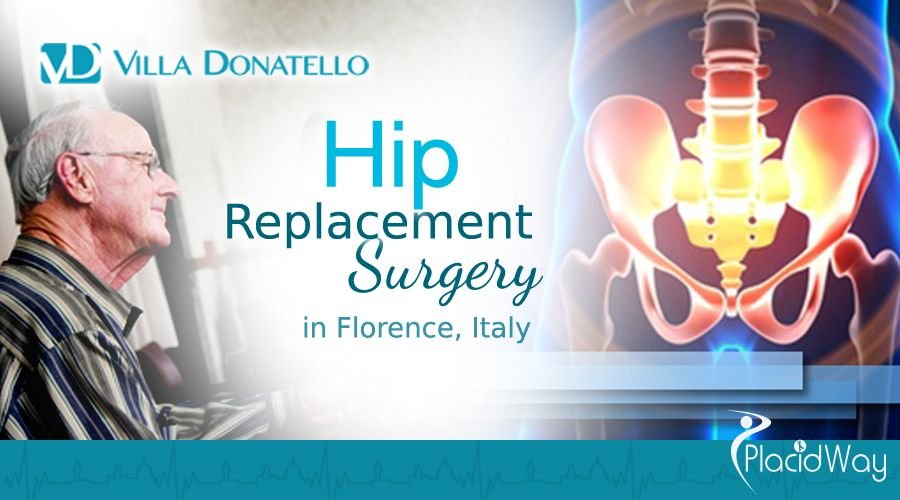 Hip replacement at Villa Donatello in Florence, Italy
For people suffering from arthritis or work related hip pains, a hip replacement surgery might be just the thing they need. The surgery consists of the removal of the damaged hip joint and replacing it with an artificial prosthesis. Depending on the type of the surgery (partial or total) the surgeon removes part of the part of the pelvis that makes up the hip joint and/or the femoral head.
Hip replacement procedures
Posterior approach

Lateral approach

Antero-lateral approach

Anterior approach

Minimally invasive approach
The advantage of the posterior approach is that it gives the surgeon better access to the acetabulum and femoral head. It also preserves the abductor muscles of the joint, reducing the risk of dysfunctions.
The lateral approach procedure presents a greater risk for the abductor muscles to not heal back on, leading to pain and weakness. On the other hand, this method has a lower dislocation rate.
Benefits of hip replacement surgery:
Pain relieve

Improved joint function

Correction of deformities

Improved quality of life, ability to return to normal activities
Cost of Hip Replacement Procedure Italy
The average cost of hip replacement at  Villa Donatello, Florence, Italy is $28,371
Package includes:
All specialist's visits and exams related

Hip replacement intervention

Cost of the prothesis

15 days of hospitalization at our clinic, in a first class room

Rehabilitation at our clinic
For patients trying to lead a normal, pain-free life, hip replacement surgery is their best chance. Villa Donatello, in Florence, Italy, is not only sought after by local patients, but also by international healthcare tourists. Their highly specialized medical personnel, top notch medical facility and state of the art equipment make it one of the best choices for people seeking treatment.
If you want to find out more about hip replacement surgery in Italy do not hesitate to contact us!

Related Experiences:
Hip Replacement Surgery in Istanbul, Turkey
Hip Replacement in Tijuana - Improve Your Hip Health
Total Hip Replacement in Puerto Vallarta - Your Solution to Hip Pain Relief
Total Hip Replacement in Mexicali Mexico - Restore Your Hips Function
Total Hip Replacement in Johnstown USA - For Your New Hips
High Success Rate Hip Replacement Surgery in Cancun Mexico
---
Orthopedic/Knee-Surgery Related Packages
Orthopedic/Knee-Surgery Related Experiences