Clinica de Especialidades H&L Studio Dental
Matamoros, Mexico
Alvaro Obregon Entre Claveles y Gardenias #29 Colonia Jardin 87330 Matamoros, Tamaulipas, Mexico

Focus Area: Best Dental Treatment Clinic | Affordable Dental Treatment Hospitals | Dental Treatment Center Mexico | Cheap Dental Treatment Center | Affordable Dentists | Best Dental Treatment Surgeons | Dental Treatment Cost | Dental Treatment Review | Top Dental Treatment Hospitals | Matamoros | Mexico | Clinica De Especialidades H&L Studio Dental | Dental implants | Digital Smile Design | Orthodontic Treatments
Best Dental Treatment Clinic, Affordable Dental Treatment Hospitals, Dental Treatment Center Mexico, Cheap Dental Treatment Center, Affordable Affordable Dentists, Best Dental Treatment Surgeons, Dental Treatment Cost, Dental Treatment Review, Top Dental Treatment Hospitals, Matamoros, Mexico, Clinica De Especialidades H&L Studio Dental, Dental implants, Digital Smile Design, Orthodontic Treatments
Profile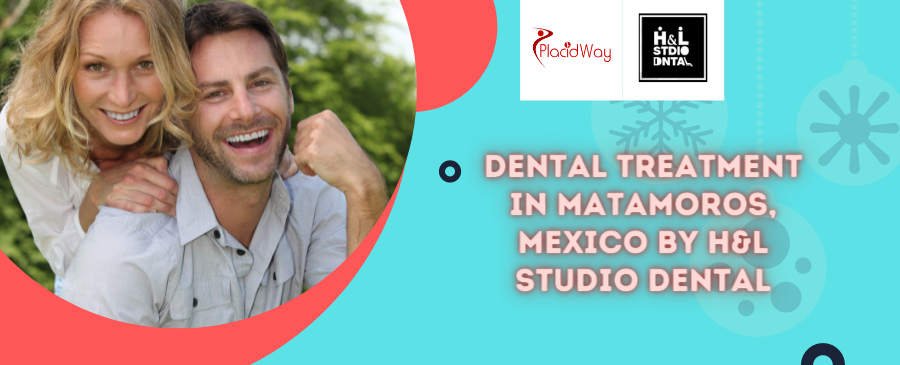 Top Quality Dental Treatment in Matamoros, Mexico
About Clinica De Especialidades H&L Studio Dental in Matamoros, Mexico
H&L Studio Dental is one of the top leading Cosmetic dental care providers in Mexico.
Located in the border city of Matamoros, Mexico, just half a block from one of the main international bridges into Brownsville (Texas) and three blocks from another. The clinic is headed by a well-qualified, board-registered dentist who is experienced in treating international patients, particularly US citizens seeking more affordable care in Mexico. The Staff is English/Spanish speakers;qualified and trained to meet our patients standards
The modern clinic provides state-of-the-art equipment, such as a 3D oral scanner which is the base for the most modern dentistry. The center also has its own dental laboratory, facilitating rapid delivery of prosthetic devices, such as crowns and veneers–a time-saving benefit for patients short on time and not wanting to make several trips back and forth from the US.
Heading H&L Studio Dental is Dr. Hugo Contreras who is recognized as one of the top specialists in veneers, smile design and smile makeovers in the region. Having undertaken part of his training in Brazil, he is registered with both the Brazilian Association of Dentistry and the Mexican Association of Dentistry.
He works alongside Dr. Genesis Uribe, who, after graduating with her dental surgeon's degree, has undertaken additional certification in orthodontics, oral surgery, ortho-implants and orofacial harmonization.
The Clinic offers a wide variety of treatments along with attentive helpful staff and specialized dental surgeons who've trained in both Mexico and abroad. The team works together to provide all patients with tailor-made treatments that meet their health, aesthetic, functional and budgetary requirements. They are constantly updating their facilities to be at the forefront of dentistry and are highly trained in the latest digital dentistry techniques.
Table of Content
• Cost • Procedures • Advantages
• Doctors • How to Book
Clinica De Especialidades H&L Studio Dental provides best Dental Treatment in Matamoros, Mexico. Book online now Dental implants, Digital Smile Design, and Orthodontic Treatments at H&L Studio Dental.
We handle a modern CONCEPT in question to dentistry, by means of photographs and previous videos we show you the treatments that you are going to perform for your safety and we use DIGITAL SMILE DESIGN where before doing any aesthetic treatment you can try it on.
Here are several benefits of choosing Dental Clinics in Matamoros, Mexico by H&L Studio Dental:
Modern Concept of Dentistry

Assure patient safety and use Digital Smile Design Technology

Affordable cost

Complete selections of Dental Procedures

Qualified and Certified Surgeons
Check below for more information about list of procedures available at Dental Treatment in Matamoros, Mexico by H&L Studio Dental:
Dental Implants are a great way to restore your smile and confidence. The metal post replaces the root portion of one or more missing teeth, so you'll have beautiful smiles for life!
Dental Fractures Restorations
Top quality procedure to remove any depression or chip in your teeth with ease.
Digital Smile Design
With the rise in popularity of modern dentistry, Digital Smile Design is creating a revolution by taking this up-and coming trend one step further.
Orthodontic Treatments
Orthodontic Treatment is a system that helps improve your smile by straightening or moving teeth. It can make the whole process easier and more comfortable for you!
Dental Cleaning
Dental Cleaning involves the removal, or scaling away if too much growth has occurred on your teeth; plaque which can lead to cavities in some cases!
Resin Restorations
The Resin Restorations procedure has been popularly used for a long time. It's a simple and affordable way for people without much money or access to dental care, but who still want their smiles back!
Dental Treatment in Matamoros, Mexico by H&L Studio Dental will assure you to get top quality of dentistry procedure with affordable cost. For more information about the latest dental procedures available and current Cost for Dental Treatment, you can ask our Customer Representative by clicking contact us button below:
Check below for information regarding Dentist in Matamoros, Mexico by H&L Studio Dental:
Dr. Hugo Contreras

Dra. Genesis Uribe

Dr. Luis Contreras

Dr. Carlos Sabino
It is time to get dental treatment in Matamoros, Mexico by H&L Studio Dental that can provide you with satisfactory and long lasting result. Don't hesitate to discuss your dentistry problems with the specialists in here. For more information about Dental Packages, or if you want to start your consultation today, feel free to tab contact us button below: