Fetal Stem Cell Ukraine for Parkinson's Treatment - $10,000
Treatment:
Stem Cell Therapy, Stem Cell Treatment for Parkinsons Disease
Focus Area:
Fetal Stem Cell Ukraine | Stem Cell Therapy | Parkinson's Disease | Embryonic Stem Cell Treatment | Adult Stem Cell Therapy | Cord Blood Stem Cell | Placenta Cell Therapy | Regenerative Medicine | Kiev | Ukraine
---
Fetal Stem Cell Ukraine, Stem Cell Therapy for Parkinson's, Stem Cell Therapy for Parkinson's Cost

Fetal Stem Cell Therapy for Parkinson's Disease in Kiev, Ukraine
Parkinson's is a degenerative disorder of the central nervous system mainly affecting the motor system. It can be Primary Parkinson's with no known cause, or Secondary Parkinson's due to known causes like toxins.
Best Clinic for Stem Cell Therapy for Parkinson's in Ukraine
Unique Cell Treatment Clinic large positive experience in treating primary and secondary parkinsonism with fetal stem cells (FCS) in Kiev, Ukraine has been highly successful, allowing, in almost 100% of cases to slow down the degeneration process of the nervous system and to improve quality of life of the patient.
How do Fetal Stem Cells Treat Parkinson's Disease?
UCTC's Parkinson's cell therapy with suspensions containing fetal stem cells is most effective at the initial stages of the disease. 85% of patients with Parkinson's disease observe reduced clinical manifestations of the disease, allowing them to reduce the doses of Parkinson's disease medications.
In all cases, after UCTC treatment the mental state of the patient is improved and patients report:
Decreased depression

Improved thinking, memory and intelligence.

Improved sleep

Reduced manifestations of vegetative disturbances

Normalization in the functioning of the internal organs such as heart, lungs, intestines.
It is an outpatient treatment that lasts for 2 days (3-5 hours a day). Fetal stem cells are administered via intravenous drip-feed infusion, in a particular body cavity, or subcutaneously. This procedure is non-surgical and well-tolerated by the patients. Since fetal stem cells administration is minimally invasive, post-treatment rehabilitation is not required. Our experience of two decades has shown NO side effects.
Parkinson's disease fetal stem cell treatment in Kiev Ukraine at the UCTC gives positive results in both Wilson's and Parkinson's diseases. UCTC treatment allows almost in 100% of cases to slow down the degeneration process of the nervous system and to improve quality of life.
Stem Cell Therapy for Parkinson's Procedure
The transplantation of fetal stem cells is performed in accordance with the fetal stem cell therapy schemes developed by UCTC specialists, all the patients showing significant improvements following the therapy for treating Parkinson's disease:
Reduction of akinesia, rigidity and tremor

Improvement of mental activity

Reducing the loss of autonomic disorders.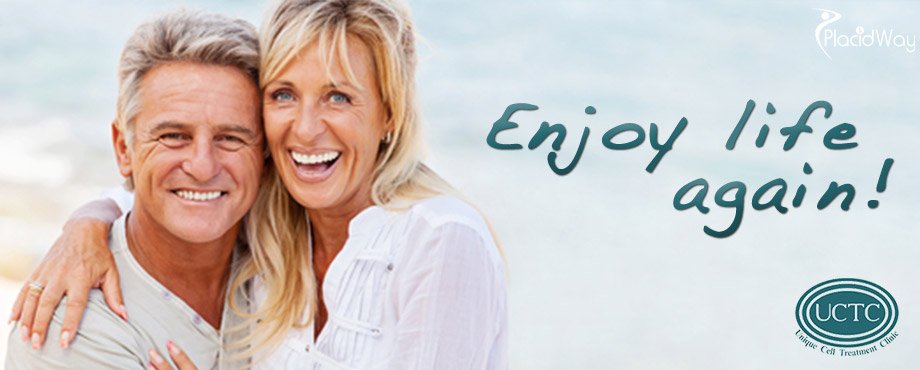 Many of Unique Cell Treatment Clinic's patients could return to their previous work or to avoid a long period of disability. In addition, due to the fetal stem cells for Parkinson's disease treatment, patients can stop taking drugs that are commonly prescribed for Parkinson's disease.

The Price of Fetal Stem Cell Therapy for Parkinson's Disease in Ukraine
The cost fetal stem cell treatment for Parkinson's disease cost 10,000 USD.  For accommodation, you will have to pay additionally, but we can help you to find the appropriate hotel or apartment near the UCTC clinic in Kiev, Ukraine.
After receiving your medical information, we will be able to inform you of the personalized price for fetal stem cell treatment of Parkinson's disease. The price quoted above is an average cost – however, each treatment requires to be set individually for each patient and depends on the complexity of the case, state of the patient, type and number of fetal stem cells to be administered, necessary analysis to be made in our clinic before the treatment.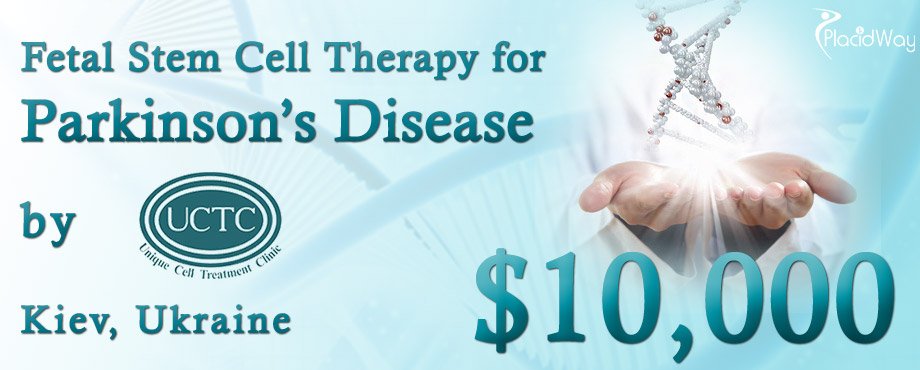 The Fetal Stem Cells Treatment Package for Parkinson's Disease includes the following:
Airport-hotel/apartment-airport transfer

Everyday hotel/apartment-clinic-hotel/apartment transfer

Examinations by specialists

Laboratory tests and investigations

Treatment itself (2-days-administration of stem cells)

Medical report

Medications if necessary

Follow-up after the treatment
Cost of Stem Cell Therapy For Parkinson's in Ukraine vs. Other Countries
Country

Procedure
Average Cost

Ukraine

Stem Cell Therapy for Parkinson

's

$10,000

America

Stem Cell Therapy for Parkinson

's

$45,000

United Kingdom

Stem Cell Therapy for Parkinson

's

$62,000

Canada

Stem Cell Therapy for Parkinson's

$48,000
How Much You Can Save By Receiving the Treatment in Ukraine?
If you take a look around the expenses of treatment, you will find that the cost of stem cell treatment for Parkinson's costs higher than $50,000 in the developed countries whereas you can get the same treatment within $10,0o0 in Ukraine.
Benefits of Parkinson Treatment in Unique Cell Treatment Clinic Ukraine
Repairing the Brain

Improving the nervous system disorders

Improved brain cell connections

Improved health in general

Better quality of life

Enjoy the Ukrainian hospitality

Stem Cell Therapy for Parkinson's Disease Frequently Asked Questions
What is Parkinson's Disease (PD)?
Parkinson's Disease is a degenerative sensory system condition that influences one's development. Indications frequently start step by step, with minor issues like little quakes inside the limits (hands). As of now, there is no remedy for Parkinson's Disease (PD) however certain prescriptions do have the ability to assist with overseeing side effects. A few specialists may likewise prescribe a medical procedure to address specific manifestations, which includes managing specific spaces of the mind. 
What are the indications of Parkinson's Disease (PD)?
Parkinson's DIsease (PD) can incorporate an assortment of indications that change in seriousness and type among the influenced populace. Early indications of the condition can at times go unrecognized yet as the illness advances one can anticipate these manifestations: 
Trouble talking 

Trouble composing 

Loss of programmed developments (Characterized by the failure to flicker, grin or perform normal non-verbal communication rehearses) 

Eased back generally development (making ordinary assignments additional tedious) 

Muscle firmness 

Quakes or shaking 
What causes Parkinson's Disease?
Parkinson's Disease is brought about by a misfortune (or weakening) of nerve cells in the cerebrum. This deficiency of nerve cells inside the cerebrum brings about a decreased measure of dopamine being made which goes about as a courier between the pieces of your mind that control intentional and compulsory development. Thusly without that fundamental association, your mind begins losing the capacity to successfully control development. At present, it is obscure what causes the weakening of nerve cells related with Parkinson's Disease (PD). As of now, it is accepted that both ecological elements, just as hereditary variables, may assume a part in the deficiency of nerve cells. 
Parkinson's Disease is a deep rooted condition that can extraordinarily weaken the capacity of one's day by day works. Customary medicines just location the indications of the condition, however scientists are amped up for the conceivable outcomes of specific quality treatments and immature microorganism treatment, which might can invert harm and end the movement of the infection. 
So what are Stem Cells?
Stem Cells are cells that have not yet well versed in the body, which means they have not developed to a specific kind of cell with a particular capacity (for example muscle cell, skin cell, and so on) An undifferentiated organism can become a wide range of cell types in the human body. The course of undifferentiated organisms become new sorts of cells is called separation. This cycle is the main part of foundational microorganism treatments, as the cells become the kind of cells needed for your body to recuperate. Foundational microorganisms are additionally self-recreating. This permits them to duplicate into indistinguishable duplicates of the undifferentiated organisms that have as of now gone through separation in the body. For instance, if foundational microorganisms were utilized to treat a neurological physical issue, cells directed during treatment could become nerve cells, and afterward recreate to make dramatically more nerve cells all alone. This definitely expands the adequacy of undifferentiated organism medicines over the long haul.

In order to provide more detailed information on effectiveness of fetal stem cell treatment in your specific case, click the contact button below and fill in the form needed for our specialists. If possible, also fill in a detailed description of your present condition (in your own words). Our specialists will analyze this information, and you will be contacted by UCTC specialists to discuss the details of your possible treatment in Kiev, Ukraine.


Related Experiences:
Stem Cell Therapy for Parkinson's disease in Austria
Stem Cell Therapy for Parkinson's Disease in Germany
Stem Cell Therapy for Parkinson's Disease in India
Stem Cell Therapy for Parkinson's Disease in Guadalajara, Mexico
Stem Cell Treatment for Parkinson's Disease in Puerto Vallarta, Mexico
Stem Cell Therapy for Parkinson's Disease in Tijuana, Mexico
---
Stem-Cell-Therapy Related Packages
Stem-Cell-Therapy Related Experiences