Giostar Mexico
All Exclusive Stem Cell Transplantation in Los Algodones at GIOSTAR Mexico
Fase II, Av.10 lote 1 local 46, Playa del Carmen Quintana Roo Fraccionamiento, Playacar, 77710 Playa del Carmen, Q.R., Cancun 77710, Mexico

Specialty:

Anti Aging, Chronic Diseases, Neurology, Skin Care, Sports Medicine, Stem Cell Therapy

Focus Area:

Stem Cell Therapy| Heart Disease | Liver Disease | Neurological Diseases | Alzheimer
Giostar Mexico Profile Overview

Welcome to Giostar Mexico
For more than 15 years, GIOSTAR has been the leading Stem Cell company in the world, innovating the field of stem cell therapy with new procedures based on scientific research. In Giostar Mexico, we continue to develop treatments for degenerative diseases based on unique and state-of-the-art stem cell-based therapies and products.
GIOSTAR Mexico is a provider of stem cell therapy with research based in the United States. The medical center helps patients from all over the world making an impact in their lives by helping them live longer and healthier lives. We provide autologous and allogeneic stem cell therapy for anti aging, muscular injuries and degenerative diseases with quality attention and service.
Meet Dr. Anand Srivastava
Dr. Anand Srivastava is the Chairman, Cofounder and Chief Scientific Officer of GIOSTAR, and an experienced research leader and innovator in the regenerative sciences field. He has collaborated with prominent universities and research institutions in the United States with several stem cells science related projects. Dr. Anand published his work in peer-reviewed medical scientific journals and his work has been cited extensively by other scientists. Also, his research work has been presented in various national and international scientific meetings and conferences in India, Japan, Germany, and USA. Thanks to his work, people now have an option to improve their life under Dr. Anand's original and approved protocols.

Treatments and procedures
- Diabetes - Lupus - Multiple Sclerosis - Chron's - Vasculitis - Alzheimer's - Anti-Aging - Autism - Chronic Pain - ALS - Cardiovascular Diseases - Cerebral Palsy -
- Erectile Dysfunction - Muscular Dystrophy - Liver Diseases - Osteoarthritis - COPD - Parkinson's - Stroke - Spinal Cord Injury - Spinal Muscular Atrophy -

Medical team
Dr. Anand Srivastava - M.S., PH.D. - CHAIRMAN, COFOUNDER AND CHIEF SCIENTIFIC OFFICER
Dr. Édgar Márquez - Medical Director - Giostar Mexico Playa del Carmen
Dr. Alfonso Fung - Specialty Doctor - Giostar Mexico Playa del Carmen
Dr. Daniel Garza - Medical Director - Giostar Mexico Los Algodones
Dr. Carlos Rodríguez - Medical Director - Hospital San Javier (Giostar Mexico Associate)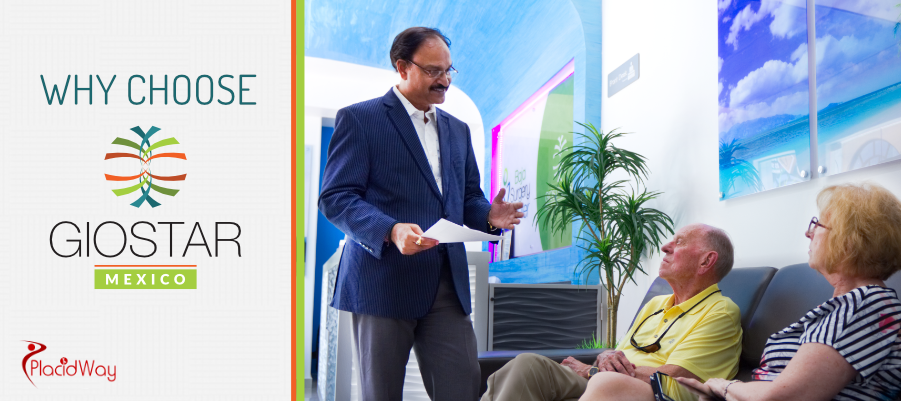 Why choose GIOSTAR?
GIOSTAR has international presence.
Highly trained medical team.
We conduct our own research is the US.
We have developed our own protocols.
Personalized therapy for every patient.
Our primary goal is to make a positive and significant difference in your life.
Innovative medical procedures.
Modern and equipped facilities to provide successful stem cell therapy.
State-of -the-art equipment.
Our doctors evaluate your health history for free.
We only approve patients that we are positive we can help.
As a medical tourist you will always have the assistance you need from our patient coordination team.
Transportation from the nearest airport included.
Special hotel deals and rates.
Why Mexico?
Mexico's fame as a medical tourism destination has quickly risen, thanks to the excellent medical attention given and the first-rate services that it offers to its visitors, coupled with the hospitality and warmth of its people. Mexico offers its visitors amazing views and a variety of activities, but also high-class medical facilities and experienced surgeons. More and more people are realizing the importance of accessing quality medical attention at reasonable costs, while the beautiful surroundings and attention during recovery make it easy to concentrate on getting well.
Please, watch the videos for testimonials:
If you need more information about the services offered by GIOSTAR Mexico, please contact us!

Disclaimer
We provide personalized stem cell therapy, meaning although you may have the same medical condition as another person, variables such as your health, lifestyle, nutrition, deterioration, side effects of previous treatments, etc., are considered when our doctors design your protocol for therapy to ensure the best possible outcome. This may result in the variation of prices of the therapy even when treating the same medical condition.
---
---
Reviews
David

My wife and I went tp Los Algodones March 29, 2019 and both of us were treated. I had stem cell rejuvenation and she was treated for her migraine headaches and Neuropathy in her feet .
First , the experience was great! The entire staff were professional and did everything possible to make us comfortable. The procedure was explained very clearly and there were no surprises . The day went as planned and as we were told. I commend the staff and Doctor for the way we were treated.
Second, the results! Being provided with Stem Cell rejuvenation I did not expect any immediate results . I was wrong. I immediately felt more energetic and was surprised when I noticed that within 3 hours of the treatment, pain in my left knee from a sports accident was completely gone! It was a soft tissue injury that had been aching for several months. I did not expected this pleasant result ....
I had a previous Stem Cell treatment from GIOSTAR several years ago in India and my immune system became so effective that I did not get sick with so much as a cold for years. I am looking forward to the same results again.
As for my wife, prior to her being treated on the 29th., she had experienced 16 migraines in her last 26 days. Almost one plus migraine every other day. It has been 7 days since the treatment and she has had one migraine. Although too early to statistically brag about the results, there has been a significant decrease in her frequency.
I would recommend GIOSTAR Mexico to anyone .

Google

Mar 22 2019

Jerry

Not sure.....my son did stem cell there for his ALS. He is very debilitated so maybe it did not do any good. But I am hoping it did, I mean, how do you judge that

Google

Mar 28 2022

Jose

The team is very friendly, and very knowledgeable. An excellent experience if you want to go with a more holistic approach !

Google

Apr 06 2022
---
Anti-Aging Related Packages