Sex Reassignment Surgery Male to Female Package by Yanhee Hospital in Bangkok, Thailand
Package price starting from:
$14263
Treatment:
Cosmetic/Plastic Surgery, Sex Change Operation
Focus Area:
Yanhee Hospital | Bangkok | Thailand | Gender Reassignment Surgery | Sex Reassignment Surgery Male to Female | Sex Change Operation
---
Gender Reassignment Surgery Male to Female in Bangkok, Thailand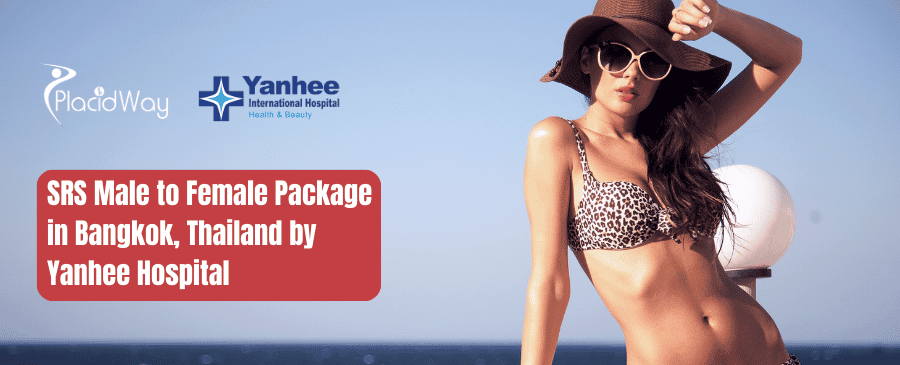 Sex Reassignment Surgery (SRS) is a life-changing procedure, and Yanhee Hospital in Bangkok, Thailand, offers an exceptional Male to Female package. With a rich history of medical excellence, Yanhee is a trusted destination for transgender individuals seeking this transformation. Our comprehensive guide explores this remarkable opportunity. Bangkok, known for its vibrant culture, is the ideal backdrop for your journey to self-discovery through SRS. Yanhee Hospital's world-class facilities and experienced medical staff ensure a safe and supportive environment for your transition.
Males suffering of Gender Identity Disorder can benefit from genitalia surgery after filling in the required documents. This surgery creates a complete genital anatomy with labia, clitoris and vaginal canal. The clitoris allows stimulation and orgasm. The vaginal canal is 5-7 inches deep and is performed by Penile Skin Inversion technique if the length of the penis is adequate, or by Colon Vaginoplasty technique.
You can get sex reassignment surgery male to female package in Bangkok, Thailand by Yanhee Hospital with the price starts at $14,263. Please refer to our price list table below to learn more:
| | |
| --- | --- |
| Location | Cost in USD |
| Bangkok, Thailand | $14,263 |
| United Kingdom | $20,000 |
| United States | $30,000 |
Note: price may change and vary depends on complexity of procedures and patient conditions. Click free quote button below to learn more:

Affordability: Yanhee Hospital offers competitive pricing without compromising on quality.
Experienced Surgeons: Renowned for their expertise in SRS, Yanhee's surgeons provide exceptional care.
Cultural Acceptance: Bangkok embraces diversity and offers a welcoming environment for transgender individuals.
Cutting-Edge Facilities: Yanhee boasts state-of-the-art technology and modern facilities.
Tourist Attractions: Explore the beauty of Thailand while undergoing your transformation.
Yanhee Hospital provides a range of Male to Female SRS procedures, including vaginoplasty, breast augmentation, and facial feminization surgery. Each procedure is tailored to your unique needs, ensuring a holistic transformation. Following are the procedures:
Creation of anatomically realistic external female genitalia complete with labia and clitoris and vaginal cavity with image-package-price-sex-change-operation-yanhee-hospitalpenile skin inversion or colon vaginoplasty.

The vaginal tunnel is created between the urethra/prostate gland/bladder and the rectum. The depth of this newly created space is normally between 5-7 inches from the beginning to the end of recto-vesical pouch (depends on patient's penile length).

A portion of glans (head of penis), with its nerves and vessels intact, is converted into clitoris (functional in sensation & appearance). Excess erective tissue around urethra is removed to avoid symptoms that stem from engorged erectile tissue during sexual arousal.
Surgery Fees: Covers the cost of the chosen procedures.
Hospital Stay: Accommodation in Yanhee's comfortable facilities.
Medical Consultations: Regular check-ups and post-operative care.
Transporation: Airport transfers and local transportation.
Recovery Support: Post-op counseling and assistance.
Travel Expenses: Flights and visa fees are not included.
Personal Expenses: Meals, entertainment, and personal purchases.
Complications: Treatment for unexpected medical issues.
Additional Procedures: Costs for optional treatments or revisions.
Insurance: Personal health insurance is recommended.
Sex Reassignment Surgery Male to Female Pre-Op Instructions:
Discontinue hormone therapy at least 2 weeks before surgery to avoid risk of thembus formation

Smoking & drinking of alcohol should be stopped at least 1 month prior to surgery

Must have letter of recommendation for surgery from 2 mental health practitioners

Consultation with specialist

Must have no fluid or food intake for 8 hours prior to surgery

Only a liquid diet is allowed 5-7 days after surgery. Avoid high fiber drinks or dairy products as these may induce defecation.

Legs should be kept separated when sleeping for about a week.

Clean neo-vagina with antiseptic solution.

Start walking 5-7 days post-op

Use of dilator (from small to larger size) dilate for 30 minutes at least 2 x every day

No sexual intercourse at least 2 months after surgery

Hormone therapy may be resumed 1 week after the surgery (before resuming, consultation with an endocrinologist is highly advised)

Anesthesia: General Anesthesia

Duration: 5-8 hours
Yanhee Hospital in Bangkok, Thailand, is renowned for its exceptional team of Sex Reassignment Surgeons. With a reputation for excellence and a commitment to providing compassionate and comprehensive care, Yanhee Hospital stands as a trusted destination for individuals seeking male to female or female to male sex reassignment surgery.
The hospital's experienced surgeons, state-of-the-art facilities, and a supportive environment ensure that patients receive world-class medical treatment while embarking on their transformative journey. Whether it's vaginoplasty, breast augmentation, facial feminization surgery, or other procedures, Yanhee Hospital's dedicated team strives to empower individuals to embrace their true selves and achieve the desired results with the highest level of safety and professionalism.
Cosmetic Surgeon in Bangkok, Thailand for SRS Male to Female

 

Dr. Sukit Warathamrong

 

Dr. Chokchai Amornsawadwattana
About Yanhee Hospital
Yanhee International Hospital is dedicated to provide the highest quality of service and excellent patient care in a cost-effective manner. Yanhee International Hospital is one of the largest hospitals in Asia with the biggest plastic surgery department. In the last 20 years of quality service we have expanded and grown to an international standard level that has attracted innumerable patients from all corners of the world.
We are one of the best hospitals in the field of plastic and cosmetics surgery in Thailand. Our popularity of medical tourism and the quality of our services its' given by the phenomenal rise in the number of forgiven patients are representing 144 countries.
Is Sex Reassignment Surgery Male to Female Right for You?
Mental Health: Ensure emotional readiness for the process.
Support System: Have a network of supportive friends and family.
Realistic Expectations: Understand the outcomes and recovery.
Commitment: Be prepared for a lifelong journey.
Medical Assessment: Consult with the medical team at Yanhee Hospital.
What to Expect During Sex Reassignment Surgery?
Initial Consultation: Discuss goals and plan with the surgeon.
Surgery: Undergo the chosen procedures in a safe environment.
Recovery: Rest and heal under medical supervision.
Follow-Up: Regular check-ups to monitor progress.
Emotional Support: Counseling to navigate emotional aspects.
1. FAQ: How much does Male to Female Sex Reassignment Surgery (SRS) cost in Bangkok, Thailand?
Answer: The cost of SRS in Bangkok, Thailand, varies but is generally more affordable compared to many Western countries. Yanhee Hospital offers competitive packages starting at $14,263.
2. FAQ: Is the medical team in Bangkok experienced in performing SRS procedures?
Answer: Yes, the medical team at Yanhee Hospital in Bangkok has extensive experience in SRS procedures, ensuring safe and skilled care throughout your transformation journey.
3. FAQ: Are there any age restrictions for SRS in Bangkok, Thailand?
Answer: Yanhee Hospital typically requires patients to be at least 18 years old to undergo SRS. However, individual eligibility is determined through consultation with the medical team.
4. FAQ: How long is the recovery period after Male to Female SRS in Bangkok, Thailand?
Answer: The recovery period varies depending on the specific procedures performed, but most patients can expect a few weeks of initial recovery with ongoing healing and follow-up care.
5. FAQ: What post-operative support is available for patients traveling to Bangkok for SRS?
Answer: Yanhee Hospital provides comprehensive post-operative care, including follow-up consultations, counseling, and assistance with any potential complications to ensure your well-being throughout your stay in Bangkok, Thailand.
To take the next step towards your Male to Female Sex Reassignment Surgery in Bangkok, Thailand at Yanhee Hospital, we invite you to request a consultation through PlacidWay Medical Tourism. Our experienced team is here to guide you through the process, answer any questions you may have, and assist you in scheduling your transformative journey. Don't hesitate to reach out and begin your path to self-discovery and fulfillment. Request a consultation today with PlacidWay and embark on a life-changing experience at Yanhee Hospital.

Related Experiences:
Female to Male Gender Reassignment Surgery in Bangkok Thailand
Gender Reassignment Surgery Male to Female in Bangkok, Thailand
Gender Reassignment Surgery in Thailand
Gender Reassignment Male to Female Surgery in Thailand
Gender Reassignment Male to Female Surgery in India
Plastic Surgery in Bangkok, Thailand
---