Grand Clinic
Istanbul, Turkey
Yeni Mahalle Mh. Inönü Caddesi No:140 Kucukcekmece / Istanbul

Focus Area: Plastic Surgery Clinic | Istanbul | Turkey | Grand Clinic | Tummy Tuck | BBL | Liposuction | Blepharoplasty | Botox | Fillers Injections | Hair Transplantation
Plastic Surgery Clinic, Istanbul, Turkey, Grand Clinic, Tummy Tuck, BBL, Liposuction, Blepharoplasty, Botox, Fillers Injections, Hair Transplant
Profile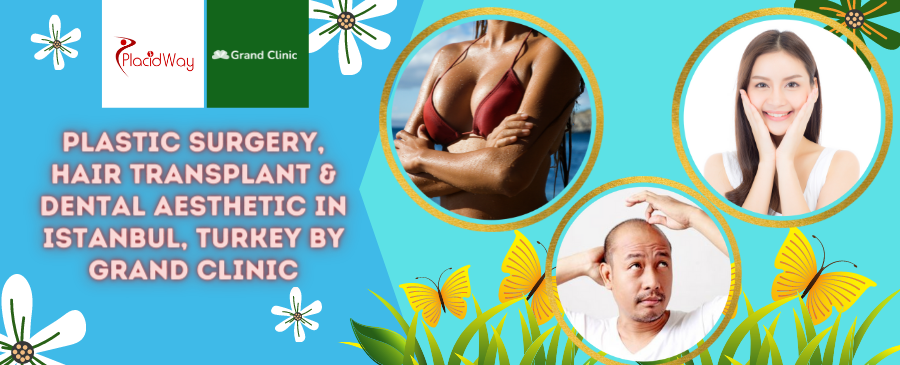 Top Quality Plastic Surgery in Istanbul, Turkey
About Grand Clinic in Istanbul, Turkey
Grand Clinic provides best Plastic Surgery in Istanbul, Turkey. Book online now Tummy Tuck, BBL, and Liposuction at Grand Clinic.
Plastic Surgery in Kucukcekmece, Turkey by Grand Clinic is a wellbeing establishment that expects to be an accomplice in your bliss by offering you the chance for change and advancement in fields like Plastic Surgery, Medical Esthetics and Hair Transplantation.
Great Clinic, Closely following innovative and logical advancements inside the system of public and worldwide quality guidelines; With a methodology that gives most extreme consideration to the privileges of its patients and representatives, continually reestablishes itself, and embraces the standard of furnishing advantage to the general public with its exceptional faculty, it gives an amicable, and dependable wellbeing administration.
Great Clinic gives a quality, excellent, boundless and coordinated assistance by incorporating the most cutting edge innovation with master staff and to keep patient fulfillment at the most significant level.
Great Clinic is prepared to introduce wellbeing, which is quite possibly the main upsides of person, in contemporary norms, with a comprehension of value, and with an assistance approach that regards the upsides of the general public.
Here are several advantages that you can find through Plastic Surgery Clinics in Istanbul, Turkey by Grand Clinic:
Enhance your appearance

Affordable cost

Improve your self-esteem and self confidence

Safe procedures using the latest technology

Certified and experienced plastic surgeon
Here are list of procedures that you can find at Plastic Surgery in Istanbul, Turkey by Grand Clinic:
Abdominoplasty is an operation performed under broad sedation. Specifically, there is an incision that connects the two thighs to the cesarean section power cut produced using underneath. Subcutaneous tissue is taken out.
BBL
Butt lift or butt augmentation is a surgery where fat is taken out from different pieces of the body and appended to the rear end. Butt cheek augmentation surgery is generally done to further develop the lower folds of the body and give a more toned appearance.
Liposuction is a surgery to eliminate fat from the body by retaining fat stores in specific pieces of the body with unique suction or extraordinary injections. It is certainly not surgery to get fit; it is surgery to address body shape.
Blepharoplasty
Blepharoplasty is the removal of abundance skin and greasy tissue from the eyelids. It should likewise be realized that eyelid surgery isn't only performed for restorative purposes. At times the eyelids might hang to the point of limiting vision.
Hair transplantation is a non-surgery where hair follicles are taken from the donor region at the rear of the head and relocated into thinning up top regions subsequent to being treated with reinforcing supplements prior to planting.
Yellowing of the teeth can adversely influence a person's self-assurance and prompt them to feel awkward while grinning. The motivation behind teeth brightening is to dispense with these issues.
Tube Stomach
In sleeve gastrectomy surgery, the stomach is transformed into a long, slight cylinder like a banana. 80% of the stomach is cut and taken out laparoscopically, that is to say, by shut surgery. Thusly, food admission from the stomach is limited.
Botox is a filling procedure that briefly eliminates kinks and lines on the skin. The impact time of Botox treatment changes between 4-6 months. The duration of the impact likewise changes from one person to another.
Other Procedures:
Treatments and Procedures

Aesthetic, Plastic and Reconstructive Surgery

Allergic Diseases

Anesthesiology and Reanimation

Biochemistry Laboratory

Cardiology Check Up Center

Chest Diseases

Cosmetic Medicine

Clinical Psychologist Dermatology (Skin and Venereal Diseases)

Diet and Nutrition

Ear, Nose and Throat Disorders

Emergency Service

Eye Center

General Surgery

Gynecology / Obstetrics & Gynecology

Hair Transplantation

Hemorrhoid and Anorectal Diseases

Unit Infections Diseases

Intensive Care

Internal Medicine

Medical Management

Microbiology Laboratory

Muscle Disorders

Neonatal Intensive Care Unit

Neurology

Neurosurgery

Oral and Dental Diseases

Orthopedics and Traumatology

Pediatrics

Physiotherapy and Rehabilitation

Pulmonary Diseases

Radiology

Urology
Plastic Surgery in Istanbul, Turkey by Grand Clinic will give you awesome result to have better body and appearance than before. You will be in a good and skillful hand of top plastic surgeon. If you want to get more information about current Cost of Plastic Surgery in Istanbul, Turkey by Grand Clinic:
Here you can get more information about Plastic Surgeon in Istanbul, Turkey by Grand Clinic:
Dr. Ali Nurhan Ozbaba
Dr. Hakan Yoldakalmaz,
Dr. Halil Ozcan Çelik
Dr. Meral Kaya
Dr. Yurdum Sinan Yücel
Plastic Surgery in Istanbul, Turkey by Grand Clinic will make your dream in enhancing your beauty to the next level comes true. It is time to boost your confidence and self esteem with world-class aesthetic and plastic surgery in Turkey! For more information about Plastic Surgery Packages, or if you want to book your consultation today, make sure to click button below: