Ethnic Hair Transplant an Emerging Trend in Hair Restoration
Hair Transplantation Procedure, Hair Restoration Abroad, Costs of Hair Restoration Abroad, African American FUE Hair Transplant, Hair Restoration in African-Americans, Ethnic Hair Transplant, FUE Hair Transplant (Black/African American), Hair Loss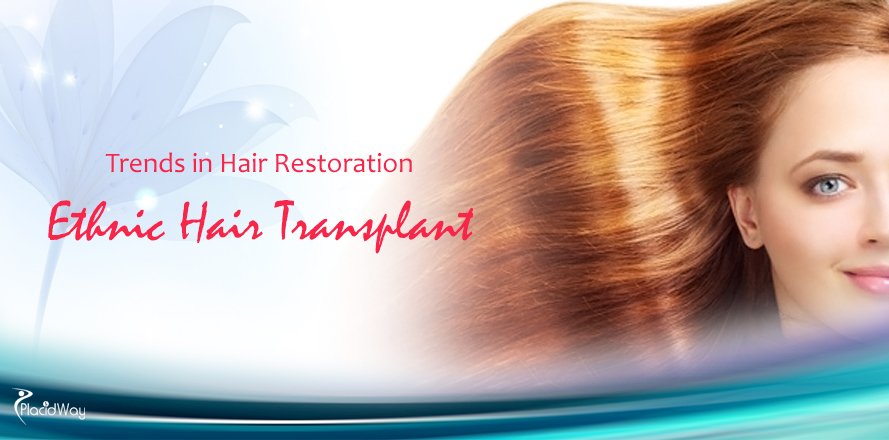 Ethnic Hair Transplant, an Emerging Trend in Hair Restoration
Nowadays, aesthetic treatments such as hair transplantation are creatively modified to satisfy every specific need of the growing clientele. Hair transplantation techniques are now designed to meet unique restoration needs of genders, as it is performed differently for male, female and transgender patients.
Further, hair transplantation now emerging to be "culture specific", as this involves adapting to the needs of different cultures. Hairlines are different to Asian, African-American, Hispanic, and Middle Eastern clients. Every hair transplant specialist should be particular to the needs of the non-Western clientele, whether male or female, as they make the bulk of most clients.
What is Ethnic Hair Transplant
Ethnic hair restoration goes further than simple differences of good and bad hairline designs. A hair transplant specialist must create an apt and natural-looking hairline based on the client's ethnicity. In order to achieve natural-looking results, ethnic hair transplant techniques consider the uniqueness of different cultural hair characteristics.
For example, when performing hair transplantation on a client with Asian heritage, the hair transplant expert considers the Asiatic thick, black, and straight hair. This suggests that implants must be placed at low angles in order to seem natural. Meanwhile, with African-American hair restoration, the attention is on the proper harvesting of curly black hair that must be transplanted where the curly hair matches the "exit angles" of the scalp. Equally similar are the Middle Eastern and Hispanic hair restoration techniques, as these patients have a naturally coarse hair that is restored to achieve thick hairlines. By knowing all the transplant details particular for every ethnicity, hair restoration specialists can achieve the most "aesthetically-pleasing" results to match each client's unique hair features.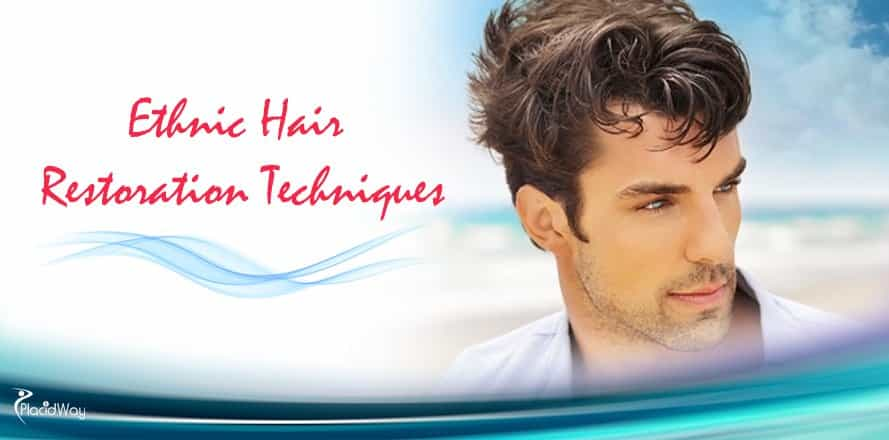 Ethnic hair restoration techniques
Customized harvest and implant techniques are utilized to specifically design the right hairline according to the client's age, gender, head shape, stage of hair loss, and facial features. All these factors need to be put into consideration in order to get the most aesthetically-appealing results that will also age well through time. When harvesting the client's donor hair, it is important to minimize the discomfort, so to be able to maximize the best yield and quality. In ethnic hair restoration, the most used methods are those of linear harvesting and follicular unit extraction (FUE). In FUE, donor hair is harvested without making an incision at the back of the head. FUE procedures are most commonly used for patients of African-American descent or for clients with curly hair. Clients who experienced FUE hair restoration method can wear the hair short, without any scars from the hair transplantation procedure.
Who can benefit from ethnic hair restoration?
Male and female African-American, Asian, Hispanic, and Middle Eastern clients experiencing thinning hair, hair loss, pattern baldness, and high hairlines can take advantage of this unique hair restoration technique.
How much does it cost?
The prices for an ethnic hair transplant depend on a number of factors, and vary from client to client. These factors include hair density, extent of hair loss, coverage area, and other factors that may affect the choice of methods to be used and the number of grafts necessary during the procedure. During the initial consultation with a hair transplant specialist, they will assess your distinctive hair restoration needs in order to provide you with the accurate costs. The cost of hair restoration is affected by a selection of factors deemed necessary to meet specific hair restoration needs.
In the US, the cost of hair transplant with FUE ranges from $5,500 to $10,000, with an average cost of $8,825. In other countries that offer FUE techniques, the price range is $3,100 - $5,250.

The list of centers that can assist you based on your ethnicity


HAIR TRANSPLANT CENTERS ALL OVER THE WORLD

Your Ethnicity

Country

Name of Center

Price in USD

ASIAN

Philippines

$3,900




ASIAN




Philippines

---

HISPANIC/AFRICAN-AMERICAN

Mexico




$5,250

HISPANIC/AFRICAN-AMERICAN

Mexico

$1,150-$1,250

EUROPEAN/MIDDLE

EASTERN

Turkey

$3,120- $4,091

EUROPEAN/MIDDLE

EASTERN

Turkey

$4,000

EUROPEAN/MIDDLE

EASTERN

Turkey

$3,100

EUROPEAN/MIDDLE

EASTERN

Turkey

$4,400-$5,000
About PlacidWay:
PlacidWay is one of the top medical tourism information providers in the US and the world. One of its advocacies is to cater to all healthcare needs of medical travellers no matter what ethnicity they belong to.
For more information about hair transplant all over the world, do not hesitate to contact us!
Related Experiences:
FUE Hair Transplant in Turkey - Regain Natural-Looking Hair!
2015-04-14 / Updated on: 2021-01-08