Defy Your Age with Top Anti-aging Treatments in Asia
Treatment:
Anti Aging, Human Growth Hormones Used in Anti Aging , Fat Transfer Anti Aging Technique
Location:
Global Health Care Tourism, India
Focus Area:
Defy Your Age with Top Anti-aging Treatments in Asia
---
Anti Aging Treatment Cost between $300 to $10,000, Laser Resurfacing Prices available, Botox Injections Best Pricing,

Defy Your Age with Top Anti-aging Treatments in Asia
Anti-aging treatments in Asian medical facilities provides effective results to men and women who desire to look and feel good despite their age. Anti-aging treatments in Asia can help you improve your posture, mental alertness and memory, improve skin elasticity and sleep. A mixture of anti-aging procedures and rejuvenation treatments are available in cosmetic and wellness centres in Asia.
The premature signs of aging normally begin when we hit 40 years of age, and are much earlier when we are under stress, are smokers, and if don't exercise or eat a balanced diet.
The science of anti-aging treatments has now come a long way. With a little help from Asia's top anti-aging treatments, you can slow aging, feel and look younger, and keep your body, skin, and brain in its best shape ever!
Who needs Anti-Aging Treatments?
Anti-aging treatments are suitable for both men and women who want to improve their features and bodies. And anyone who desire to have more out of life despite their age!
Anti-aging treatments are also fit for men and women who have trouble coping with the signs of aging. These signs are: depression, anxiety, forgetfulness, inability to sleep, poor memory and cognition, decreased muscle vigor and alertness, loss of skin elasticity and hair colour. However, treatments are best started during the premature aging process and are consistently performed for best result outcomes.    
The Most Popular Anti-Aging Treatments:
Anti-aging diet – a diet rich in antioxidants
Anti-aging medications
Anti-aging skin care products
Botox injections
Wrinkle injections
Rejuvenating and restorating massages and treatments
Anti-aging Treatments you can try at Asian Stem Cell Clinics
Stem cell therapy started out as a controversial treatment mainly used for chronic illnesses.  But, because of its ability to differentiate into any type cell found in the body and its regenerative property, stem cells are now used in anti-aging treatments proven to enhance a patient's total physical condition.
Anti-aging Procedures at Asian and Ayurvedic Spa Resorts
Spa and massage treatments are combined into wellness and medical resorts since they help the body de-stress and rejuvenate. These procedures aim to slow down the aging process using sensibly chosen herbal supplements, acupressure, Ayurvedic massage therapy, yoga, detox treatments, breakthrough integrative medicine, along with aesthetic procedures to enhance one's physical appearance.
Anti-aging Treatments at Asia Cosmetic Centers
Cosmetic centres in Asia offer non-surgical procedures such as luxurious facials, diamond and acne peels, depigmentation skin therapy, laser whitening, high and advanced skin resurfacing therapy, skin rejuvenating therapy to counteract the signs of aging especially on the skin.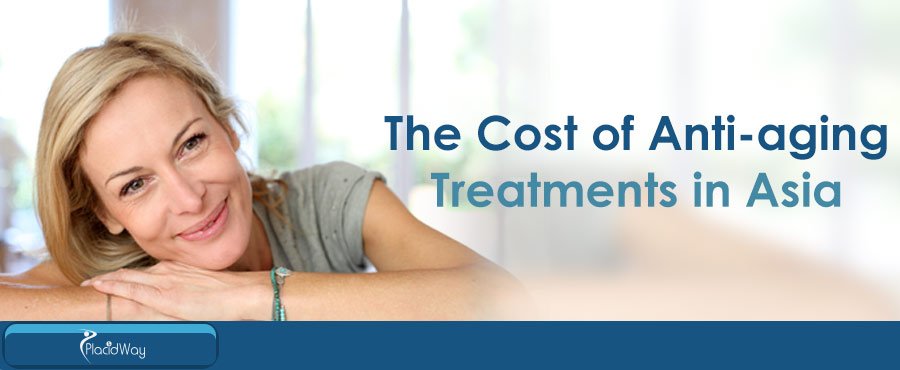 The Cost of Anti-aging Treatments in Asia
Indus Valley Ayurveda Center, Mysore, India
Best Rejuvenation Package in Mysore, India starts at $1,028

Raj Cosmetic and Plastic Surgery Centre, Chennai, India

ReLife International Medical Center, Beijing, China

Yanhee Hospital, Bangkok, Thailand

With just clicking the button, you can defy your age, feel younger and more desirable!
Contact us now so you can avail of rejuvenating and anti-aging treatments and procedures while seeing the wonders of Asia!


---
---
---
---