Package Details

Affordable Total Knee Replacement Surgery in Mexicali, Mexico
If you are tired of that debilitating pain in your knees, then you can be sure you're in the right place, our outstanding orthopedic surgeons will help you feel relieved!!
When people have reached certain age, some parts of their body are no longer the same. Many people in their 60's or even 80's are suffering from rheumatoid and psoriatic arthritis or were victims of a traumatic injury, meniscus tears, cartilage defects and ligament tears; as a result they have limited range of motion due their knee problems. A Total Knee Replacement will replace the weight-bearing surfaces of the knee joint to relieve pain and disability.
Finding a solution and relieve the pain becomes our first priority when we are in this situation, reason why going abroad for Total Knee Replacement Surgery is an affordable, yet high quality option to feel good again!
At Hospital de la Familia in Mexicali, Mexico obtain all you're looking for: high quality care, highly skilled doctors, a kind and specialized bilingual staff and the Medical Service that you deserve.
How is it like to undergo a Total Knee Replacement Surgery in Mexicali, Mexico?
During a TOTAL Knee Replacement Surgery, the damaged joint is replaced by a prosthetic implant done with metal and plastic components, this allow motion and mobility of the knee again. This Knee Surgery, is usually performed for relieving pain from osteoarthritis, other knee diseases or fix severe physical joint damage.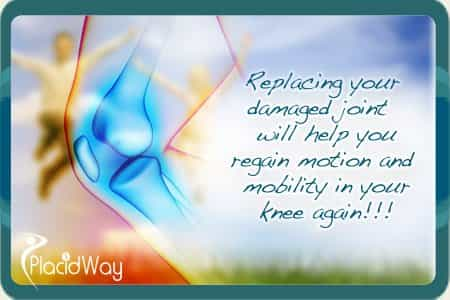 Total Knee Replacement Surgery takes from 1 to 2 hours to be completed, general anesthesia or spinal blockage are the most common options to be used. We utilize only knee implants that are FDA approved: Biomet, Smith & Nephew, or any other you require if that makes you feel more more safe.
The day after your total knee replacement, we will assist you to start walking and stretching it, this is very important for you to get used to your new joint. A little discomfort at the beginning is common, the pain is minimal and the recuperation from knee surgery is very quick.
Physical therapy is recommended after your surgery; you can stay in Mexicali for some pshysical therapy sessions or going back home after a couple days of the surgery. You can also do physical therapy by your own.
Note: To undergo Total Knee Replacement Surgery, in Mexicali, Mexico you need to be pre-approved, we will run some pre-op tests to make sure your are healthy enough to undergo this knee replacement surgery.
Your Medical Travel Itinerary:
Day 1 - Pick up from San Diego, CA and/or Yuma, AZ airport. Transportation to Mexicali and perform pre-op testing and consultation. Lunch and dinner provided followed by an overnight stay at the hospital.
Day 2 - Surgery day, recovery at hospital.
Day 3 - Recovery at hospital - Testing the new Knee Joint, walking & stretching it.
Day 4 - Consultation with your doctor, patient eligible to go to hotel.
Day 5 - Patient elegible to go home, or stay for Physical Therapy sessions
Transportation provided back to airport for departure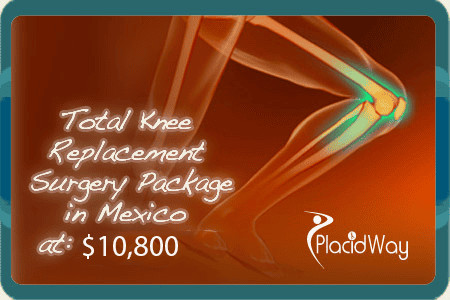 Package includes:
- Includes Pre-Ops, Internal Medicine Doctor consultation, Specialist Consultation, Anesthesiologist Consultation
- All surgical fees, lab fees, anesthesia, material, operating room fees
- 2 nights at Family Hospital
- Prosthesis expense ( Biomet or Smith & Nephew implants )
- 10 nights at Hotel or Recovery Center in Mexicali
- Personalized Physical therapy sessions included ( 10 )
- Concierge service during visit
- All ground transportation while in Mexicali
- Private ground transportation from San Diego, CA or Yuma, AZ ( Round trip )
Extra expenses:
- Airfare
- Meals & medications outside the hospital
- ICU (if needed)
Why Choose Hospital de la Familia?
Our Outstanding as well as Cutting-edge Services in Orthopedics Procedures.
We will support you as we have helped out to medical travelers asking for Total Knee Replacements from overseas since 2006.
We are the most chosen location for worldwide health care tourists in Mexico.
Doctors with over 15 years of experience and specialization, enough time to appreciate how essential it is to make you feel at home.
We are an incredibly professional medical center with top quality health care and a bilingual team.
All patients should know that they have the option of staying there 1st night upon arrival at there private hospital room at no extra cost, that way they can wake up and have surgery without having to wake up early at the hotel and being transported anywhere.
AtHospital de la Familia in Mexicali, Mexico,we know how to take care of you and make you feel at home!!
Related Experiences:
Feel Better & Move Better with Knee Replacement in Mexicali
Total Hip Replacement in Mexicali Mexico - Restore Your Hips Function
Choose Affordable Orthopedic Surgery in Mexico
Knee Replacement in Mexico - Live Without Knee Pain
High Success Rate Hip Replacement Surgery in Cancun Mexico
Hip Replacement in Tijuana - Improve Your Hip Health