DENT ART PORT
Bodrum,Mugla, Turkey
Turgutreis, Dent Art Port, Mehmet Hilmi Cd. No:92, 48400 Bodrum/Mugla, Turkey

Focus Area: Dental Treatment Clinic in Bodrum Turkey | Dent Art Port | Dental Implant | Orthodontics | Smile Makeover | Cosmetic Dentistry | Teeth Whitening | Dental Crown | Dental Veneer | Dent Art Port
Top Clinic for Dental Implants in Bodrum, Turkey
Profile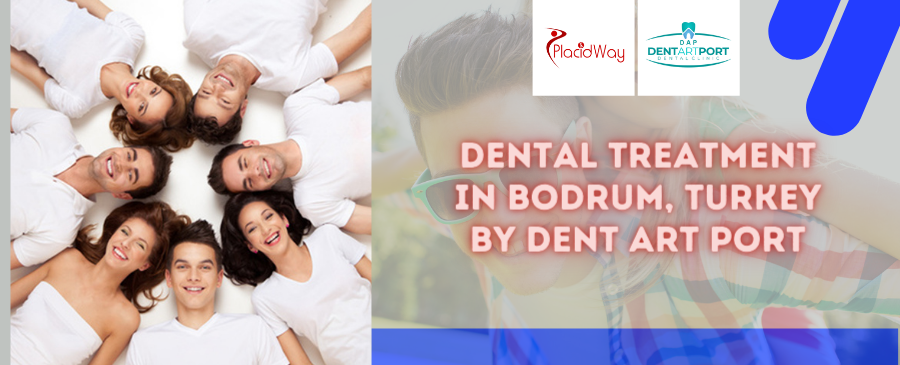 About Center Dent Art Port in Bodrum, Turkey
Dent Art Port provides best Dental Treatment in Bodrum, Turkey. Book online now Dental Implant, Orthodontics, and Smile Makeover at Dent Art Port. In our polyclinic, which includes all dental treatment branches, all dental treatments are offered with the most up-to-date and modern technological methods. Our polyclinic, which has an international health tourism authorization certificate, accepts many foreign patients and successfully concludes their treatment.
Dent Art Port Oral and Dental Health Outpatient Clinic in Turgutreis, Bodrum, began their dental service in 2020. Our Dental Clinic incorporates all dental treatment branches, works with dedication to be the most dependable and special dental care in Turkey.
Dent Art Port Dental Outpatient Clinic has 4 clinics and 1 Dental Prosthesis Laboratory furnished with world class equipments and has 3 dental specialists who have acquired education and knowledge in various fields of dentistry. You can meet all your dental conclusion and treatment needs at Dent Art Port Dental Outpatient Clinic with treatment plans custom fitted for you.
Whenever you come to Dent Art Port Dental Polyclinic, you are welcomed with the best service of our accomplished staff. Our doctors, who offer top quality skill, guarantee that you get an elevated degree of health-care service from the start to the furthest limit of your dental treatment. With the most dependable determination and treatment strategy, you will recover your dental issue in safe hands. In our Dent Art Port Dental Polyclinic furnished with cutting edge medical innovation, in an agreeable and clean environment; you will have a solid and splendid smile that you want.
Here are several advantages of choosing Dental Clinic in Bodrum, Turkey by Dent Art Port:
Provide the highest quality Dental Diagnosis and Treatment Service

Using the latest technological treatment methods with renewed tools

Reliable and using universal standards

Brighten your smile and give you a healthy look

Provide dental care with affordable cost
Check below for information about list of procedures available at Dental Treatment in Bodrum, Turkey by Dent Art Port:
Laminated tooth covering, which adds solace and a brilliant picture to your smile, offers you a dependable solution among our treatments.
Dental implants are counterfeit tooth roots that are utilized for all time when at least one tooth are lost. Implants are small titanium screws that are embedded straightforwardly into the jawbone. The implant goes about as a proper help for substitution teeth.
Orthodontics is a unique part of dentistry that arrangements with the prevention and correction of inconsistencies in the jaw and teeth
Digital Smile Design is a treatment arranging application that allows the patient's facial and dental constructions to be broke down cautiously with the most recent innovation videography and advanced innovation.
When you are searching for a straightforward yet compelling solution, one of the quickest and best ways of working on the presence of your grin is teeth brightening treatment.
Aesthetic Dentistry is a dental practice that gives you best cosmetic smile by reestablishing broken, worn, stained, skewed, and stained teeth. During the procedure, a corrective dental specialist will work with you to observe the most reasonable treatment plan.
We offer extensive dental treatment, post-nutrition dental treatment, preventive treatment and stylish treatment applications for kid.
Dental Treatment in Bodrum, Turkey by Dent Art Port will provide you with reliable dental care with affordable cost. Make sure to book your consultation today 24/7, and receive special price from various Dental Packages. For more information about Cost of Dental Treatment in Bodrum, Turkey by Dent Art Port, ask us by clicking link below:
Here you can find information about Dentists in Bodrum, Turkey by Dent Art Port:
Doctor Name:

Dentist Oguz Akca
Experiences and Specializations:
He was born in Istanbul in 1990

University Faculty of Dentistry Graduate

Dentist since 2015. He continues his profession in Bodrum.
Doctor Name:

Dentist - Nursu Erbeyli
Experiences and Specializations:
She was born in Bodrum, 1996

Graduated from Istanbul Aydin Faculty of Dentistry

Dentist since 2020

She is currently working as a Dentist within Dent Art Port Dental
Doctor Name:

Dental Prosthesis Technician - Yilmaz Portakaldali
Experiences and Specializations:
He was born in Adana in 1972

He started his dental technician in Adana at a very young age

After Adana, he worked in multi-purpose dental laboratories in Milas and Bodrum
Dental Treatment in Bodrum, Turkey by Dent Art Port will make sure that all patients can get best health-care service from top dentists and professional medical staff. You can begin your consultation today and get the latest information about the Dental Packages that suits with your dental issue. If you want to book dental treatments in this clinic today, feel free to click contact us button below: