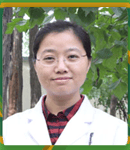 Dr. Liu
Language: Mandarin, English
Department: Internal Medicine
Expertise: specializes in internal medicine, especially the diagnosis and treatment for Diabetes Mellitus, Rheumatoid and Immune Disorders, Respiratory Disorders, etc.
With nearly 20 years of experience in clinical expertise, our medical master Dr. Liu has devoted herself in a few renowned AAA general hospitals in China. The abundant clinical experience enables her skillfully deal with various conditions, such as general medicine, rheumatology and respiratory diseases.
Dr. Wu
Language: Mandarin, English
Department?Director of Gene & Cell Lab
Chief Scientist of ReLife International Medical Center
Researcher, Academy of Military Medical Science, Chinese People's Liberation Army – PLA